Aajachat APK 1.5.3.10
Do you use a lot of social media platforms today? If so, then you'll love Aajachat! Download it now to meet new people, share live moments, and connect today!
| | |
| --- | --- |
| Name | Aajachat |
| Updated | |
| Compatible with | Android 4.1+ |
| Last version | 1.5.3.10 |
| Size | 4 MB |
| Category | Social |
| Developer | Vmate |
| Price | Free |
In this day and age, we use the internet more frequently than we need. This is because social media platforms have created so many opportunities for us to enjoy today. We can enjoy chatting, video chatting and sending files through social media sites. We can also upload photos, videos and share anything we want in our feed. So, if you're someone who's looking for a new social media platform, download Aajachat now.
This is a social media app that allows you to meet a lot of people for different purposes. It can act as a dating platform, a messaging app and a way to connect with professions as well. Because of this, you can join group chats and meet people with the same interests as you. Aside from that, you can play games to earn money, follow sports clubs, news and get related questions on your field. Aside from that, you'll enjoy sharing live moments in their stories and you can do it as well!
An All-In-One Social Media Platform
We're sure that you've used a social media platform before seeing as you're reading this post. Social media platforms are some of the most popular websites in the world today. Sites like Facebook, Twitter, Instagram, LinkedIn, YouTube and more are being used by all types of people such as celebrities, workers, government workers and many more. Because of its versatility, social media platforms are being used for schools, work, and even for personal uses. With this, you can enjoy quite a lot of benefits from using them.
Social media platforms are being used for a lot of things right now since they are popular with many people. We can use them for work, at school or even at home to contact our family/friends and to browse. The impact of social media today can't be expressed in a sing world since it's so powerful. But sometimes, people are still finding these platforms to be lacking. If you'd love to have a platform where you can get all the things you need to today, download Aajachat today!
This social media platform is the ultimate one that you can use right now. It can function like a social media platform, a dating app, a messaging app, and many more! It even has games you can play to earn money and coins as you play with your friends. There are also plenty of groups her that focus on different topics where you can ask for help for members. This app combines a lot of different social media platforms into one highly-functional app that you can use.
Moreover, you can use this app for a variety of countries aside from India such as China, Indonesia, Pakistan, United Arab Emirates, Russia and more.
Aajachat Features
If you've always wanted to know the king of social media, Aajachat is the one! This app seemingly has everything you need today.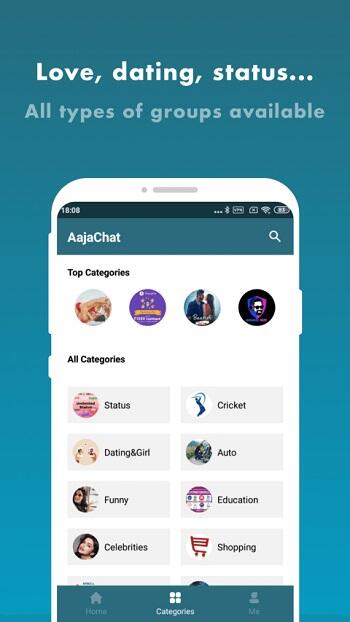 A Highly-Functional App – If you're using social media platforms today, then you are already familiar with the most popular ones. These includes platforms like Facebook, Instagram, Twitter, LinkedIn, YouTube and many more. Each of these apps provide unique capabilities and functions that will prove useful for you today. But no matter how useful these apps are, there's still an app that trumps above them all – Aajachat. This app contains most of the features of the popular social media apps today.
This is why a lot of people are finding this app to be the best one to use today! In here, you can enjoy meeting all sorts of people and experts in different fields. This isn't just a social media app but it can also be a job search engine. And it also allows users to post videos in their stories and to learn from other people today. You can also read news from all over the world today and get sports updates in the app. Moreover, you can join plenty of groups today with different topics!
Meet People – The main purpose of social media apps today is to connect people from all over the world. Aajachat isn't different as it allows people of all walks of like meet in the app. The great thing about the app is that it segregates different people according to interests so you can meet with like-minded individuals. Aside from that, you can enjoy your time chatting with people and learning from them here.
Get Updates – The app also lets you see all the latest news and updates for different topics. There are topics like auto, cricket, funny, celebrities, education and many more. Here, you're able to enjoy the different group chats that you can join.
Groups – This app lets you join different group chats today. Here, you can talk and ask related questions about the topic of the group. You can join plenty of groups in particular topics such as Cricket, Tech, News, Education, Dating, Shopping, and many more. This ensures that you can get meaningful conversations since you're chatting with people with the same interests!
Games – A cool bonus feature that you can enjoy in this app is the ability to play games! There are many mini games available here where you can also earn coins! Then, there are also plenty of methods available where you can earn money using your smartphone today.
Available in Multiple Countries – This app is also available in many countries today such as Russia, India, China, Pakistan, United Arab Emirates, and many more.
Aajachat APK – Latest version
If you enjoy social media platforms, download Aajachat today and get the best features today.