Zombie Age 3 APK 1.8.7
Download Zombie Age 3 APK – latest version – Free for Android and test your zombie survival skills in a wasteland riddled with zombies! Can you survive?
The topic of zombies has been popularized by the media. At this point, we've seen countless movies, shows and games made on the topic of zombies. But even so, people still love a good zombie game when they see one. That's just human nature! We've always wanted to survive in our own zombie apocalypse – even if it's in a game!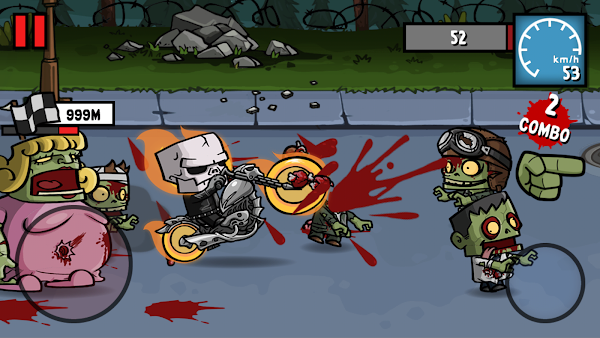 Zombie Age 3 is a game developed by DIVMOB which has over 10 million downloads in Google Play Store alone! In this zombie game, the goal is simple – try to survive! But if you think this is just any zombie game – it's not. There are a lot of challenges waiting for you in this game. If you're ready for it, read on below!
What is Zombie Age 3?
As always in any zombie game, you're the last person standing. You are now faced with an impossible task – try to survive for humanity's sake. The survival of humanity now rests in your hands, can you do it? Are you strong enough to eliminate all zombies to return everything to normal? Do you even know how to survive?
In Zombie Age 3, everywhere you look there are zombies! The style of this game will remind you of the old arcade shooting ones. It's in 2D but everything is designed perfectly. The zombies are designed like small cartoon so you don't feel as intimidated as in the movies. However, don't be fooled, they're still strong! In Zombie Age 3, you'll get weapons that you can use to fight against the horde of zombies. It's up to you on how you will take them all on simultaneously. But you must survive at all costs – failure to do so will result in the end of humanity.
Overall, this game is a fun way to pass your time. You can also play with your friends and family in coop mode! There is 20+ characters with unique abilities to develop. There are also tough boss battles and there are global leaderboards in this game. Plus, there are tons more features waiting for you. What are you waiting for, read on!
Features of Zombie Age 3
Zombie Age 3 isn't your typical game, here are the features:
Game modes – In Zombie Age 3, there over 10+ different game modes you can play! You can also enjoy it with your family and friends through the coop gameplay. Now, you don't have to be alone in killing the zombies!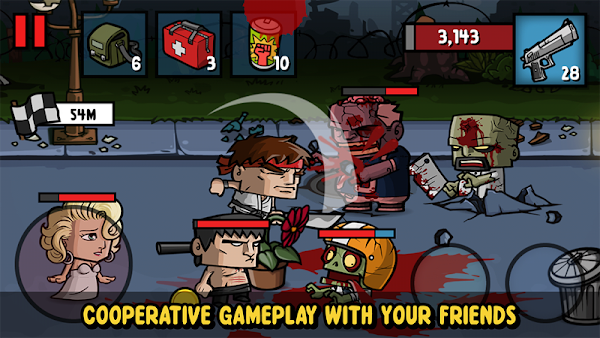 30+ weapons – In this game, there are plenty of ways you can kill a zombie. You can use a pistol or a machine gun. Each weapon has its own strengths and weaknesses. For instance, shotguns are more effective for close combat and for killing many zombies at once.
20+ characters – In this game, you can unlock over 20+ characters! You can unlock them by reaching certain ranks throughout the game. Each character has its own stats that you can upgrade as well.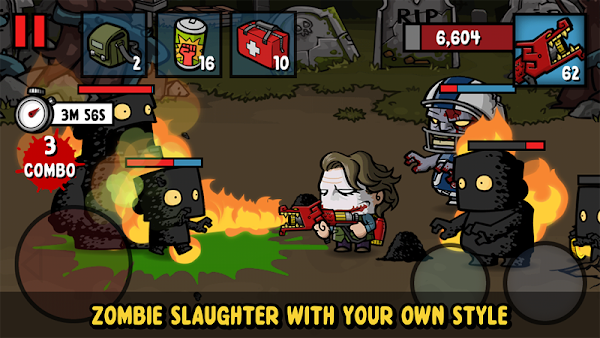 Different zombies – There are different types of zombies in this game. Then, there are boss zombies that you need to kill at the end of each mission. They are strong and have plenty of life so you need to be wary.
High-quality graphics – As for the graphics, the 2D arcade style suits a game like this one. It brings back nostalgic experiences but at the same time, brings something new to the table.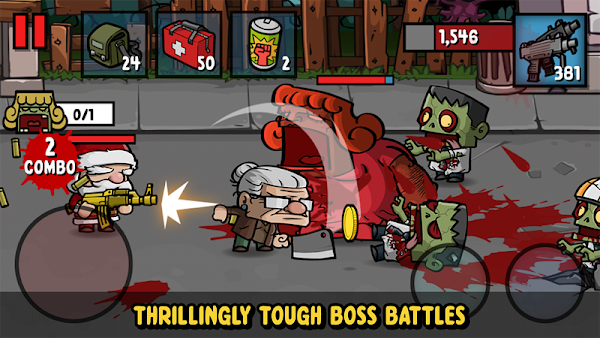 Easy controls – The controls are easy to learn as well. You can move your character using the virtual pad on the left and the fire buttons on the right.
Zombie Age 3 APK – Unlimited money
Zombie Age 3 is an epic zombie shooting game. Want to unlock all weapons and characters instantly? Download the unlimited money now!