SuperSport APK 5.42.4482
Download Supersport APK latest version for an undeniably immersive experience. If you love your sports, don't miss a moment with the new and improved Supersport app!
An In-Depth Description of Supersport APK Download
Supersport APK is a sports app offered by Supersport Online. The app provides users with an immersive sporting experience by giving them access to live matches, highlights, and other sports-related content.
It is optimized for use on Android devices and offers a user-friendly interface. The app is free to download and use, but some features are locked behind a paywall.
The app is the ultimate destination for sports fans since it offers live coverage of diverse sporting events. Get it today, and never miss a moment of the action!
Why You Need Supersport APK for Android
Sporting action is often unpredictable and can be over in the blink of an eye. If you don't want to miss a second of the action, Supersport is the app for you.
The app offers live coverage of sporting events from across the globe, so you can always stay up-to-date with the latest scores and developments.
In addition, the app offers highlights and other sports-related content, making it the perfect one-stop shop for all your sporting needs. Whether you're a diehard fan or just someone who likes to stay informed, Supersport is a must-have app.
Highly Personalized Sports Experience
The app allows you to follow your favorite teams and players, ensuring you always stay up-to-date with their latest results. In addition, the app provides detailed analysis and statistics, allowing you to get an in-depth look at the action.
This application is particularly helpful for fans of specific games, including golf, football, rugby, cricket, tennis, and motorsports. It provides moment-by-moment coverage of these games, allowing you to feel like you're right there in the middle of the action.
Overall, this application is an excellent way to get your sports fix. It is comprehensive, user-friendly, and free to download.
How to Use Supersport APK
Once you have downloaded and installed the app, you will be prompted to create an account. You can do this by entering your email address/user name and a password of your choice.
Once you have created an account, you will log in and start using the app. To watch live coverage of a sporting event, simply select the event from the "live" section of the app.
You can also access highlights, analysis, and other sports-related content by selecting the appropriate section from the main menu.
The app is continuously updated with new content, and you will always have something new to watch. Immediately after a game ends, analysis and highlights will be posted so you can stay on top of the action.
Other Outstanding Game's Features
Unmatched Broadcast Coverage. This app literary brings the world of sports to your fingertips. With dedicated channels for different sports, there is always something to watch.
In-depth Analysis and Statistics. Unlike other apps that offer shallow analysis, this app provides in-depth analysis and statistics that help users understand the game better. Even if you missed the live action, you can still catch up on all the key moments.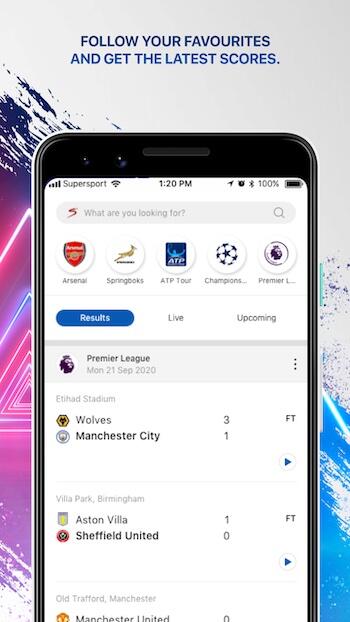 User-Friendly Interface. Nothing can be as frustrating as trying to use an app with a complicated interface. It becomes even worse when trying to follow the action of a fast-paced game. This app has a simple interface that makes it easy to use even for first-time users.
Set Reminders for Upcoming Events. With busy life schedules, it can be easy to forget when your favorite team is playing. This app allows you to set reminders for upcoming games, ensuring you never miss a match.
Real-Time Notifications. This app sends real-time notifications whenever there is a new development in a match. This way, you can always stay on top of the action even if you're not actively using the app.
Link to DSTV
This application links you through to DSTV where you can watch matches live as they happen. This is a great feature for fans who want to catch every minute of the action.
The only downside of this app is that it is not available in all countries. It is only available within Sub-Saharan Africa and the surrounding areas.
Here, users can use their connect IDs to log in and enjoy the features of this app. They will get live-action, replays, highlights, and analyses of their favorite games.
Lots of Content to Explore
This app has a lot of content for users to explore, including:
Video Highlights. These are short clips that capture the key moments of a match. They are a great way to catch up on the action if you missed the live broadcast.
Full Match Replays. If you want to watch a match in its entirety, you can do so with this app. Simply select the match you want to watch from the "Replays" section and enjoy.
Exclusive Interviews. You can also watch exclusive interviews with players and coaches. These interviews provide insight into the strategies and thought processes behind the game.
In-Depth Analysis. This app also provides detailed analyses of matches. The analysts break down the game's key moments and provide their expert opinion.
Fixtures/Schedules. You can also use this app to stay up-to-date on the fixtures and schedules of your favorite teams. This way, you will never miss a match.
Tables/ Rankings. Whether it's EPL, La Liga, or any other league, you can always use this app to check the latest standings and rankings.
Live Scores & Top Scorers. Knowing your top scorers in any league is important. With this app, you can easily find out who the leading scorers are in any league. You can also check live scores to follow the action as it happens.
Supersport APK Free Download
The Supersport APK is a great app for fans of all ages. It unlocks a world of sports content that was previously only available to those with a cable subscription.
You can watch everything from live matches to exclusive interviews. All this will be 100% without charge! You won't even find irritating apps on the UI.
Conclusion
The Supersport app is a great way to watch your favorite sports. It offers a wide range of features that make it a must-have for any sports fan. Download the latest app's version now and enjoy all the best action from the comfort of your own home.