Stickman History Battle APK 2.0
Download Stickman History Battle APK latest version and engage in thrilling battles. You will create an army and gather all the treasures you can!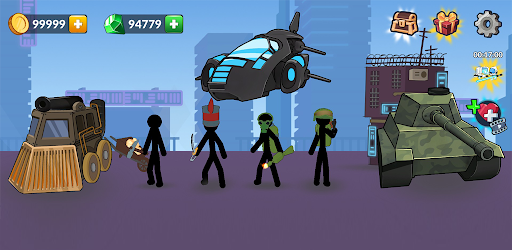 In-Depth Details about Stickman History Battle
Stickman History Battle is a strategy game developed by Andrey Bojko. It integrates real-time strategy and adventure gameplay. You will join stickman heroes to participate in battles and journey through different eras.
The game also boasts high-quality graphics and sound systems that will keep you glued to the screen. You will have to unleash your fighting prowess to establish your kingdom and resist enemy civilizations.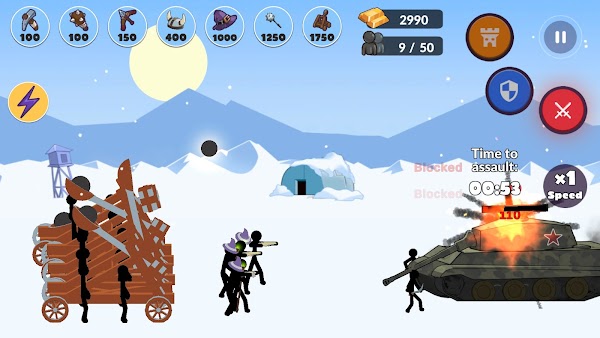 Are you strong enough to overcome your enemies? Download Stickman History Battle for Android and find out first-hand. The game is 94M and works with all Android 5.0 devices.
An Immersive Gameplay
This game has outstanding physics-based gameplay. You will have to manage your troops and plan your attack carefully to emerge victoriously in battles. It pushes you to try different strategies and discover new ways of winning.
The game is divided into different eras. Some of the eras include Primitive, Vikings, Knights, Modern Time, and even the Future. Unlock civilizations to create an advanced empire and become a mythological hero!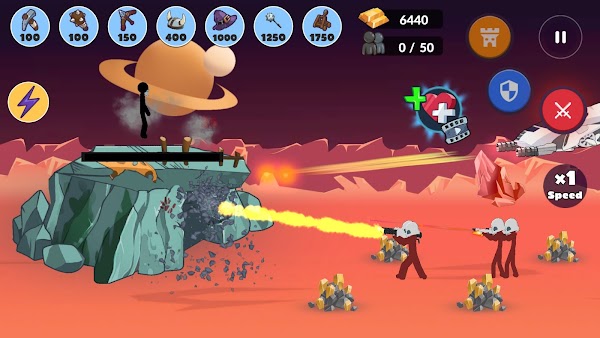 You will also have to manage resources and build different structures to create a sustainable empire. The game allows multiplayer battles, which makes it even more dynamic.
Upgrade your Army for Better Warfare
The stickman heroes will be at the forefront of the battle. They include archers, soldiers, and mages with various attributes. You can upgrade their level and attributes to improve your battle prowess.
Gather resources from each map and upgrade your structures to unlock new units in the game. The higher your civilization, the bigger chances you have of winning a battle.
You can also establish a good defense system to withstand consistent enemy attacks. Beating powerful enemies requires smart strategies, so prepare yourself.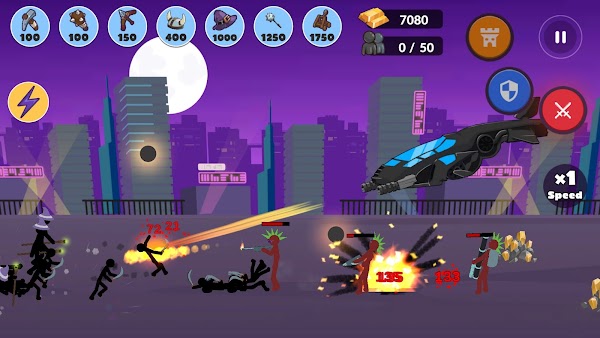 A Detailed World Map
Stickman History Battle APK features a challenging world map, where players can choose their path to victory. You will advance along with the map as you complete quests and win battles.
Or, you can choose a direct route to have an intense PvP battle with other gamers. This is the best way to test your skills against other players from all over the world.
Balance Resources for Improved Defense
To upgrade your empire, you will need the right resources. You can build structures to create a sustainable civilization. Gather gold and stone to pay for new structures and unlock advanced civilizations as you go along.
Manage your resources carefully and use them appropriately. Some of the treasures at your disposal include calvary, helicopters, robots, stickmen, workers, artillery, and infantry. You mustn't neglect your defenses because they can fall prey to enemy attacks. Instead, keep training them and imparting new skills.
Enhance Your Command Skills in Battles
Make smart use of your commands to find an effective strategy in Stickman History Battle APK. You will be able to fight with sticks, barbarians, and other NPCs that you can summon using specific commands. You can also call upon different heroes that will lead your army to victory.
However, the higher the turn, the more resources you will need. Some commands are particularly useful in defeating powerful enemies. You can summon a mage or an archer for assistance in case of an enemy attack.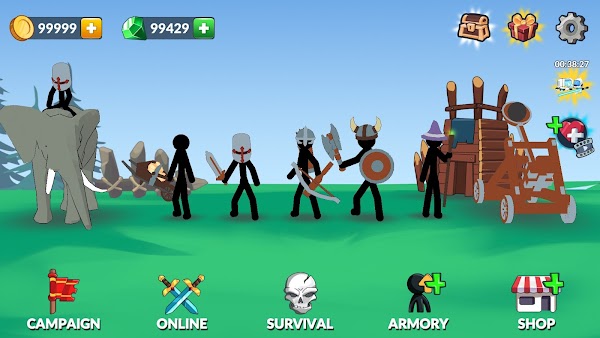 Build New Bridges and Progress in the Game
Stickman History Battle APK allows you to build bridges so that your troops can move between territories. It's important to create a proper path to avoid getting attacked from behind.
The game features a special bridge-building tool, enabling you to create a bridge in seconds. Simply select the bridge type and the number of pieces you need.
Only a Master Builder Can Achieve Ultimate Heights
In Stickman History Battle APK, you must have good building skills to create structures that benefit your empire. In particular, you should carefully plan out your defenses, ensuring that your enemy forces do not destroy them.
Additionally, you should be strategic in using your resources because one mistake can cost you the game. It is recommended that you build structures evenly to make the most out of every turn. This will prevent you from losing important ground during battles. If you want to win, you should keep your defense strong and your empire growing steadily.
Unique Features of the Game
Infinite Survival mode. In this mode, you have to survive the incoming waves of sticks. Improve your tactics and be an ultimate commander in Stickman History Battle.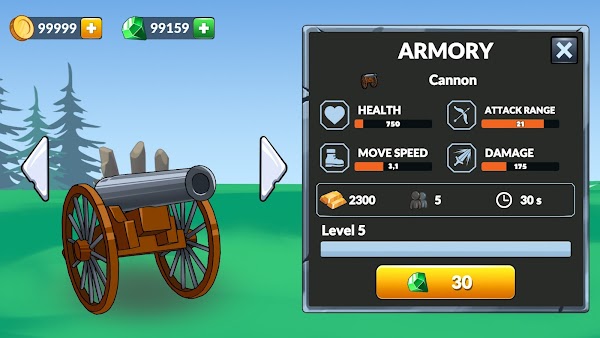 Multiplayer Game. You can test your skills in fighting with real players. Fight for your empire and defeat all of your opponents!
Many Game Modes. Enter the Infinite survival mode, Arena, Boss fights, or fight with sticks on the world map. Play any mission that you want!
HD Graphics and Immersive Sound Systems. The game features cool cinematic effects and superb soundtracks. You will be fully entertained
Stickman History Battle APK Unlimited Money and Gems
If you want an undiluted gaming experience, you should download Stickman History Battle APK for Android. This modded version offers the following outstanding features:
Stickman History Battle APK . With this installed, you will gain unlimited money and gems, which you can use to improve your game. This way, you can climb up to the top in a short time!
No Ads. The Stickman History Battle APK download will help you get rid of annoying ads. Now, you can play the game without interruptions to allow you to focus on your moves.
Stable FPS! The allows you to maximize the performance of your device to avoid lags during battles. You will enjoy an uninterrupted gaming experience with no freezes or crashes at all!
Conclusion
Stickman History Battle is an interesting game that will challenge your strategic thinking. It features awesome HD graphics and immersive soundtracks.
Additionally, Stickman History Battle APK offers you unlimited money and gems to allow you to improve your gaming experience without worrying about running out of resources.