Star Wars Kotor 2 APK 2.0.2
May the force be with you. What side will you choose? Join the Jedi way, or utilize the dark side as a Sith Lord. Download Star Wars Kotor 2 for Android to start your adventure.
The Sith Lords have continued hunting down the remainder of the Jedi. The light side of the force has almost reached extinction. Now, what path will you choose? This is entirely your own story. Get a hold of the force and decide your destiny as either the light or dark side. Download Star Wars Kotor 2 and reawaken the force.
RPG Elements
Beginning the game, you'll have to create your own character. If you've ever played Elder Scrolls series or the Fallout series by Bethesda, you'll know about these elements. You'll have an entire skill tree that will determine how you will fare in the world.
You can choose to work on the following stats:
Strength
Dexterity
Constitution
Intelligence
Wisdom
Charisma
Vitality
Defense
Fortitude
Reflex
Will
All of these different stats will determine how you interact with the world.
Open World Adventure
You'll begin aboard a Star Ship. However, your Adventure will continue to unfold as you proceed to make choices and interactions with different characters. These will either lead you as a rebel against the Republic, or someone who utilizes the dark side for the Republic's cause.
You'll find yourself adventuring through various locations and notable planets with full open world interactivity. Some of these places will include: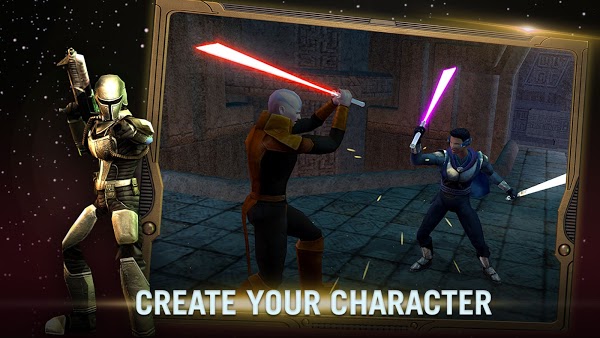 The Bumani Exchange Corp
Khoonda
The Mandalorian Ruins
The Royal Palace
Sith Academy
And many more places are still out to be discovered. Depending all on which side of the force you are aligned with, your path begins branching out. You have a ton of different options and outcomes to experience. This is your own story to be told.
The Better Sequel
Star Wars Knight of the Old Republic 2 is by far the better of the two games. There are many different peaks and benefits to the game. The writing of the story is narratively one of the best Star Wars games. Your own philosophical views will be questioned as you witness everyone's own motives in the story.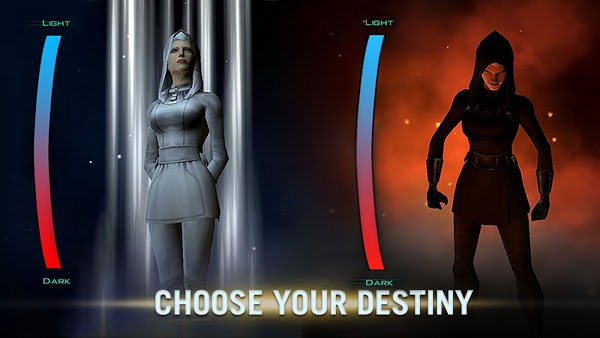 Each character has their own view and motivations to do what they do. And you'll quickly become enticed and immersed in the story of the different and iconic cast as you continue to play.
Star Wars KOTOR 2 Mobile APK Download
Become a part of the epic odyssey of more than just light versus dark. Discover the stakes between the balance of the force. Choose your side and mold your path and destiny. Knight of the Old Republic Mobile is waiting to be experienced. Download Star Wars KOTO 2 mobile now.