Soda Dungeon 2 APK 1.2.2
The Dark Lords are out and about with their schemes. Do you think you have what it takes to defeat them? Download Soda Dungeon 2 APK Latest Version free for Android.
Open up your Tavern and let the adventurers come in! Soda Dungeon 2 is a highly addicted dungeon crawler game, where soda dictates the worth of your characters. You'll need to get as far into each dungeon for as long as possible. The longer you progress, the better rewards you'll obtain.
There is an absurd amount of bosses lying around, with bosses at the end of every tier. Do you think you have what it takes to get as deep into the Dungeon and defeat the Dark Lords?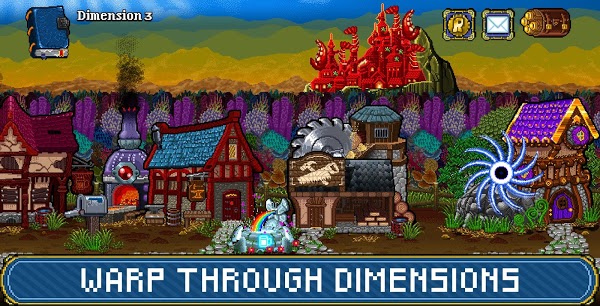 Eventually, you'll wipe out, and when that happens, you keep your rewards to a retry. It's never too late to pick up and play Soda Dungeon 2 for Android!
How to Play Soda Dungeon 2
Soda Dungeon 2 is a turn based dungeon crawler game where you'll need to go through endless mobs of enemies and proceed. Additionally, each of your characters will have special abilities and other skills to add even more variety. But, we're getting a little ahead of ourselves.
First, you'll need to get a few characters for your team. Soda attracts characters to your Tavern. Different types of soda will attract various character classes. Different classes, such as blademasters, healing nurses, and more will have various skills and traits.
As you level your character classes, the entire class will improve. So, even if you lose all of your nurses, future nurses will still have a boost in their abilities. That's pretty handy.
Also, there are various features available to improve your own Tavern. You can customize your tavern with these options:
Buying bar stools increases the chance of attracting a patron to add into your crew by 30% each.
Buying more tables will increase the chance by 50% each.
A Bed will allow you to refresh any selection of your adventurers within the Tavern.
The Magic Clock will double the speed of your in-game battles. A pretty useful feature, as the game also utilizes an auto combat feature.
Also, you can remove ads by spending 500 million of your gold.
Buying a kitchen gives each of your characters a 2% health boost after to their starting HP in the dungeon.
The Bonus Refill Reward is pretty self-explanatory. It adds one additional reward to your free Refill bonus.
Buying an inheritance will give you 1000gold per level when entering a new dimension.
Coat Check lets you save equipment preferences.
Buying an Allsight makes enemy health permanently visible to you.
Finally, Tap Select lets you customize the selection of sodas available within your Tavern.
What's more, once you are ready to head out you can either auto-play the game or manually play. As your progress through each level of the dungeon, you'll gain more gold which can be used to craft gears and weapons.
Fortunately, you can also choose which tier of the dungeon to start your playthrough. So, you won't waste too much time aiming for higher tiers.
Graphics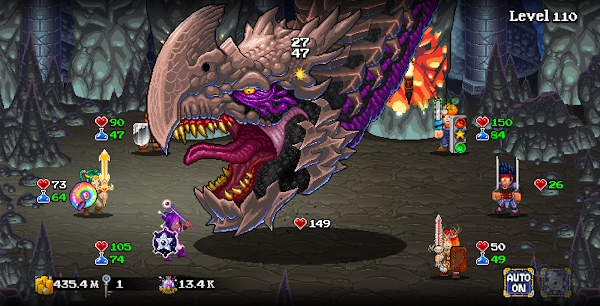 Soda Dungeon 2 for Android has a unique art style. Similar to older generation handheld games, the visuals use a limited amount of pixels. This is actually pretty appealing if we do say so ourselves.
Soda Dungeon 2 APK Free Download
Here is a version of the game you'll definitely want to get your hands on. The modified version when your download Soda Dungeon 2 for Android is definitely the superior version.
Although, the game is still pretty fresh. Currently, there aren't any huge features added to the modified version. We recommend any version for any player.