Sinful Puzzle: dates inferno APK 1.0.25
Download Sinful Puzzle APK – latest version – free for Android to experience what it's like in hell helping hell girls with puzzles!
Puzzle games are one of the most used and the most popular genre in the mobile gaming sphere. That's because they aren't as graphic-intensive as other genres such as FPS, RPG or adventure games. They also don't need complicated control schemes and gameplay, therefore they're easier to market and to make.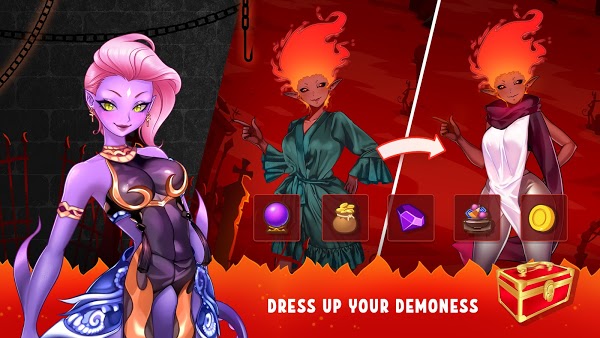 Some of the most popular games in this genre is Candy Crush. But if you're looking for an alternative to this with more a more interesting story – meet Sinful Puzzle: Dates Inferno APK. This is one of the most underrated games as it's not really suitable for all ages. But once you played it, you'll really love it. Excited to know more? Read on!
Not Your Ordinary Puzzle Game
There are a lot of puzzle games out there currently in the market. But not all of them are worth your time. Some are just iterations of already more popular puzzle games. And some are just poorly-designed and a poor attempt at revolutionizing the genre.
But some like Sinful Puzzle: Dates Inferno are different. This game is everything you wouldn't expect it to be. Fun, funny and lewd! It didn't dare to take the easy route and become a boring game. No – it's far from boring. With its wacky storyline and out of this world gameplay, this is one of the most memorable games you'll play.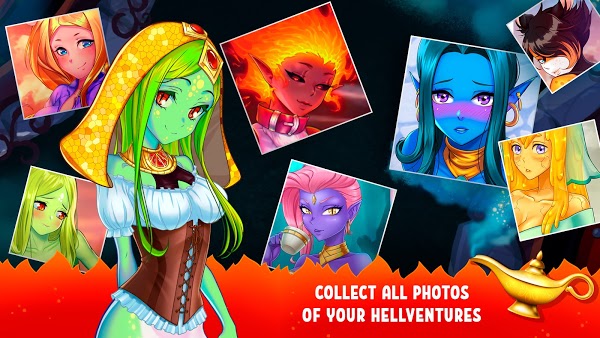 But what exactly sets this game apart from the rest. Well, it starts up with you suddenly waking up from the gates of hell. You were just at your boring cashier job wishing for it to become more exciting for once and here you are at last! Then, you find out the inferno we knew, wasn't what we thought it was. It was just all a big lie to scare humans on Earth. Instead, you find out that demons aren't really big, scary creatures. Rather, they're seductive girls that have some small hell-like features!
Aside from that, you find that the boiling resin aren't for torturing, but just a spa treatment for many. Suddenly, you're thrown into a storyline that isn't so bad at all, if only you could answer correctly and steer the story into something you want. Do you have what it takes to get to Lucifer girl by solving fun and complex puzzles while being in a fun storyline?
Features of Sinful Puzzle: Dates Inferno
To really appreciate this unique puzzle game, let's take a look at the features it offers. Because only when we take a look at the defining features, can we really take a good look at this game. So, before you judge this game as simply lewd, let's dive in:
Colorful locations of hell – It's rare for puzzle games to spend this much designing colorful locations of hell and still kick ass with it. But Sinful Puzzle just does that! The game features unique locations that are sure to give you a very good time. Sure, it may not be RPG-type graphics, it's still a great treat considering many puzzle games don't take have this much details.
Interesting tasks – In this game, the puzzles themselves are just a part of the show. Although they are very well-designed and there are tasks that you need to complete in order to solve the puzzles. But you need to take instructions well as you score more points if you do so. For instance, some demons prefer that you take red balls consecutively as they like the fire. But if you score points with some blue balls, you may be penalized.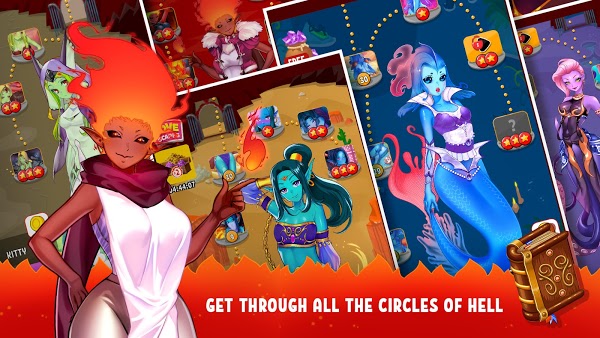 Seductive demon girl characters – In this game, you're guided by different demon girls who like to flirt with you. It's your choice how you respond to their questions and sentences. You could play it cool or you can totally dismiss them as demons. Either way, your choices lead you to an interesting path. So, try to get as much of the needed points as you need in as less moves as you can. It's as simple as that to unlock and know more about these seductive demon girls.
Exciting perks – In this game, you get to experience an otherworldly story – literally! It's such a waste not to enjoy it while it lasts, right? Aside from the cool storyline, you get to buy different perks that will allow you to complete puzzles faster. Collect them as much as you can in order to progress the story faster!
Cool graphics and voiceover – Aside from the above, Sinful Puzzle has a really unique and interesting graphics. From the puzzle itself to the storyline and the character designs – they are meticulously designed to perfection. The theme of the puzzle is color red obviously but there are much more things to look forward to in this game. For instance, after every successful puzzle, you get treated to a lewd image of a demon girl. But that's not all, they really went as far as having real people voice over the demon girls to give it that authenticity. What more can you ask for?
Plenty of levels to conquer – As you progress in this game, you'll get to meet different demons, mermaids and the hell queen itself! Yes, but that would be after you complete 30 levels and more which gradually increase in difficulty. It's your task to reach the end in order to win the game, can you do it?
Tips for Playing Sinful Puzzle: Dates Inferno
As this isn't your typical puzzle game, there are bound to be confusions here and there. Don't worry, we're here to help you with some tips:
Watch video advertisements for perks – Coins and diamonds are hard to come by in this game unless you buy them. But did you know that you can get extra bonus by just watching a video advertisement? Yes, you can then use this to make your matches faster!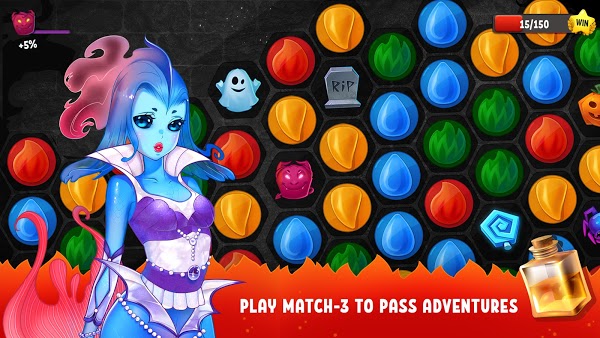 Solve the puzzle in as less moves as you can – In order to get more points and more coins in this game, you need to really think of your every move. There are different colored balls in here that you need to connect if they are the same colors. But each character gives you different points for their preferred colors. For instance, the demon girl likes red so you get 20 points for that while green gets you 10 and so on.
Sinful Puzzle: Dates Inferno APK
If you don't want to watch video ads and want to unlock all the levels instantly? Download the unlimited moves now and become the conqueror of hell!