Pou APK 1.4.111
Do you love taking care of pets? Meet Pou, your virtual pet in the shape of a poo! This cute pet will need a lot of attention and care from you. Feed it and enjoy now.
| | |
| --- | --- |
| Name | Pou |
| Updated | |
| Compatible with | Android 4.1+ |
| Last version | 1.4.111 |
| Size | 23.67 Mb |
| Category | Casual |
| Developer | Zakeh Ltd |
| Price | Free |
| Google Play Link | me.pou.app |
Pets are something we love to play with and take care of. There are so many available pet games that you can play today and all of them are enjoyable. But if you want to take care of a new kind of pet which doesn't exist anywhere, download Pou now and enjoy! Pou is a pet that's in a shape of a poo hence the name. In this game, you'll need to take care of your pet by feeding it, bathing it, and playing.
One of the pioneers in the pet genre, this game was published by Zakeh and it's still going strong. It's been played by millions of gamers but it's not time for you to take care of one! Enjoy feeding your pet with different types of food such has cakes, fries, cookies, and many more. You can also give your pet potions so he can level up and attain a stronger body. Enjoy bonding with your pet as you play tons of mini-games!
What's Pou?
Taking care of a pet isn't an easy task as it involves your time and effort. However, billions of people today have pets on their homes whether it's a cat, a hamster or even a snake! There are so many types of pets you can take care of today whether you opt for the normal or exotic ones. What's important is that you take care of your pets as it takes care of your mental health. With Pou, you can enjoy a virtual pet which allows you to enjoy!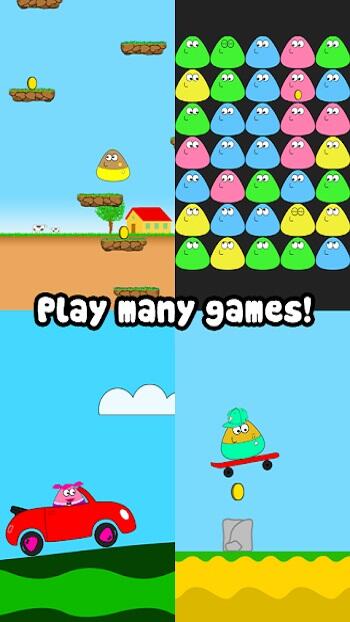 Much like real pets, your pet in this game behaves and acts like one. The only difference is that your pet here looks exactly like a poop which is why it's so funny. But as with any other pet, you'll need to take care of your pet as you'll need to feed it. You'll also need to bathe it with soap and water to make it as clean as possible. After that, you can also buy potions to help with your pet's growth!
Enjoy a variety of mini-games as well where you can play Food Swap, Color Tap, Hill Drive and many more.
Highlights of Pou
Are you in love with taking care of pets? Download Pou now and enjoy taking care of your virtual pet now.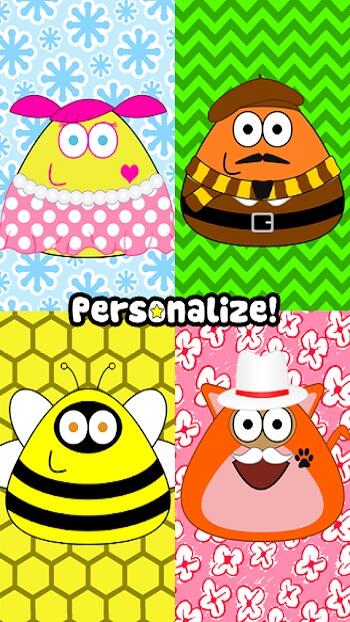 A Unique Pet – It's not a secret that many people today take care of pets at their homes. We have pets because they help us get over tough times as they like to play with us. But we also have a responsibility which is to take care of our pets not only physically but mentally as well. In Pou, you'll enjoy taking care of the most unique pet you'll ever see! Here, you'll take care of a poop that you can call a pet in the game.
This pet acts like your normal pet so you must first make it take a shower! Rub some soap on your pet and wash it off with water to make your pet clean. Then, you can feed your pet with food such as chicken, cake, fries and many more. You need to watch out for the stats of your pets such as the hunger, health, boredom and energy. You can do all sorts of activities in the game to continually fill these out!
Feed and Bathe – The primary needs of pets are similar to humans. They're animals so they will also need to eat in order to survive. But since they're no longer in the wild, its's the job of the owner to feed their pets. In Pou, you'll need to feed your pet with all sorts of food available here. There are fries, veggies, cakes, cookies, and all sorts of food in here. Then, you'll also need to bathe your pet every now and then. Doing these will keep your pet's meters full.
Buy Food and potions – In the shop, you can buy all sorts of foods that you can use to take care of your pet. But you can also buy all sorts of potions such as Small Health, Health Potion, Fat Burner, Energizer and Max Potion. There are all sorts of food and potions available in the shop that you can buy!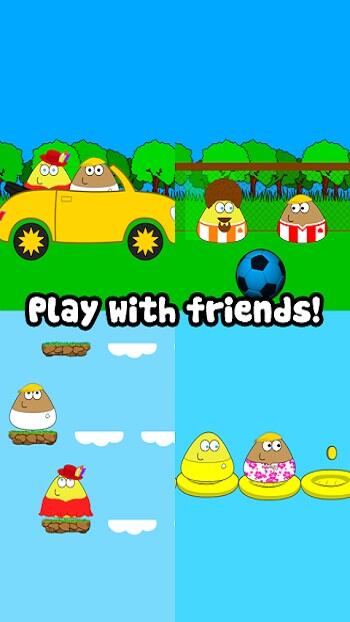 Fun Mini-Games – To ease the boredom of Pou, you'll also need to play with your pet from time to time. Thankfully, you can enjoy quite a lot of mini-games here where you can also earn coins! Enjoy games like Match Tap, Sky Hop, Water Hop, Sky Jump, Cliff Dash, Pet Walk, Cliff Jump, Food Swap and many more.
Personalize your pet – You can also dress your pet however you want! Buy suitable and stylish clothes now.
Pou APK
If you want to take care of your virtual pet, download Pou now and have fun with it!