Merge Plane - Click & Idle Tycoon APK 1.19.2
Download the Merge Plane APK -  new version - to grow your own airline and discover new planes. How wealthy can you get?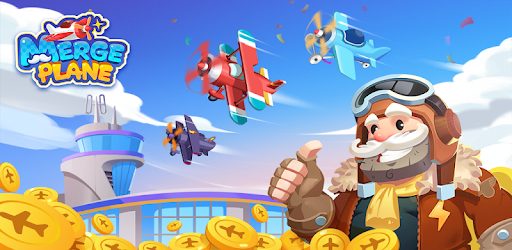 Do you like playing games that don't require you to log in every once in a while? Then you would be interested in downloading this game. This game would make you feel like you're an airline operator and a business tycoon.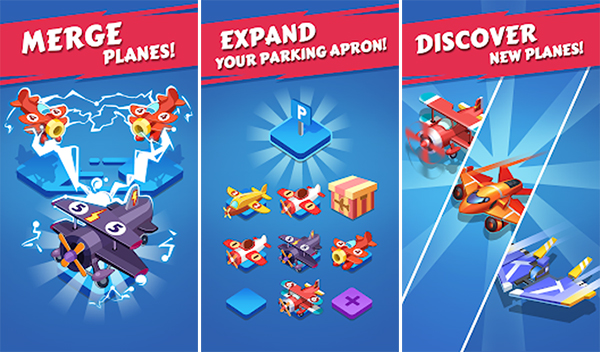 Merge Plane's currency is endless. As long as you have planes flying on your runway, you will earn money. Don't be too quick to judge that this game will go slow and boring after reaching a certain level. This is not your ordinary Idle game. Think you can manage? Read on.
Entertaining Graphics
Unlike the usual click & idle games, this game allows you to interact with your graphics. Merge Plane integrated the concept of other merge games that keeps hooked. So you can expect this game to be more than those endless upgrades.
In this game, you would actually see your planes flying around the track. They're actually fun to watch. Especially when you've deployed the maximum number of planes for your level. More than that, by seeing the actual planes, you get to see the fruits of your labor! Plus, if you'll notice it, the planes have varying speeds. So just watching who gets to the finish line first is a form of entertainment itself!
Endless Fun
Maybe you're thinking this gets harder and boring as you level up. You're not to blame because most idle games do take longer the more you advance. However, remember how we said Merge Plane is different? This is where you'll understand it better.
This game actually helps you level up faster and doesn't let you feel stuck. Every once in a while, a UFO will fly around and give you more coins, gems, or planes when you click it - but you have to watch an ad though. Other than that, the game drops a gift box on each of your vacant parking spaces from time to time.
Low Maintenance
Busy with life too? Don't worry - Merge Plane completely understands that. In fact, they have you exactly in mind when they created the concept. Although far better, Merge Plane still lives up to the mechanics of an idle game.
Unlike most mobile games, your progress slows down as soon as you start slowing down on using the app. For most users, this could be a dealbreaker especially when they think about how much they could've progressed. With Merge Plane, you will always have something to look forward too.
In fact, the longer it takes for you to get back in the game, the better your in-game experience will be. Yes, it's the exact opposite of how you would feel. Even if you are one of the goal-oriented users. The more you delay opening the app, the more money you get to save. As a result, you get to spend more and upgrade.
Play to Discover
Think you'll ever get bored playing this game? Far from it! As a matter of fact, the longer you play, the more you'll get to unlock different planes. The latest version of this game has over 70 planes for you to discover. The designs are actually cute and fun!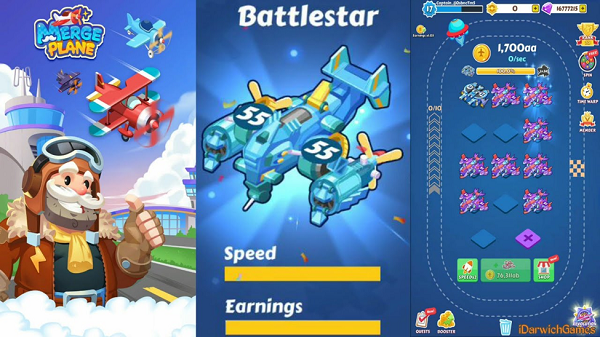 This is a merging game so don't think it's quick to get your planes to level 70. By the time you're about to reach it, the developer will have already updated the game and added a few more planes! Think you can catch up?
Tips for Playing Merge Plane
Complete Quests - Just when you think the game is all about getting rich and leveling up planes, the game has something more to offer. If you get to the point where you feel like the game is becoming pointless, you're playing it wrong. Don't forget to click on the quests button on the lower left part of the screen to guide you with your progress. On the plus side, you get gems too!
Spend Coins Wisely - When you're playing the game and have much time to waste, don't be too quick to spend your coins on purchasing new planes. Instead, wait for the free planes to drop on your vacant parking slots and click on UFOs too. You might be thinking it defeats the purpose of the coins you've saved up. Hear this: what you would like to do is to max out all your coins in leveling up your planes just before closing the app. This maximizes the use of your coins without spending too much on getting all planes to level up.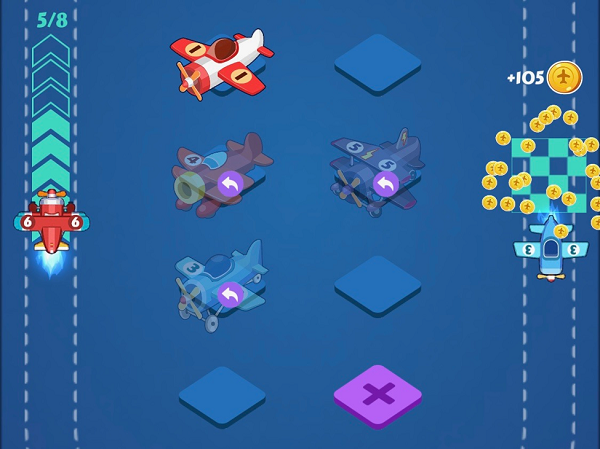 Max Out Deployment - In order to get the most out of the time you spend off the app, you need to send all of your planes flying and fill the track. It doesn't matter if their levels are low. You can just upgrade them once you log back in. The important thing here is we maximize our potential profits.
Invest In Gold - Another in-game currency aside from coins and gems are the hexagonal gold coins. The conversion as of this time is 1 Gold = 10,000 coins. You need to keep this in mind before maxing out your coins for new planes. You can spend gold to purchase boosts. Choose whether you'd like to prioritize lowering down the cost of planes or multiplying your existing planes' income. If you'd ask us, choose the latter first.
Merge Plane: Click & Idle Tycoon APK
When you're always on Merge Planes, you would rather have money flowing endlessly, right? That way you don't have to wait to upgrade your planes and buy items from the shop. Plus, if you're aiming to top the leaderboards too, this is one of your options.
To skip all those wait times and all the ad watch shortcuts, just download the Merge Planes unlimited money now! With this option, you can just focus on the most interesting part which is leveling up your planes!