Magic Mushrooms APK 1.8.7
Have you ever thought about becoming an alchemist? Try and download Magic Mushrooms now and enjoy creating potions out of mushrooms and earn money!
With so many mobile games in the world today, you can pass your time a billion different ways. But if you're looking for something fun but not stressful, perhaps you should play Magic Mushrooms. A mobile game from Green Panda Games, this one is a relaxing and fulfilling game. Basically, you just need to become an alchemist that would save the world!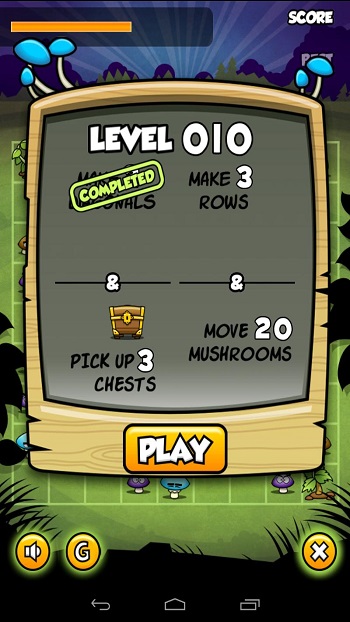 In this simple simulation game, you're going to become an alchemist that would dig up mushrooms and turn them into potions. These potions would help cure the sick people in the world! Now, you can earn money and do what you love! There are plenty of levels to unlock and with it – different mushrooms. There are some crazy mushrooms that are waiting to be revealed when you play the game!
Create Potions and Earn
In the gaming world today, we see a lot of RPG, action and battle royale games. From the famous COD Mobile to Genshin Impact, there are plenty of games that focus on visual impact more than any other. This isn't necessarily a bad thing since most smartphones today are capable of running these high-end games. But for people who are looking for some simple and fun games to play, it's a nuisance.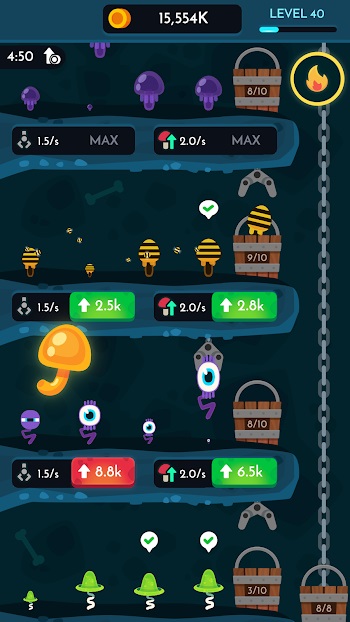 Thankfully, there are still a lot of games being created that are fun and easy to play. Games such as Magic Mushrooms are ones that allow players to relax and enjoy a good time. These players are only looking for games to pass the time without trying to focus so much. If you're one of these people, then this game might be the one you're looking for. Experience a fun and easy game for you and your friends today.
Capabilities of Magic Mushrooms
What do you think about when you hear the word mushroom? Some would say it's poisonous while others would marvel at it. If you're the latter, it means you have the aptitude to become an alchemist! Here are the capabilities of Magic Mushrooms.
Simple gameplay and premise – When you're on a train or stuck on a boring meeting, playing games might be a good way to pass the time. Thankfully nowadays we don't need consoles or PCs to have fun. We can now download some awesome games right on our smartphones. Most are capable of running incredibly graphic-intensive games such as Fortnite, PUBG Mobile and Genshin Impact.
But what if you don't want to play a heavy game that makes you focus your 100% focus and energy into it, you might want to try Magic Mushrooms. This game is as simple as it's enjoyable. All you have to do is to turn mushrooms into potions to cure sicknesses and earn money! Do you have what it takes to become an alchemist?
Unlock Crazy Mushrooms – In Magic Mushrooms, there are a lot of crazy mushrooms you can unlock. Starting on the lowest level, you can unlock a lot of levels and mushrooms along with it. Some mushrooms cure depressions while some cure colds. In any case, all mushrooms can cure a lot of sicknesses which the world needs! The mushrooms have different color, styles and capabilities. But as you unlock more, you can upgrade the furnace as well. Your potions can cure a lot of sicknesses such as the common colds and the more severe ones such as radiation sickness. Can you unlock all the mushrooms and save the world?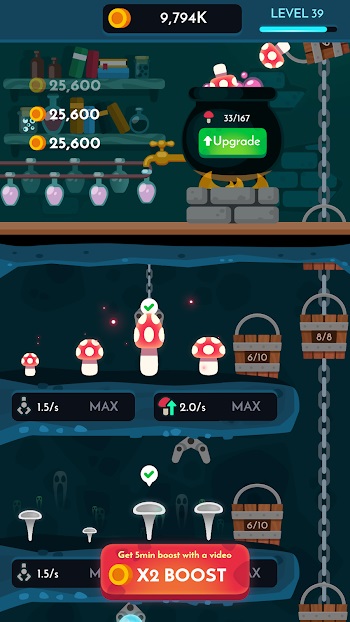 Make IDLE money – In this game, almost the whole process is automatic. You just need to manually put the mushrooms in the basket so it can be brewed. You'll have a lot of chances to make money. Become a trillionaire with every potion you sell! There are different prices for each type of mushroom. As you go up the ladder, you can sell expensive things!
Cure many sicknesses and earn money – In the real world, the hospitals and doctors make a lot of money curing sick patients. In Magic Mushrooms, you can get a lot of money by creating potions from mushrooms! How awesome is that?
Download Magic Mushrooms APK
Want to become an alchemist that earns a lot of money? Play Magic Mushrooms now and get unlimited money here.