Idle Supermarket Tycoon APK 2.5.3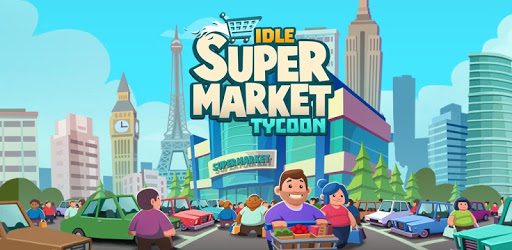 Do you love business simulation games? If yes, then you should download Idle Supermarket Tycoon for Android!
The game by Codigames challenges you to make critical business decisions that'll increase your sales and revolutionize your business. Also, you should ensure that you get the right employees to help you explore new business territories.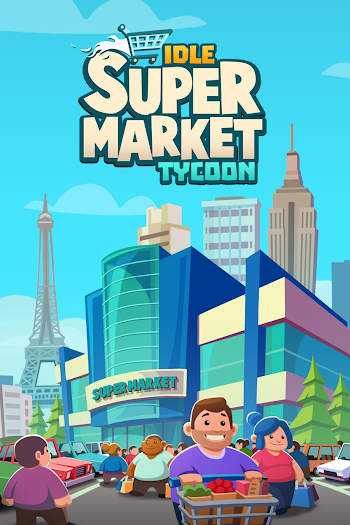 Even better, this game has superior graphics that enables a realistic business environment. You'll enjoy every feature of a real supermarket including well-arranged shelves, employees, and customers streaming in for purchases.
How to Play Idle Supermarket Tycoon
This is a simple game that helps you to sharpen your business acumen. It offers a rather realistic business environment that challenges you to apply logic in seemingly complicated situations.
When you join the game, you'll start with a small mini-market. The decisions you make will determine whether this mini-market will continue expanding or will collapse.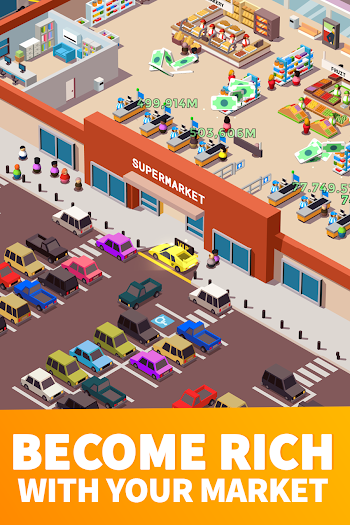 As such, you should use the limited resources available to make the most crucial purchases first. This way, you can be sure that you'll never run out of operating capital.
Additionally, you should always ensure that your customers are happy! Let them get all the items they need on your shelves. This will motivate them to come back, make positive reviews, and make generous recommendations.
As you continue with the gameplay, you'll continually make profits –if you manage your supermarket well. You can use these treasures to employ professionals to guide you through business operations.
Easy Gameplay.This game offers simple and casual gameplay. This ensures that you enjoy a relaxing gaming environment even as you make critical business decisions.
Numerous Challenges.This game offers you exceptional gaming challenges that require your agility, creativity, and logical thinking to solve. The more challenges you complete, the more treasures you earn and the better the gameplay.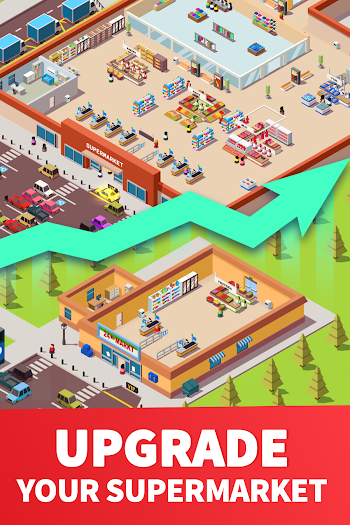 Diverse Products to Sell. This game has no limitations on what you can sell! You can select multiple products from the available products for sale. Whichever your options, just make sure that your customers are your priority.
Expand Your Business! This business challenges you to explore new territories and expand your business operations. Ensure that every decision that you make is geared towards the progress of your supermarket.
Save Your Gaming Progress in the Cloud.This is a magnificent way of ensuring gaming continuity. It allows you to recover your game whenever you change devices. As such, you can continue with the gameplay in another device!
Diversify Your Operations.You can build a bakery, vegetable section, meat section, perfume area, and electronic devices. Sell as many products of different types as you can.
Graphics and Sounds
This game offers superb graphics that help you to enjoy a realistic view of your supermarket. Ensure that you manage your supermarket the best and pay all your employees timely.
Also, this game incorporates immersive sound systems. This way, you can communicate your marketing strategies and business tips to your employees without a hassle.
Idle Supermarket Tycoon APK Free Download
The version of the game has unique features that are tailor-made to enable you to enjoy the gameplay even better.
Some of its outstanding features include:
If you love business simulation games, then you should get the latest version of Idle Supermarket Tycoon. Transform your mini-market into the biggest supermarket in your region and become a renowned tycoon in your area!