Fire Kirin APK 1.0
Fish games are always fun for everyone. In Fire Kirin APK, you can experience the best fish arcade game. Kill different fishes to earn coins.
| | |
| --- | --- |
| Name | Fire Kirin |
| Updated | |
| Compatible with | Android 5+ |
| Last version | 1.0 |
| Size | 41 MB |
| Category | Casino |
| Developer | JFGAME |
| Price | Free |
Download Fire Kirin APK – Fish Game
Fish games are popular at arcade games. These are games in which players will need to kill various fishes so you can earn coins. That arcade game is now in Fire Kirin which you can play for free.
The game is available for everyone where the goal is to eliminate fishes using your weapons. There are different fishes in the sea and each of them yields different results.
In the game, the goal is to kill as many fishes as you can but each bullet costs gold coins. To earn them, you must continually shoot fishes and collect your rewards.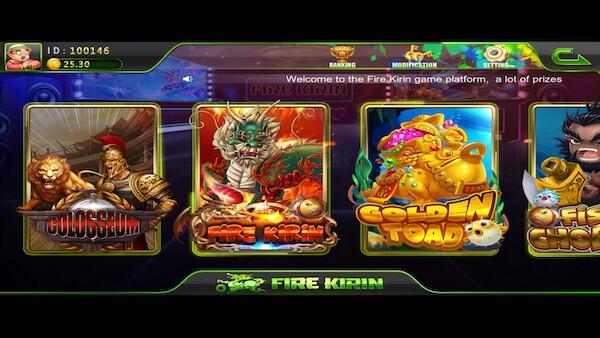 The game is great since there are different types of fishes which you can eliminate. Aside from normal fishes, eliminating rare fishes like the Fire Kirin gives players bonuses.
An Analysis of Fire Kirin
The arcade is a place that's beloved by many worldwide. In the game Free Kirin, players are to eliminate different fishes in the sea. A lot of fish roam in the sea and the goal is to use your gun to finish them.
At first glance, the game looks like an arcade one that you can play in malls and various places. But now it's in mobile form so players can play it as much as they like.
There are different kinds of fish and mythical animals you can shoot in the game. You'll also need to use your coins to purchase bullets as it's an arcade game. Then, the more fish you kill, the more coins you can earn in the game.
There are also bonuses for killing unique fishes that are harder to eliminate. Overall, there are many challenges that await you in your journey in the sea.
How to Enjoy Fire Kirin
The game is simple to play as it's in landscape mode. The game provides you with a top-down view where different animals will converge in the middle. Then, you can eliminate all the fish using bullets.
The weapon is fixed so you just need to adjust the direction from left to right. Each fish requires different number of bullets to kill them. You can then choose the amount of money you can reinvest in your weapon to kill the fish.
Advantages of Fire Kirin
If you're excited to play a fun fish arcade game, here are the advantages of Free Kirin.
Many fishes in the sea – Fire Kirin is a fun and free game which features many fishes in the sea. The arcade game's goal is for players to eliminate every animal in the water.
To do this, you're given a weapon where you buy bullets with money and earn rewards. There are different types of fishes and special ones like Dear Dragon, Laser Shrimp, Missile Shrimp, Mad Shark, Fire Kirin and Mermaids.
There are different effects and rewards you can get from killing various species. For instance, the Mad Shark when killed leaves a blast in a certain radius.
Bonuses and rewards – Fire Kirin feature many bonuses and rewards for players as they eliminate different animals. The normal rewards would coins which a player can reinvest for some ammo. Then, there are also many bonuses and power ups from time to time.
Multiplayer – The best part about the game is it also allows multiplayer. You're able to enjoy betting against other players to earn more money. You can also play offline as a single player.
Bet money – The game allows players to bet money and earn them as well. You're able to bet money and earn multiple times that amount and lose that as well. The multiplayer mode allows you to do so and enjoy.
Different games available – In Fire Kirin, you can enjoy playing different games in one. These include ones like Golden Toad, Fire Kirin, Colosseum, Crab King, Baby Octopus, Fish Chopper, Fa Fa Fa, Monkey King, Alladin's Lamp, Razing Storm, The Legend Phoenix, Meteor Shower and more.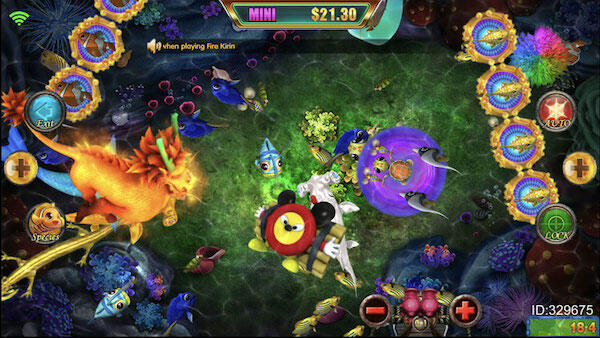 Colorful graphics - Free Kirin features gorgeous graphics and great animal designs. The effects are enjoyable to watch as you eliminate every single fish. The backgrounds change as well with different games but the coral reefs, grasses and sea urchins are amazing as well.
Download Fire Kirin APK– latest version
Can't get enough of amazing arcade games? Try Fire Kirin so you can eliminate fish and earn coins.