Cashier 3D APK 55.7.1
Are you curious as to what it's like to be a cashier in a store? Download and play Cashier 3D now and live the life of a cashier from receiving payments to changes.
Everybody has encountered a cashier even once in their lives. Cashiers are literally everywhere from your local stores to the supermarket to even remote places as long as there's a shop. Without them, no one would be able to manage a store and the payment system would be in chaos. If you're wondering what it's like to be one, play Cashier 3D now.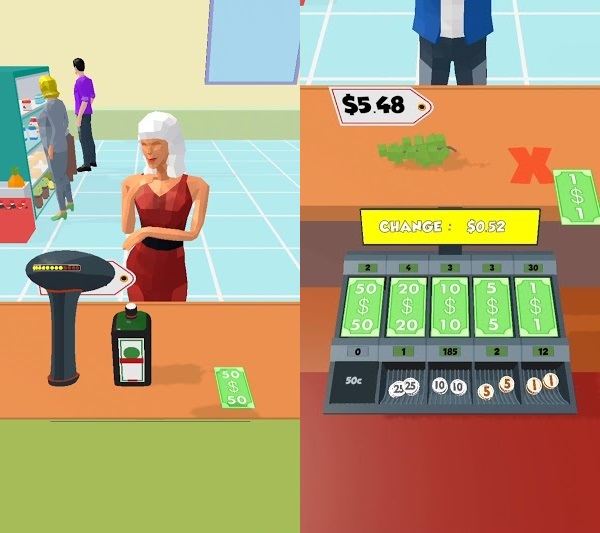 Over 5 million people love playing Cashier 3D! It's one of the easiest and most fun game to play right now. If you've ever wanted to manage a store yourself, now is the time to do so! Become a store's cashier and scan every product that customers will buy. Then, you need to give out the correct change to make sure that the store will not be bankrupt. Aside from that, there are a lot of fun to do here.
Be a Cashier
Everyone knows that being an adult isn't easy. Some have it easy but most have it rough. Working in offices, stuck in buildings for hours and returning home only to do it all again the next day. But cashiers are some of the most hardest working people around. They are constantly around people who don't want to get in lines for too long.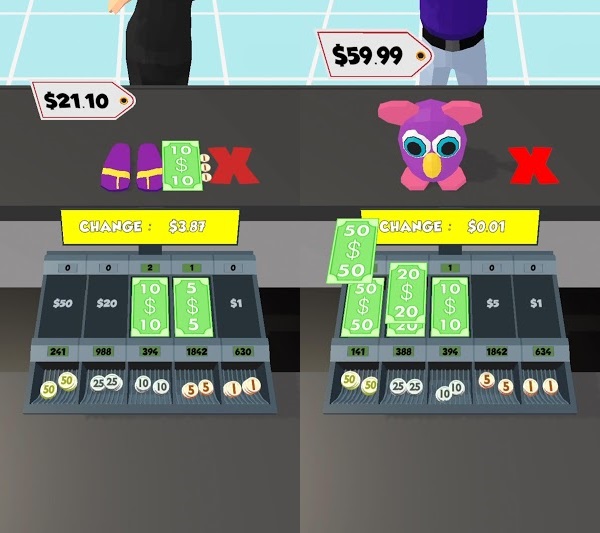 However, the job of a cashier is also a rewarding experience. If you want to experience what it's like even in a game, try playing Cashier 3D. This game from Zynga allows you to play as a cashier to try and complete different levels. You'll start with some customers who only buys small products to customers buying expensive ones. You then need to take the product to scan, placing the bills in the correct counter and give out correct changes. There are a lot of tasks in place here that will test your cashier abilities. Can you completely dominate this game?
Features of Cashier 3D
If you've always fantasized about working as a cashier, try playing this game now. Cashier 3D isn't your ordinary game! There are a lot to look forward to here.
Be a cashier – In the real world, a lot of cashiers work hard to provide the best service to people. Since they're serving customers, they can't afford to screw up or to be slow. This is why you'll see cashiers working as precise and as accurate as they can. If you think you have what it takes to be a cashier, then you should play Cashier 3D now. Here, you'll play as a cashier of a store selling out various items. Here, you'll face different customers and face different challenges. But the most basic thing to do is to stay calm and assess the situation calmly. Since you're a cashier, you should know how to properly do your job.
Place the money in the counter – The first thing you need to do as a cashier is to greet the customer. Although that isn't exactly present in this game. Then, all you need to do is to scan the item the they bought. You will do this so that the product will show its price and it will be recognized by the database. Then, you just need to follow the next steps! Next is placing the customer's payment in the cash register. You need to correctly place the right bills and coins in their respective places otherwise you will fail.
Correctly hand out the changes – Then, you need to correctly hand out the change to the customer. You don't need to worry about math as the cash register will automatically display what the change will be. You just need to correctly hand over the change by going over the cash register.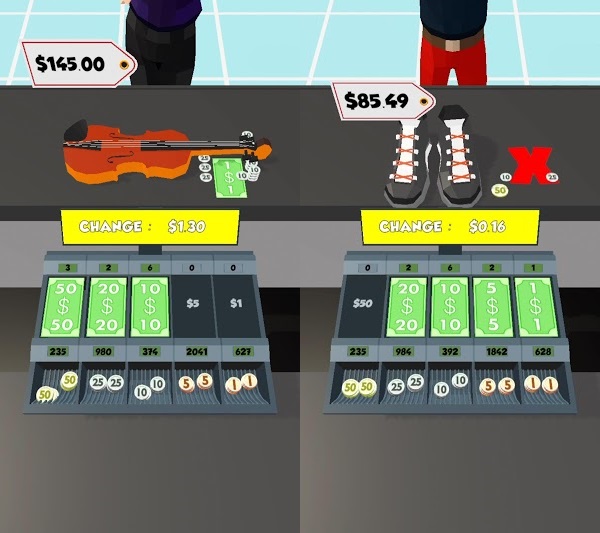 Complete all the levels – There are so many levels to complete in Cashier 3D! At the start, you'll only face customers who buy small products. But as you go on, you'll face even VIP customers and customers that require a lot of attention. Your goal is to complete all the levels to finish the game.
Play for free – The game is completely free to play! You can also watch ads to get the VIP customers. Then, you'll get more rewards as you serve them!
Download Cashier 3D APK – Latest version
Cashier 3D lets you play as a cashier of a store. Do a good job and serve the customers well. There are plenty of challenging levels to complete!