Car Mechanic Simulator APK 2.1.76
Have you always been fond of fixing cars? Play Car Mechanic Simulator today and experience what its like to fix cars and replacing different parts and painting it too.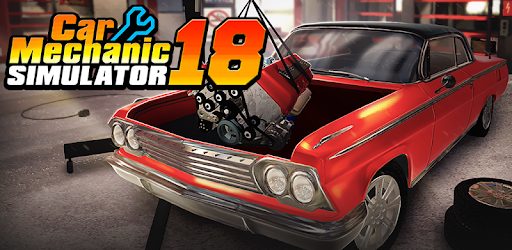 Being a mechanic takes a lot of hard work and time. You won't instantly become one even after years of studying. Only be constant practice and errors do master mechanics become good. But if you think you have what it takes to become one, then play Car Mechanic Simulator today. This game is a product of Digital Melody Games which has over 10 million downloads now.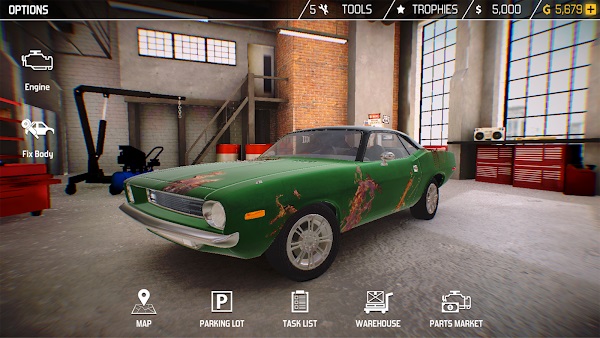 Do you love cars more than any other? If so, here's your chance to get behind many impressive cars such as Elenos Phoenix, Miraco Togo, Maxim Sphera, Onyx Electra and many more. These cars are based on real popular cars today so you'll have a great time fixing them. You should keep in mind the task list, your budget and the parts needed to fix it. But you can also change the paint and add other accessories!
Fix a lot of Cars
The world has a lot of cars. There are approximately 1.4 billion cars on the road today with the number quickly going up. Because of this, there are also a ton of mechanics who will fix cars so that they will function well on the road. We all know that a job of a mechanic isn't as easy as we think. Because of this, you'd need numerous months and years of learning and experience just to become one.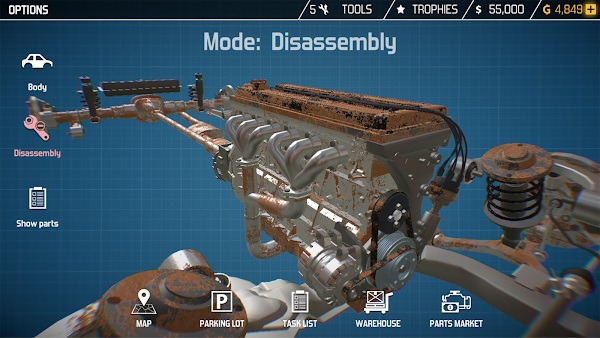 But if you're daring enough to take this challenging job, then you should play Car Mechanic Simulator. Here, you don't need to be a real-life mechanic to play. The important thing is that you love cars and are willing enough to learn more about them. Here, you'll maintain the cars, change their parts, clean them, change the paints and so on. There are so many parts that go into a car so each job would require different tasks. This game is one of the most realistic mechanic games you could ever play right now. Overall, this is a fun game to play!
Features of Car Mechanic Simulator
Do you love cars and tinkering with things? If so, then you must play Car Mechanic Simulator now. This game has all these juicy features:
Work with plenty of cars – Do you know how to fix a car in real life? Even if you don't, it's not an excuse not to play Car Mechanic Simulator! You just need to have a profound love for cars to play this game because you'll learn a lot about cars in this one. But the best part of all is that you get to work with a bunch of different cars! Be it a vintage or a sports car, you'll never have a shortage of cars to work on. But you need to take note that each car requires different types of service. Some may require you to change specific cars, while others just need a paint job. However, whatever it is the cars need, you will do the job because you're a mechanic!
Get different tools – To play the part of a mechanic, you'd need access to different tools. Thankfully, you're a mechanic who has access to all the latest tools that you need to get the job done. In terms of location and tools, you'll have everything you need at the start of the game. But in the game, itself, you can take apart the car part by part and then examine all of the content. Then, you buy new parts or assemble them to create a fresh new car.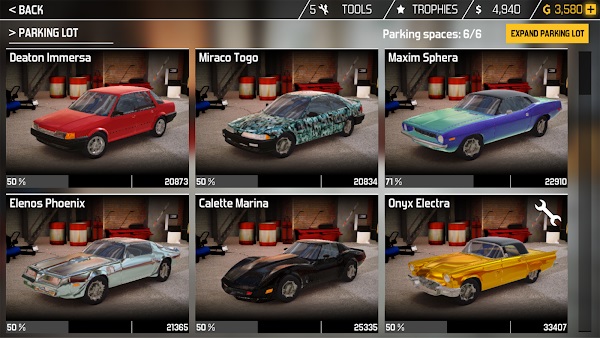 Unlock barns – In this game, the more cars you can sell, the more barns you can unlock. These barns contain different cars that you can buy, fix and then sell for a profit. This is how you'll make a living as a master mechanic in this game. Overall, the experience should teach you a lot about car buy and sell business and the car fixing job as well. You will also learn how to budget your money so you don't overspend them on parts.
Task list – You don't have to worry even if you don't know how to fix cars. In Car Mechanic Simulator, see a list of tasks that you need to finish to completely fix a car. These includes changing parts, cleaning them, and even a paint job. You'll see in the game the percentage of completion for the tasks.
Buy parts and change the paint – The game also has a parts market where you can select and buy parts for the cars. It has the price and all the info you need.
Download Car Mechanic Simulator APK – Latest version
Do you love fixing cars? Download Car Mechanic Simulator and enjoy fixing and selling cars for a living.