Bank of America APK 23.08.02
Bank of America APK is your mobile banking app that lets you pay bills, manage accounts, transfer money, check deposit and earn rewards freely.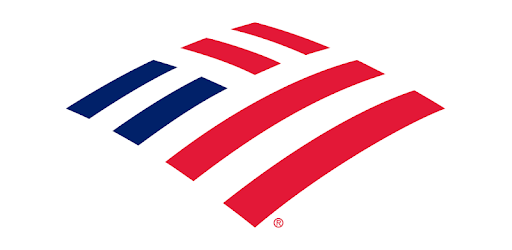 Download Bank of America APK – Mobile Bank
Banks have been around for centuries now with the intention of storing money for the people. Today, we now have access to millions of banks worldwide.
Thanks to advancements to technology, we now have mobile banking apps to use as well. Bank of America is a banking app that allows users to access their credit and debit accounts in the bank.
As you're aware, Bank of America is one of the leading banks in America. They have millions of depositors which is why this app was made. It's an all-in-one banking app that lets you access all your accounts in one place whether debit, credit or checkbooks.
There are also extra features such as Erica which is your finance virtual assistant. More than that, there are a lot of security features in here as you'll learn in the post.
What Exactly is Bank of America?
A lot of banks worldwide today have developed their own banking apps. This is to accommodate the ever-growing consumer base. With banking apps, customers can easily see their accounts and do many financial activities.
This is with the convenience that it brings which allows you to go anywhere and check your accounts. Bank of America is an app that users can enjoy using to check their accounts.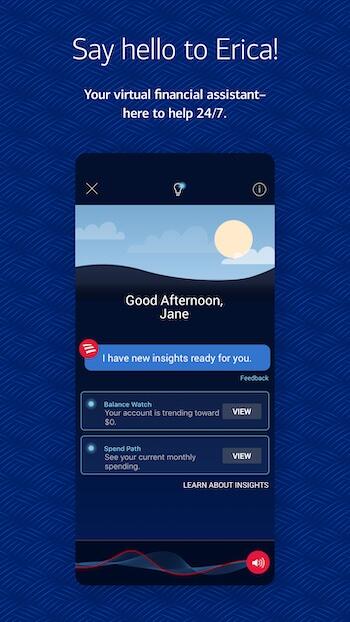 With this app, users are easily able to transfer money, see your accounts and even pay bills. It's an app that's complete with everything that you can ever need without going to the bank. You won't even need to go to the bank just to check what's happening with your accounts in real time.
Manage Your Accounts
If you want to easily see your accounts, you can do that in this app. Here, you can view your balances for your accounts like debit and credit. You can also view activity such as withdrawals, deposits, transfers and more.
Plus, you can activate or replace debit and credit cards right in the app. Then, you can follow up physically in your bank for these. One of the best things about the app is that it allows you to set up your account info. This can be done entirely on the app without the need to go to the bank.
Transfer Money and Check Deposits
Normally, transferring money is done by depositing it through a bank in someone's account. But that's no longer the case when you have Bank of America. Users can send any money in the app to any Bank of America account holders.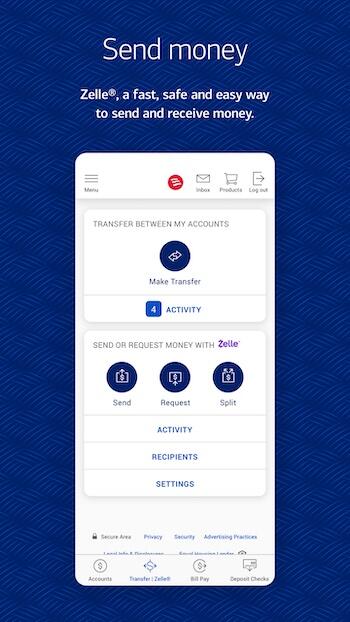 It also lets you check deposits by taking photos of your checks. Then, you'll know immediately if your check is being processed. This is the ultimate convenience that you can get especially if you use a lot of checks.
Advanced Security Features
The app is secured with many features. One of the basic ones is the touch and face ID that you can set up to only recognize you. This way only permitted users can access your bank account.
The app will also notify you if there's suspicious activity on any of your card. Aside from the bank contacting you, they can do it in the app. There's also the Mobile Banking Security Guarantee which frees you from any liabilities for fraudulent activities. But the condition is for you to report it immediately to the bank.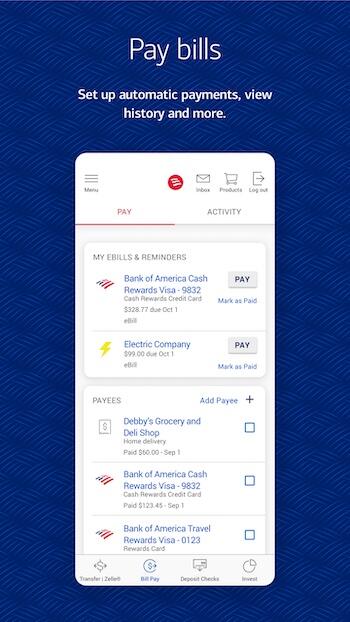 Lastly, there's the Security Center where you can contact the bank for any help or questions. You don't have to worry about your bank account if you don't give your phone to others or your login info.
Manage Your Investments
Bank of America also has a function that allows users to access their investments through Merrill. Through the app, you'll see your holdings, balances, activity, performance and more.
You'll easily see your cash balance, money accounts and priced investments. In the app, you'll know if your investments are making you money or not. You can monitor it every day which is perfect for cautious investors.
The app allows you to manage your stocks and even trade them in the app. There are also trade news, market data, quotes and more. The app also has a convenient function that allows you to send messages to your financial advisor.
Virtual Finance Assistant
Bank of America introduces a virtual finance assistant called Erica. The assistant can help you find transactions, pay bills, send money and more. You can also ask the assistant to give you insights on your accounts and activities.
It's a new little feature that can make your banking experience even easier.
Pay Your Bills Conveniently
Paying your bills has never been more convenient with Bank of America. Whether you want to pay your credit card or utilities, you can do so here. You can use your debit card or credit card to pay for your bills.
It will be paid in real time, and you'll have a digital receipt to go with it.
Download Bank of America APK – latest version
Banking is easier with Bank of America. Access many features like send money, view your accounts and check deposits.