Android Auto APK 10.4.633624-release
Download Android Auto APK Latest Version Free for Android to use Google Assistant. Stay connected, entertained, focused as you drive, and enjoy the simple interface.
Do you drive a lot, or is driving something you enjoy doing? Then you'd agree that driving without a companion can be boring. While it is important to stay focused as you drive, having a driving companion can come in handy. A growing trend among people is making use of smart assistants when they drive.
Download this app if you are looking for a reliable smart driving companion. With the Android Auto app, you can stay entertained, connected, and focused on Google Assistant. This offers large buttons and a simple user-interface. Another amazing feature you'd like is the voice actions it offers.
Using your favorite app when one the road can be difficult. However, Android Auto helps in making this easy and achievable. This is because the app is designed to help you use your favorite apps as you drive. It is worth mentioning that Android Auto is an Auto and Vehicles app. Also, this app is offered by Google LLC, and it has a content rating of 12+.
It is important to note that the app has over 500 million installs on Google Play Store. This jaw-dropping number can be attributed to the fact that there are many interesting things about the app. Another thing to note is that there's mild swearing contained in the app.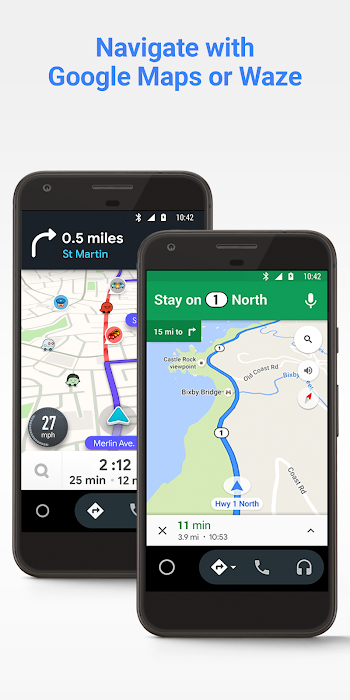 Android Auto is readily available for download, and you can install it on any Android device. This is because it has been optimized for different mobile devices, irrespective of their brands. Therefore, whether it's a Samsung or a Huawei phone, you can make use of this app.
Driving is an unavoidable need for everyone, irrespective of age. You'd always need to move from one place to the other. This can be to the office, home, or schools. People are often faced with different challenges when they drive, especially to remote places. This is why Android Auto is a necessary app to install on your device.
Features of the App
Android Auto is the most reliable app for traffic service, which is why it has recorded many installs. Also, the user interface is very simple. To start using this app, the only thing you need to do is say, "Ok, Google." The following will take place once you say it:
Get the fastest and correct route to your destination with Waze or Google Maps. This is alongside traffic alerts and reliable GPS Navigation.
You'd get real-time updates on hazards, ETA, and your route in general.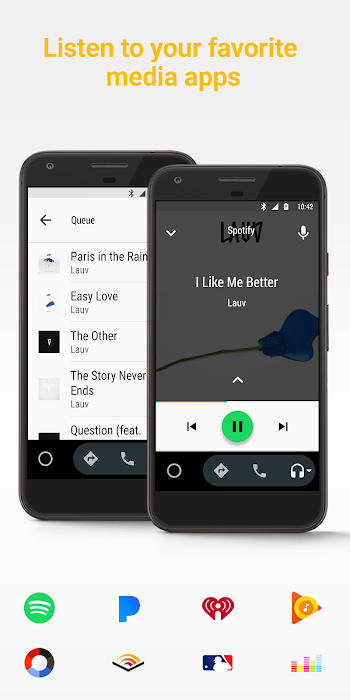 Make use of Google Assistant, especially to check the calendar. This will help you to know your routine and where you should be.
Reminder features for you to use to stay updated with news and other events.
A custom "do not disturb mode" setting that ensures that you are not disturbed when driving.
Make and receive calls by using Google Assistant. You can do this with just a single tap.
Send and receive SMS with Google Assistant. This is because it'd have access to your contact list. You can send SMS via WhatsApp, Telegram, Kik, Skype, WeChat, Hangouts, Google Allo, and other apps for messaging.
Use the app to manage your information and entertainment system. You can make use of different media apps like Google Play Music, Spotify, iHeartRadio, Pandora, and Amazon Music. It is worth mentioning that you can also enjoy Deezer, Napster Music, and High-Fidelity Music Streaming.
There are so many compatible apps to use with Android Auto. As mentioned above, you can use it on any Android device. Download the app now for a different driving experience.
Download Android Auto APK for Android - Latest version
Download the latest version of Android Auto on your mobile device to enjoy a different kind of driving experience.