Aero Insta APK V18.0.3
Download Insta Aero APK Latest Version free for Android now. This application will enhance your overall experience when using the popular Instagram.
| | |
| --- | --- |
| Name | Aero Insta |
| Updated | |
| Compatible with | Android 5.0+ |
| Last version | V18.0.3 |
| Size | 45 MB |
| Category | Social |
| Developer | Aero Insta |
| Price | Free |
Make Instagram much more accessible for yourself. Insta Aero is an application that makes many of the IG features much more user friendly. What this means is, a lot of flaws and issues already present in the app have been tweaked, fixed, or removed.
If you don't quite understand, just go ahead and download the app to fully see what we mean.
Insta Aero Main Features
There are quite a few great features included when you choose to use the Insta Aero app for Android. These will surely make your Instagram experience seem a lot more accessible and special. Nonetheless, the app isn't difficult to use, nor is it difficult to download.
So, go ahead and check out the various aspect and characteristics by continuing to read below.
Remove any of your liked posts. This means you can hide any old posts that you have already liked. If it's already been viewed and reacted to, why would you want to see it again?
Instantly know if someone is following you through their profile. Now, you won't need to constantly scroll through your followers list to find out if someone you know is following you. Instead, just take a quick peak at their own profile and see what the deal is.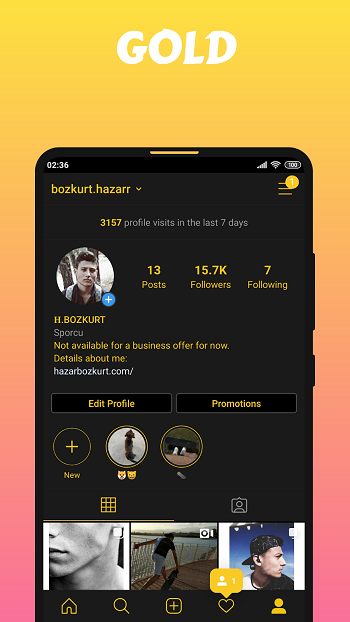 Also, you can download all content with no problems at all. These include stories, IGTV videos, reels videos, and any other piece of content. If it's something you can view and enjoy, then it's possible for you to go ahead and download it.
Now, you also have the ability to keep your own privacy. This means, when you view someone's story, they won't need to know. Also, when you've read someone's message, they will not be notified with the seen pop up. Furthermore, if you begin typing on a direct message, it will not display on the other person's screen either. You are 100% safe and have your privacy kept in check.
You can even disable the ability for Instagram to collect your information for its analytics. This is part of the privacy factor, but this is more specific. Your entire account cannot have its information or data processed by the IG app for analytical reasons. So, you will not be included in the overall ratings and stats given to other users, when looking for statistics and other analytical information.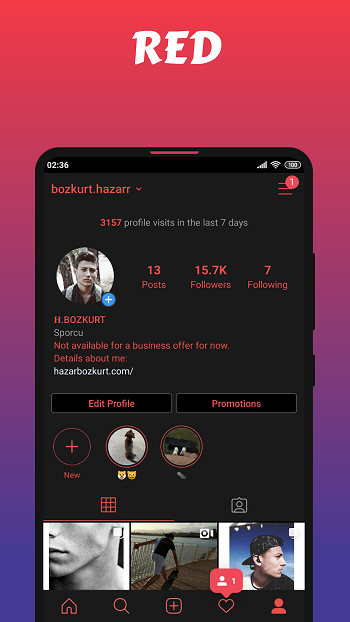 Sometimes, when you scroll to a video on IG, the sound isn't automatically on. At this point, you would need to tap on the video in order to have the sound start. Well, not anymore. You can edit your sound settings to where these videos will automatically begin with their sound on. You won't need to tap a single time in order to have the sound begin.
More minor details to note:
You can see all profile photos in perfect HD quality.
Additionally, these same photos on a user's profile can be downloaded onto your Android device.
Videos can be edited so they do not automatically start when scrolling through your feed.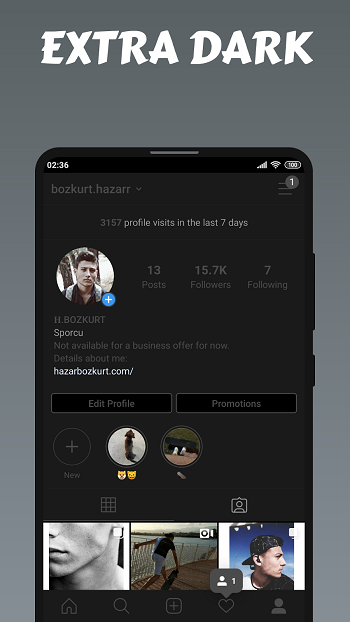 You can even fast forward or rewind these same videos.
You will also be able to copy profile bios and comments onto your device clipboard as well.
And, links can be opened directly from the app.
There are still more features, but you'll need to download and use the Insta Aero application for yourself to experience them.
Insta Aero APK Free Download
Now is your chance to download the application for yourself. Go ahead and select the link to download the APK file directly to your Android device. In a few seconds, Insta Aero will become a part of your apps library.
The best part, the app takes up almost no space at all. And, you save mobile data, as the app doesn't take all that much. That being said, there should be no reason for you to not want to at least try the app for yourself. The only reason would be if you don't already have an Instagram account. In that case, go ahead and make an Insta account first, then come back.
Similar apps: Instagram Apk and Instaup Apk