ABC Runner APK 2.0.6 (Unlimited money)
Do you love racing games with a unique element? In ABC Runner, you'll play in track races with different quiz points! Answer them as quick as you can to win!
Runner and puzzle games have become a huge thing in the past years. There are a lot of enjoyable games in these genres but ABC Runner seems to be the most unique one out of all. This is because this game combines quiz and racing! Published by JoyPac, this game has more than a hundred thousand downloads now. Here, you'll enjoy a brand-new fusion of a racing game that will surprise you.
Here in this game, you'll enjoy a different type of racing game which pits you with different racers. Then, there are quiz stops along the way. But you'll need to answer these challenging questions before you can proceed! For example, you may be asked to name one sport that starts with "S". The faster you answer, the faster you can proceed! Win the game and get a ton of rewards.
Race and Answer Quizzes
Have you ever played a racing game before? There's a high chance that it maybe a car or a running game. But today, you'll be able to play something different called ABC Runner. This game lets you race and answer quizzes at the same time! Because of this, you'll be able to have different gaming experiences every time. But the best thing is that you should try to answer as fast as you can so you can proceed quickly.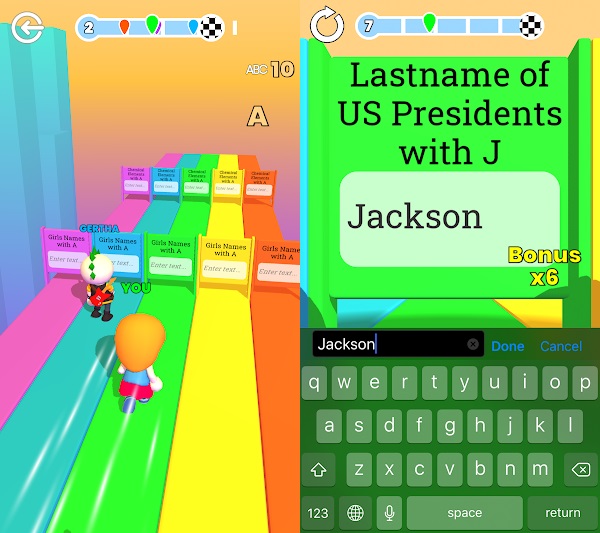 In this game, you'll play against multiple AI every time. You can also also input your name, and receive many rewards! Here, there are multiple rounds which starts off with 1,000 players. In each round, there are different questions that wil pop up so you'll need to think quick! That is the way to win here. But you just need to place 1st, 2nd, 3rd, or 4th n order to qualify. But as you progress, you'll need to place higher and higher until only the first is the winner! There are also a ton of skins to unlock!
Features of ABC Runner
Do you want to play a different racing game this time? It's time that you enjoy ABC Runner! Here, everything is different from your normal racing game.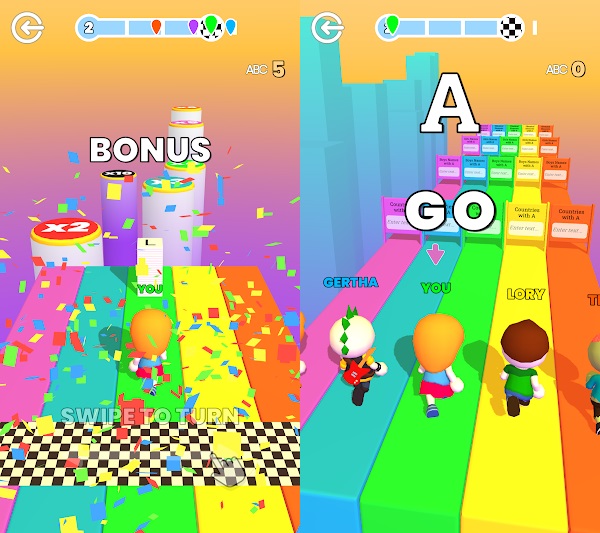 Run and answer the quizzes – Do you enjoy racing games that make you focus on winning? How about combining 2 seemingly different aspects together in one game? ABC Runner is a game that combines running and quizzes in a fun and engaging game! Here, you'll race against 999 other players in multiple rounds. The format is that you'll race against 4 different players at the same time. Here, the system generates a random letter that will be the basis of the questions for each round. You'll then be asked questions at every hurdles. For example, you may be asked to give a name that starts with the letter "W". After your answer has been accepted, you can move on to the next hurdle.
Plenty of rounds – In this game, each match starts with 1,000 people playing. But they're all AI and you're the only person playing. But in each match, you will play mostly against 4 and 3 other people. Here, there are a lot of players that will be eliminated in each round. Usually, there are over 10 rounds to play until you'll only face of against one other player. But in order to win, you must be faster to answer than the other player! But sometimes, the game doesn't accept uncommon or unique answers. So, it's a matter of providing a common answer that the game accepts.
Different skins – To make the game even more exciting, there are a lot of skins that you can unlock with coins here. They are all unique and wonderful so try to collect them all. Then after each match, you can get extra bonus the more letters you've answered. You can get up to five times the rewards! But if you watch a video add, you can get a lot of diamonds as well as a bonus.
Satisfying graphics - ABC Runner isn't your normal game that you play when you're bored. Here, you must focus and use your brain at all times while racing! The hurdles are designed to stop players from progressing unless they answer correctly. But overall, the visual and the sound effects are masterful!
ABC Runner APK – Unlimited money
Enjoy a fresh racing and quiz game today called ABC Runner! Download the latest version and always win!