WorldBox is an addictive world-building God simulation game from Maxim Karpenko. The main aim of the game is to create life and watch it excel in your world, from animals to different mythical creatures. God games are a lot of fun because there is lots of freedom to play the game you want - build what you want, introduce different characters to your world, and take complete control in WorldBox. It really is a world in a box.
While the focus of the game is on natural events - which, of course, you are in control of - there are also lots of different races and species you can introduce. From sheep to zombies, the world is your oyster. These different civilizations can live in peace or you can send them to war to see how it all pans out - zombies versus sheep? Yes please! WorldBox is extremely detailed, especially for a free-to-play game on Android.
Best Features of WorldBox
WorldBox has lots of great different features to enjoy, from compelling gameplay to watching a whole new virtual world develop under your fingertips. It's all about experimenting and learning how different entities interact with each other. You'll be surprised at the variety and depth on offer in WorldBox, and how addictive the gameplay can be. There's hours worth of content right here.
Different Civilizations
WorldBox is constantly updated, with the most recent happening at the start of 2020. This means that the base civilizations in the games, which include zombies, orcs, elves, dragons, and other magical beasts and races, are joined by new additions all the time. Each civilization interacts differently with each other and offers different ways to play the game. Which one will be your favorite to play?
It's Your Sandbox World
WorldBox on Android is all about having the freedom to play with your world anyway you like. You can use different abilities, like dropping acid rain on the planet, or detonating a huge nuclear weapon. All sorts of natural events are also at your fingertips, such as tornadoes, tsunamis and volcanoes. Use these to create life, or to destroy it - the choice really is all your own.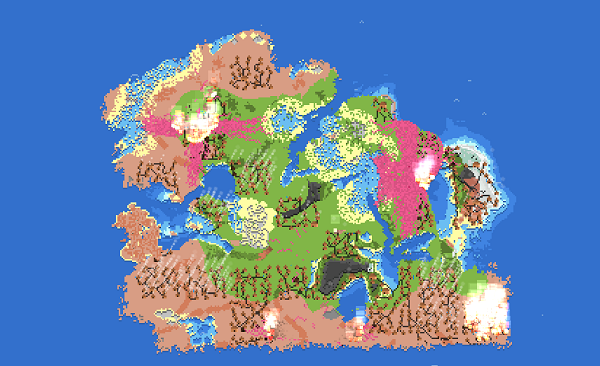 Create Your Perfect World with Sandbox Tools
There is complete freedom to create the world that you want. There are different pixel brush tools, as well as magic and different filters. Plenty of colors and pixel choices give you a lot of creative ability. The pixel art style is a lot of fun to play around with and you just drag your finger across the screen. Then you start adding disasters, civilizations, and wildlife.
Simulate and Watch What Unravels
Once you've created the ideal world, you can either watch it prosper or watch it be destroyed with a variety of different natural disasters. Spawn in huge meteorites, geysers that rocket into the sky, and volcanoes the size of your world. Creatures will evolve, civilizations will rise and fall, and you are in complete charge in WorldBox.
Tips and Tricks for WorldBox
One of the best things about WorldBox is that it doesn't require much thought or strategy - the main elements of the gameplay focus on free play and creative destruction/creation. Unlocking different parts of the game arrive when you figure out certain combinations or create certain scenarios. You'll appreciate the variety of results - the game has really been thought about and continues to offer fantastic new updates as time goes on.
WorldBox Mod APK - Free Buy
Download the WorldBox Mod APK free buy - build your ideal world and experiment with it.