RTS Siege Up APK 1.1.106r5
Download RTS Siege Up APK Latest Version free download. Build up a stronghold and expand by sending your troops to gather resources.
Build your stronghold and defend it, no matter what it takes. Can you stand your ground against pirates in this vast and island? Download RTS Siege Up for Android to find out.
How to Play
When first starting the game, you will be introduced to a hooded soldier on a vast island. This man will guide you through all of the basics.
First, you will be presented with your main mission: Explore the island and collect resources. You'll need to send your own peasants out to collect food in order to sustain your community.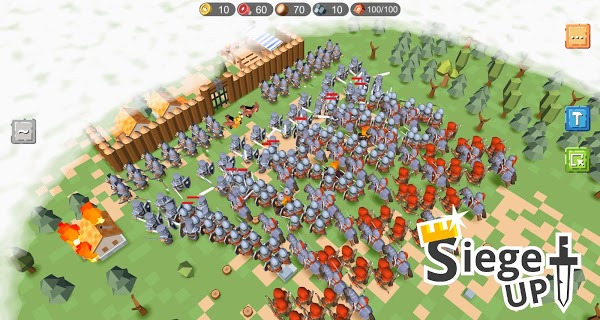 Sending out scouts will also alert you of any pirates attempting to attack. At this point you will need to defend your territory at all costs.
Everything else, is pretty simple to understand. Basic management stuff: Build, upgrade, gather resources, rinse and repeat.
User Interface
The interface is also easy to understand. Every menu is displayed on screen with an icon for easy depiction. Additionally, the controls are as simple as tapping onto your screen. From that point, your soldiers will fight for you, without having to do anything but watch
RTS Siege Up Features
Create your own medieval strongholds, castles and defenses.
You can also create many different weaponries to break down enemy defenses.
Use different types of soldiers, such as cavalry and archers to keep your stronghold safe and secure at all times.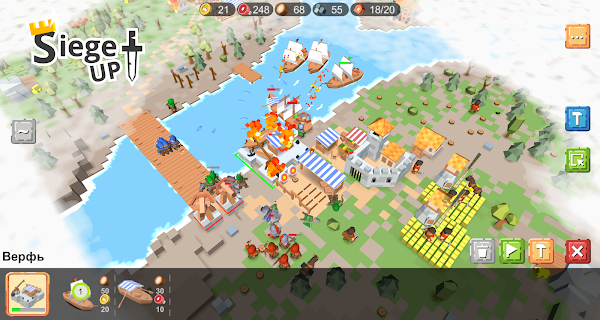 Collect various resources using your naval units and fishing boats. In addition, you can take control of mines to collect even more valuable items.
RTS Siege Up is a fun management game where you need to keep your army and stronghold secure and safe.
Finally, you can enjoy this experience 100% offline, any tie and anywhere!
Graphics
The graphics of the game are also fairly decent. Everything is displayed in a 3D bird's eye perspective. Everything is in HD, but not super detailed with pixels. Meaning, even weaker devices can still run Siege Up without facing difficulties.
What's more, the game can be payed from a portrait or vertical view. So, depending on your preference you can always switch up how you enjoy RTS.
The animations are smooth. Every action between your soldiers and citizens are seamless and feel right for the game. Nothing is clunky or out of place.
Sounds
Unfortunately, this stronghold defense and management game is pretty quiet. There is a lack of music, making it very easy to get bored, if you don't have your own playlist to enjoy. Although, if you are multitasking, this wouldn't really present itself as a problem.
Nonetheless, we recommend having some of your own music handy, just in case. Otherwise, prepare for a very awkward and quite gameplay experience.
RTS Siege Up APK Free Download
You can also download the RTS Siege Up APK latest version for Android if you wish to enjoy a few extra benefits. With the modified version, comes a couple of additions and short cuts to quickly building your stronghold. We ask, why would you want to grind and go through tedious processes, when you can instantly get what you want?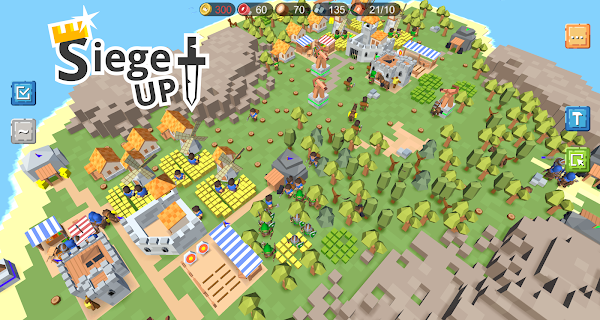 Thus, getting the modified APK file will reward you with:
Access to RTS Siege Up APK free upgrade for your building.
With unlimited money, you won't need to worry about grinding for cash. You can get straight to buying the necessary resources needed to progress. And with that being said, the RTS Siege Up APK free download is definitely the version you would want to get.
Go ahead and download now!