Rokkr Windows Is PC Experience Better Than Mobile Platforms
Video streaming apps are a dime a dozen these days, and it can be difficult to pick the right one. But Rokkr is not just another video streaming app. You can consider it as your entertainment hub that is highly versatile when it comes to find and play media content. This user-friendly media center comes with a web browsing function, which is literally game-changing. You can access loads of content and channels in various hosting since the app supports third-party bundles through its integrated browser. Rokkr Windows can give you a better watching experience if you are thinking of switching from the mobile platform.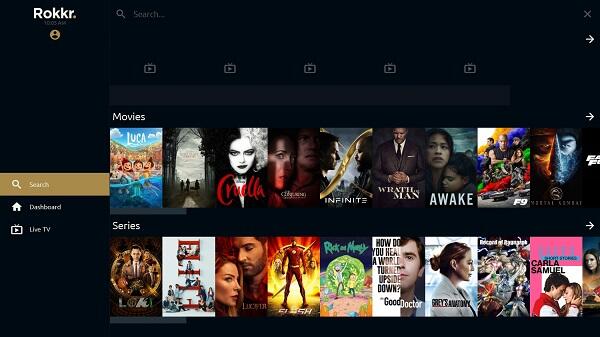 Streaming services are quite popular worldwide. Various multi-billion dollar ventures like Netflix, Spotify, YouTube, and others serve millions of people across the world. Rokkr does not follow the same business policy, but it's also a video streaming service that offers absolutely free content. It also has a premium plan for unlimited watch time.
Why Playing on Windows Is Better?
Rokkr is a lightweight application that is well-suited for watching long-form content. Users can get one-tap access to free movies, TV shows, games, and live TVs. You can download Rokkr for Windows 7 and 10 to get the same service on your personal computer. Does watching it on the bigger screen make any difference?
Well, Rokkr for PC definitely offers a different experience than using the app from mobiles or tablets. What can you expect as a PC user? Let's find out:
1) Bigger display
Watching on a computer is more enjoyable because of a bigger display. You'll always have great viewing quality – mean less squinting and eye strains. Even if you want to watch on a smaller screen sometimes, don't worry. No matter if you use a laptop or a desktop, the screen size can be adjusted to your needs.
2) Better sound system
Most computers today come with awesome built-in sound systems. Expensive phones also yield a good audio output but a high-built PC is always a better option. Hook up your PC to some good speakers (or headphones) and experience awesome audio quality. The built-in speakers in many laptops can produce the same high-quality sound.
3) Better graphics
The Rokkr app provides HD and 4k quality content but not all mobiles can render the original quality of the videos. What sets video streaming in personal computers apart from other platforms is the awesome graphics that they come with. With special optimization software or a top-grade graphics card, computers can even do some special tricks to improve the video quality. Whether you go for the Rokkr Windows PC 32 bit download or 64 bit download, you can always upgrade the graphics of the device to get the best experience.
4) No tension of limited data packs
Most people use limited data packs for mobile. So, it's not practical to use that limited data for watching unlimited entertainment. But most PCs run on a broadband or ethernet connection that not only provides a fast, reliable connection but also unlimited data. You can watch video content for as many hours as you want.
5) Less buffering
It's annoying to be stuck in a loading screen while you watch a TV show. It happens when you have a slow Internet connection, forcing the app to take more time for downloading the data. In most cases, we use cellular data for mobiles, which is slower and less stable than the Internet service for PCs. So, watching Rokkr Windows means you can enjoy your favorite two minutes of entertainment in peace, without being interrupted.
6) Interruption-free streaming
Watching anything on a mobile platform always comes with one limitation - battery charge. A few hours of video playback is enough to drain the battery of your smartphone. However, watching the same content on a computer means staying worry-free of the battery charge. Just connect it to a power outlet and then watch the content for hours.
7) Instant playback
With a streaming app, there is no need to download the whole video to play it anymore. Apps like Rokkr have changed the way we watch video content. With an app, the video file does not need to be downloaded before it can play. You can start watching the file as soon as it starts downloading. Specialized media servers in these apps also allow users to jump back and forth through the video.
For the downloaded data to play smoothly, your device must have enough memory and processor speeds for video streaming. Generally, new computers and mobiles can "stream" HD or 4K video with few technical difficulties. However, older and inexpensive phones can't keep up with the technology, failing to stream uninterruptedly.
Rokkr is basically a mobile app but using it on a laptop/PC does not limit any features. With the help of an Android emulator, you can use this app just like you operate it on a mobile. The interface is completely computer-friendly, so you can exercise complete control over your viewing and user experience.
How to Add URL or Bundle onto Rokkr Windows
After doing the Rokkr download Windows 10 32 bit or 64 bit, you have to launch it via an Android emulator. It has an easy-to-use interface but the content won't be readily available on the dashboard until adding a server URL or a bundle.
The Rokkr bundle is available via the huhu.to or oha.to servers. There are also some third-party bundles available for this app, which gives you access to a collection of popular movies and series. You can tap into the latest collections in Netflix, Amazon, iTunes, and other popular streaming providers. This is a legal way to stream fresh content.
To add the URL/Bundle:
Run the Rokkr app via the emulator.
Click on the side menu and choose the "Manager" option.
There should be an empty field to enter the URL.
Enter the server link you have and click on "Continue."
It may take 1 or 2 minutes to add the bundle.
Conclusion
Time to rethink the way you watch your favorite movies or TV shows! Video streaming apps on PC are quickly becoming popular, and for a good reason: they're easier, more convenient, and more cost-efficient than cable. On top of that, they're a really easy way to stay on top of your favorite shows without the hassle. Rokkr APK can be your one-stop entertainment center, whether you want to watch live TV or binge-watch old episodes.
Maybe you missed this great article: Install Rokkr