Oreo TV for PC – The Basic How to Guide
What is Oreo TV?
To begin, let us explain a little bit about the application. Oreo TV is one of the greatest online streaming apps for Android. This application allows for Live TV Streaming, which is a HUGE must-have in this generation.
Oreo TV has quickly made a name for itself and has become one of, if not the top and leading brands when it comes to its genre. This is because of all of the new features and aspects brought to the table that other apps can't compete with.
So, anyone would easily be able to watch all of their preferred TV channels, shows, movies, news, and even sporting events from the safety of their TV and smartphone. But there's another addition: you don't need to stay home or within an internet connection to experience these channels, shows, movies and more. In fact, you can download all of your favorite and anticipated watches to experience them later, at any time. That's right, you can easily download videos and watch them offline from any location you so desire.
And, best of all, you can even enjoy Live TV Streaming from any location. Granted, you would need an internet connection for the Live services, you still can enjoy your favorite Live channels from any locations with a connection. Furthermore, if you have 4G or a hotspot, your even better off, with even more options to enjoy your live streaming.
All in all, Oreo TV is just an amazing application for TV, movie, and live streaming from wherever location you happen to be. That is just the natural beauty, which has turned this app into a phenomenon.
Oreo TV Features
The main selling point of the Oreo TV application is its Live TV Streaming services. Most streaming applications don't offer quality live streaming, so this is the biggest competitive edge that Oreo has in comparison. Users can easily access more than 2000 international TV channels straight from their applications. Location isn't a restriction either, there are many foreign channels that can easily be accessed, regardless of where you are originally from / are accessing the app from.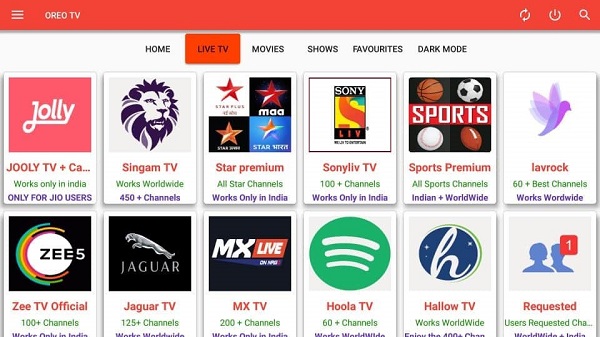 Besides live, there are still many television channels offered by Oreo. In fact, there are more than a few thousand different TV Shows being released and updated each day! This directly correlates with Live Streams. Meaning, if you missed out on a live stream from yesterday, you can simply watch it today or a later time. And, if you're on the go, just download the show to watch it offline.
Movies aren't really the biggest selling point, since basically all streaming apps have this. But, that doesn't mean that it wouldn't be included. Get a ton of different languages with the sheer amount of variety included in the roster of movies available on Oreo.
In addition, Oreo TV also supports a plethora of different external video and media players. So, you have different options to enjoy your streaming, there is no one go-to media player for the application. You can choose whatever works best for you, as there are many compatible players.
Interactivity is also a good feature. If you ever want something added onto the app, be it a channel or movie, put in a request. The Oreo team is happy to look over any request and to supply whatever is demanded of their users.
As stated before, the app is constantly being updated. You can live a lifetime and still not be able to watch all of the different channels, shows, movies, and live streams available on here. Nonetheless, you can still try your best if you want. Just remember, there are tons of updates per day.
There are many, many more features to love about Oreo TV, but this is something worth checking out on your own. Or you can view the Oreo TV page on our website.
Download Oreo TV for PC
Now, since this is an Android application, the original APK is not available on PC. But that won't stop people from finding a way to add Oreo TV for PC computer and laptops. In fact, the method is fairly simple to understand and to follow.
Note: This method is not exclusive for Oreo TV. You can use this method to download and install any Android APK files exclusive to mobile, and then play them via your PC.
So, follow along with your own PC if you want to…
First, you're going to need the emulator to be able to play Android APK files onto your PC. So, go ahead and choose whatever Android Emulator you prefer to use on your own. An emulator allows users to access files of a different platform or device. So, an Android one would allow another device use Android files.
Download and install your Emulator. Open it up and keep it on standby. You will need it for later.
Next, go ahead and download the Oreo TV APK. Once it has been downloaded, you will need to access the file via the Emulator.
Drag and drop your APK into the Emulator's desktop. From there, the APK will begin installing like it would on any Android device.
And now, you can open Oreo TV at any time, on your PC, as long as you have your Android Emulator opened at the same time to access the file.
And that's all there is to it. You have successfully added the Oreo TV APK onto your own PC, with little to no difficulties.
Again, this method can be used on any other Android APK. If there are any other apps and games that you've wanted to have on your Pc, now is the time to try it out.
Besides that, we hope you enjoy your Live TV, TV shows, channels, and movies streaming!