One Shade Premium APK 18.5.4
Download One Shade Premium APK Latest Version free for Android. Change many different aspects of your notifications menu with this app.
Edit your notification themes, colors, layout, and many more with this app. One Shade for Android is an application created to replace the standard notification drop down menu from your mobile device. In fact, this replacement is more of an upgrade than anything else.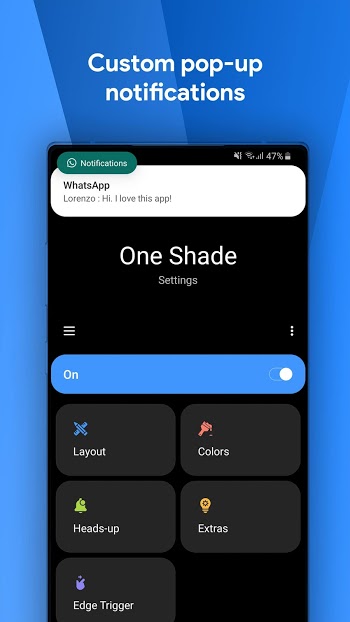 Don't take our word for it. Try it for yourself to see.
One Shade Features
Here are a few additional features that are guaranteed when you download One Shade for Android today.
Advanced Notifications: With advanced notification options, you can instantly decide what happens to your alerts on the fly. It's as simple as acting on it or dismissing.
Music: Additionally, you can select from tons of different music option. Not only that, but you can also select where in the track your notification will begin alerting.
Auto Bundle: How many times are you wondering to yourself, "Why am I still getting notifications from this?" Well, now you can bunch all of those pointless and annoying applications together into one notification tab.
Custom Backgrounds: You can choose what images you want to be displayed in the background of your notifications.
Color Customization: Also, you can change every aspect of your notification's layout for your phone. Choose from various color options to get the results you want.
Quick Reply: You are also given the option to immediately reply to your notifications on the fly. Once the alert goes out, you can have your response in jut as quick.
Quick Settings: There are also a ton of fast and simple settings to add onto the apps performance.
Choosing different colors for both the background and foreground of your Quick Settings.
Even though this is a minor detail, you can also change the color of your brightness slider.
There are many icons with your device information also available.
You can choose from your images or anywhere else for a profile picture to be displayed in the shade of the application.
You can even choose between various different tile icon shapes. These can include circles, gradients, squares, and even more options available.
You can also change the grid layout of your Quick settings. Although this is available in the Pro version of One Shade for Android.
Notification Themes: Finally, there are many different theme options for your notification cards. With these you can also personalize your notifications to another level.
Light: This is the basic notifications card. General and nothing special about this one.
Colored: This version allows for the notification's color to be used in the background. Quite unique.
Dark: Last, this theme option makes all of your notifications change into an all-black background. This option is quite bold and gives off a powerful effect. That is, as long as you don't already have a conflicting background on your phone.
User Interface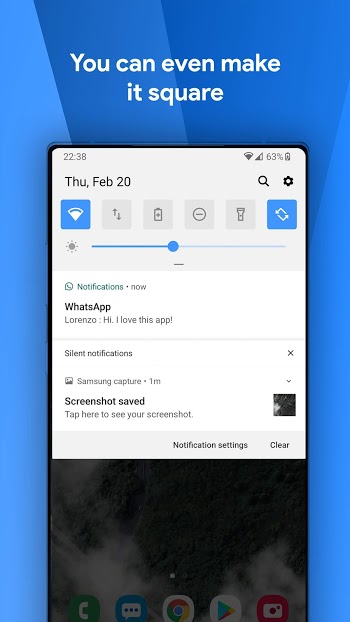 The user interface is also amazingly simple. The app will walk you through every single process when attempting to change your notifications.
Download One Shade Premium APK for Android - Latest version
You can install the One Shade Pro APK download straight to your Android with no drawback, buy using the APK version. So, don't waste any more time. Edit all of your notifications, themes and settings with this amazingly useful application.