MyHeritage APK 6.2.8
They say that family is important. In MyHeritage, you can trace your family roots right in the app! Discover your lineage and ancestors in this app and explore more!
Our family is one of the most important things in our lives. They are our blood so it makes sense to spend time with them a lot. But sometimes, life becomes complicated and so many people end up without their parents. Or some people don't know who their grandparents are or some are just curious about their roots. If you're one of those people, you'll love MyHeritage.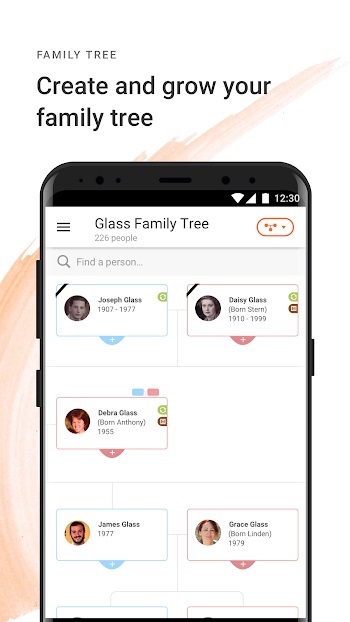 This app from MyHeritage.com is a wonderful one that lets you discover your family history right at your fingertips. Here, you just enter your personal details and the app finds all your parents, grandparents and other relatives thanks to it's 12 billion historical records. Their unique technology called Smart Matches automatically connects family trees so you can discover them. There's also Record Matches which is a tool that lets you find info about your ancestors. Ready to discover your roots?
Go Back to Your Past
If you want to know about your family, you can just go to your dusty old albums and search for photos. But often times, we don't have these things and most families don't have organized family roots. This is because most of the information is passed down from parents to their children verbally and through the use of albums. If you've always wanted to know more about your family history easily, download MyHeritage now. This app allows anyone to go back to their family history to find their long-lost relatives.
This app allows you to trace back your past and look inside your unique DNA to search for your family history. You can avail of the DNA test pack and see your ethnic origins as well as relatives that you didn't know about. Aside from that, you can find your ancestors thanks to their patented technology. With the SuperSearch feature, you get to find your long-lost relatives as well as people you didn't know were part of your family! Add and share photos of your family members to cherish them.
Features of MyHeritage
Our family is sacred to us and we wouldn't trade them for anything in this world. So, if you've always wanted a complete genealogy of your roots, download MyHeritage now.
Trace Back Your Roots – Most families have some sort of records regarding their family history. But some people don't even know who their parents are or their relatives. This is a huge problem since we can't easily access our family history unless we know our relatives. This is the problem that MyHeritage aims to solve for everyone. This app allows anyone to build your family tree once and for all.
Here, you're able to trace your ethnic origins accurately by testing your DNA. You will order a DNA kit to find your roots. Aside from that, you can use their advanced search features to connect family trees, and find information about your lineage. The app allows you to build your family tree with convenience at your fingertips!
MyHeritage DNA – Every human has a unique DNA that has your unique genetic makeup. You can order a DNA kit and get a swab from your cheeks and submit it. The team will then test it and you can see the results that says your ancestry. You can find out about your ethnic origins and even find new relatives. This app makes it all possible at the comfort of your home!
Smart Matches and Record Matches – MyHeritage has a patented technology called Smart Matches that automatically connects family trees and lets you discover information regarding your family history. After entering your information, it searches the database which has over 12 billion historical records. This means that you can get to know your family history easily as long as it's in the records. Aside from that, this ensures that a lot of people would get to know their family lineage through the app easily.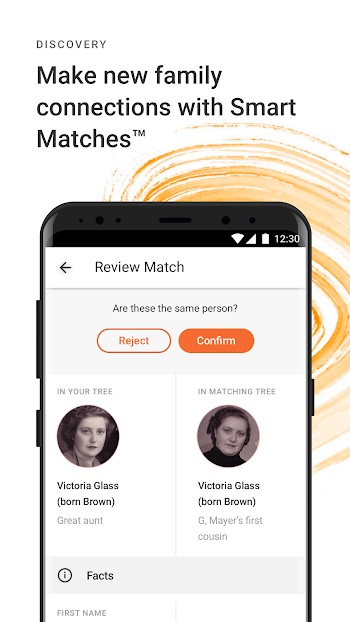 Combine that with the feature Record Matches which allows you to find new information such as birth, marriage, and death certificates can be extracted here. Aside from that, you can get information such as military records, old newspapers, census records, adoption records, yearbooks, burial records, court records and many more.
Add and share photos – The app also allows you to easily add and share photos to enrich your family history. You can upload additional photos or edit the old photos that are available in the app. Colorize your black and white photos with the use of MyHeritage in Color™.
Create and Grow your Family Tree – Thanks to MyHeritage, you can create a family tree that you can share for generations to come.
MyHeritage APK for Android – Latest version
Want to know more about your family ancestry? Download MyHeritage now and easily find out!