Little Ant Colony APK 3.4.1
Have you always wanted to know what it's like to be an ant? In Little Ant Colony, you get to collect food, grow your ant colony and earn idle money every day now!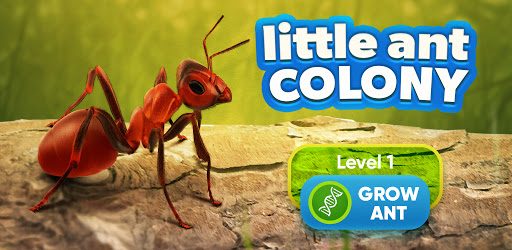 | | |
| --- | --- |
| Name | Little Ant Colony |
| Updated | |
| Compatible with | Android 5.0+ |
| Last version | 3.4.1 |
| Size | 187.10 Mb |
| Category | Casual |
| Developer | Gismart |
| Price | Free |
| Google Play Link | com.ants.idlegame |
There are estimated over 1 quadrillion ant all over the world! These include over 12,000 species scattered across different parts of the globe right now. Even though ants are tiny animals, they are the most hardworking ones. For that reason, you may have been curious as to what it's like to live like them, right? In Little Ant Colony, you can now experience it!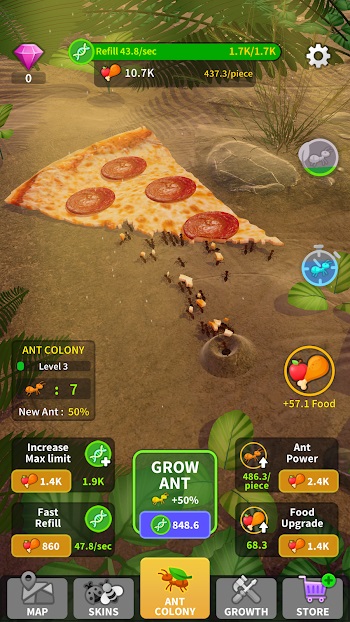 This casual idle game lets you live life as ants. Collect food scattered on the ground and increase the number of your ant colony. This is a fun game that perfectly imitates the behaviors and the life of ants. You can increase the food storage unit, grow ants and increase their powers. Aside from that, there are numerous food available and skins to try.
Live as Ants
In our daily lives, we see ants almost everywhere – in the bathroom, our house, restaurants and more. But even if we eliminate a lot of them, their number seems to have no limitations! They go where there's food and the gather their comrades to collect the food. They work almost 24/7 and they increase in numbers tremendously. If you're curious as to what it's like to live their lives, try it out in Little Ant Colony.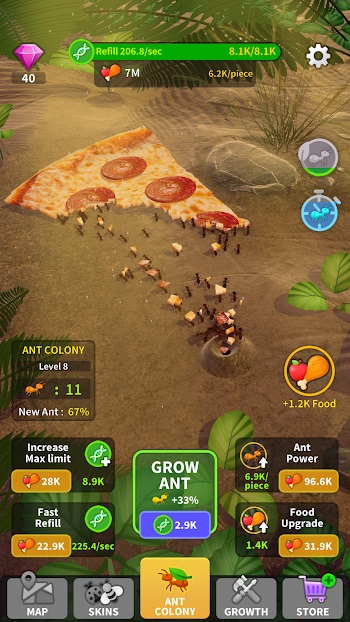 In this casual game from Gismart, you'll enjoy collecting numerous food on the ground such as pizzas, fries, chickens and many more. But remember that ants are small creatures so they can only carry tiny bits of food at a time. Because of this, you must increase your numbers and strength if you want to make money. Thankfully, you can do that in the game by upgrading them! Enjoy different types of food, items, and upgrades in this fun game.
Aside from that, you can go to different locations, get different skins and grow your ants. There are so many foods to get in the world and enjoy!
Little Ant Colony Capabilities
Do you love ants? Love them or hate them, they are one of the most persistent animals in the world. In Little Ant Colony, you'll get to play with them and see them in action.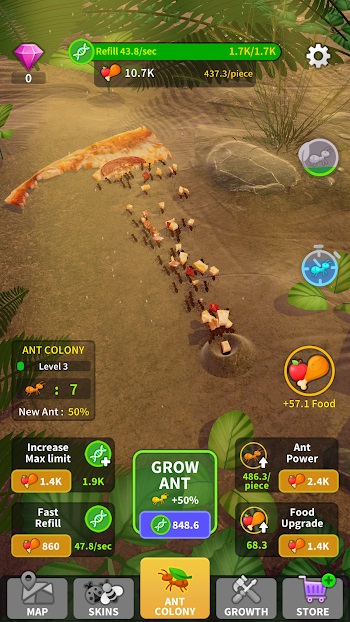 Grow your Ant Colony – Ants are everywhere in the world. We easily take them for granted as all they want are food. But have you ever thought about how hard they work? They are so little yet they can lift objects 10 times their weight! In Little Ant Colony, you get to be up close and personal with ants as you try to grow a colony and earn money.
This is a unique and fun game that will allow you to test out your skills as an ant farmer. Collect bits of food on the ground using your ants and try to grow their numbers and strength overtime. Earn money while your ants do all the hard work so you can upgrade a bunch of their stats. If you love ants, then this game will be a paradise for you.
Upgrades – Ants are already the perfect workers as they don't get easily tired and they work hard. But in Little Ant Colony, you can make them work harder by upgrading. You can increase the max limit for food storage, fast refill, food upgrade, ant power and grow ant. You'll need to collect a lot of food in order to upgrade each of these stats which will help you get idle money. Ultimately, you'll grow a colony of ants that will be self-sustainable.
Maps and skins – In Little Ant Colony, there are many places that you can get food from. At the start, you'll start in the jungle where there is scattered food on the ground all the time. But one food item takes a long time before it can be finished so take your time. There are also skins available to unlock in Little Ant Colony so you can enjoy dressing up your ants.
Different food and items – You can get your ants to collect many different types of food and items in Little Ant Colony. Here, there's chicken, biscuits, pizzas, fries and even a dollar bill! Yes, the ants are not choosy when it comes to food so try to collect as many as you can to earn money.
Realistic graphics and animation – Little Ant Colony is one of the simplest and most fun games around today. It perfectly replicates the life of ants that you can enjoy!
Little Ant Colony APK – Free upgrade, no ads
Grow your ant colony today in Little Ant Colony! Enjoy collecting food, items and more.