Infectonator 3 Apocalypse APK 1.5.45
Do you want to play the anti-hero in a game? In Infectonator 3, your goal is to bring about the apocalypse in the world! Release zombies and eliminate people!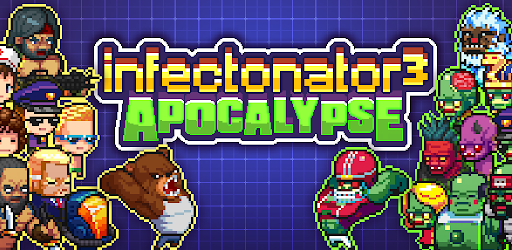 We've had plenty of zombie games that were made over the past couple of years. These are fun games to play since we're the ones eliminate the zombies to save the world once and for all. But in Infectonator 3, the roles have been reversed and it's now your goal to eliminate all of humanity! You will do this by releasing the zombies out in the wild. Here, you'll need to upgrade the antigens so you can create powerful zombies!
The more you infect, the more money you can get and the more you can unlock. Complete a variety of missions today and grow plenty of zombies in your lab that you can release in the world. This is a fun anti-hero game that lets you enjoy discovering different zombie species today. You can unlock new mutations and release them to kill all of the people in the world. Enjoy parodies and real-world places today as you eliminate humanity!
Infect the World
We've seen many zombie games by now as they're all over the place. The common goal of these games is for humanity to survive by eliminating all zombies. But if you're getting tired of these clichéd games, it's time to join the side of zombies! In Infectonator 3, you'll be the one responsible for infecting the world and eliminating humanity. It's a fun game that lets you become the antagonist for once as you release zombies into the world.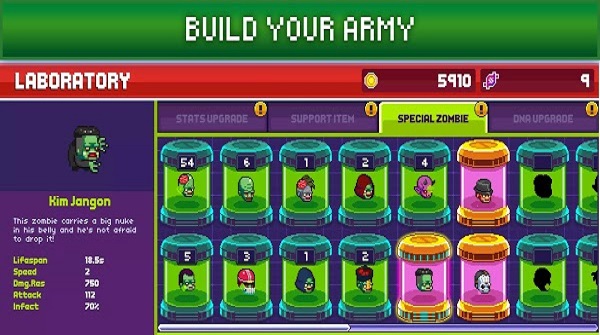 Here, you can splice DNA to unlock plenty of new mutations that each have their own strengths. Here, you can unlock many types of zombies with different skills and looks today. There are a lot of fun things you can have here just remember the ultimate goal! There's a lot of humans in different places waiting for zombies today. You need to outsmart them and to wipe all of them in order to receive great rewards.
There are over 200 levels today that you can play in here. You can open or lock doors and use the environment so you can trap individuals! Use all your items in your disposal to ensure that humanity will not survive here.
Infectonator 3 Features
There's nothing scarier than a zombie suddenly appearing. But in Infectonator 3, you don't need to be scared as you're on the side of zombies.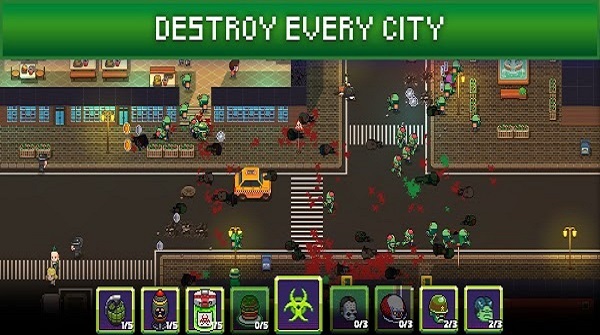 Spread the Zombies – We are all familiar with zombies at this point. They are mythical and they are undead creatures that infect every human they see. They have been part of numerous movies and shows over the past years. Also, there are a lot of zombie games that you can have fun with today. But in Infectonator 3, you won't be eliminating the zombies as usual. Instead, you'll be the one to spread the zombies in different areas of the globe.
Create panic as you conquer many areas today before the government hunts you down! You can breed plenty of zombies today that have different skills and looks. You can also mutate them into special zombies so they can take on a lot of humans at once. There are so many zombies that you can make today so you can conquer various areas around the globe today with zombies. Try to create mass hysteria and earn many rewards!
Unlock new zombies – There are plenty of zombies you can breed today. Here the zombies are classified according to their skills. There are common antigens and other special zombies you can unlock as well! These are skill zombies that can leap far and have unique looks. From the clown zombies to the Frankenstein one, there are plenty you can unlock today. Then, there are also support items that you can buy and upgrade to make them stronger.
Moreover, there are DNA upgrades that you can choose from such as the Coin Grabber, Horde Mentality, and Gold Digger. The more you buy here, the more your zombies become more powerful!
Complete levels – There are over 200 unique zombie levels to enjoy today. Each one has unique objectives that you need to complete! The level may ask you to kill a specified number of humans, gather coins and spawn a specific number of zombies. The levels become difficult as you complete more! What's fun though is that you can also interact with the different levels so that you can kill more people. There are a lot of fun things to do here.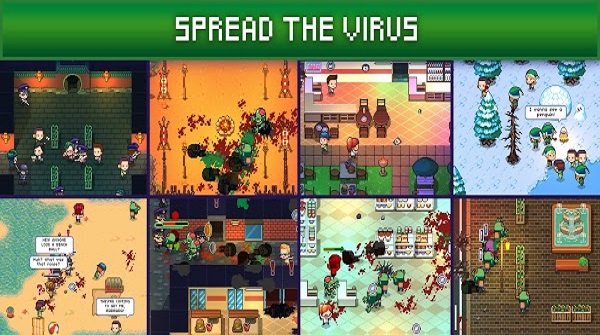 Upgrades and items – There are plenty of upgradable items today that you can buy! You will receive coins from completing various levels.
Pixel graphics – The pixel graphics of Infectonator 3 is such a fun one to look at. You'll see the infections as it happens in the game!
Infectonator 3 APK
Infect as many humans as you can today and cause worldwide hysteria! Download Infectonator 3 and turn everyone into zombies.