Hunt Royale APK 1.9.4
Do you love hunting? In Hunt Royale, you must hunt as many monsters as you can then your enemies! Unlock new heroes, level up, and enjoy many skills in the game.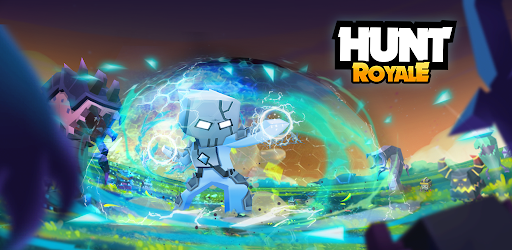 | | |
| --- | --- |
| Name | Hunt Royale |
| Updated | |
| Compatible with | Android 5.0+ |
| Last version | 1.9.4 |
| Size | 192.91 Mb |
| Category | Action |
| Developer | BoomBit Games |
| Price | Free |
| Google Play Link | com.hunt.royale |
The world of action games is vast, and it's filled with new and exciting ones that you can have fun with today. There are so many branches of action and shooting games that it's hard to choose one today.
But battle royale games are undoubtedly the king of the hill right now, with so many of them available. So, if you're tired of the same old ones, try Hunt Royale! This is a new type of battle royale where you will compete indirectly with other players.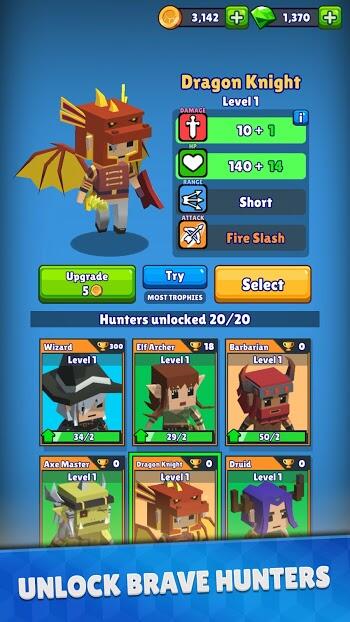 The goal here isn't to kill other players but to get the most significant number of monsters kills today! You have to survive for as long as you can while defeating other monsters in this one-of-a-kind game.
There are more than 30 unique and fun characters to collect and four warrior types today. You can choose to play a character that focuses on range, close combat, magic, strength, and others! There are so many fun skills that you can unlock here!
New Battle Royale
Unless you've been living under a rock for the past years, then you'll know that battle royale games are the hottest ones right now. We're seeing so many of these games on the market that it's hard to choose one to play now.
Some people are even playing multiple ones at once, such as Call of Duty, PUBG, Fortnite, etc. But the problem is that most of these battle royale games have similar game styles, so it doesn't feel unique anymore.
So, if you're tired of playing those same old boring battle royale games, try Hunt Royale! This is a different breed of battle royale in which you must compete against other players.
When we say complete, we don't mean that you will need to eliminate other players. Instead, it would help if you killed enemies. The player that has killed more enemies is the winner of the match. There are so many enemies that you can fight here, and you can even regain your health here.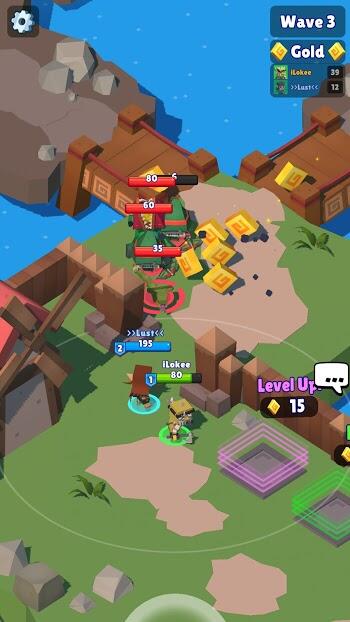 You can unlock all sorts of characters here and level it up today!
Highlights of Hunt Royale
If you love battle royale to death, it's time to play Hunt Royale, a unique battle royale!
Unique battle royale concept – You can unlock and have fun with so many fun battle royale games today. Most of them are shooting ones in which you'll need to be the last one to survive to win. While these games are still popular today, some people are getting tired of them quickly.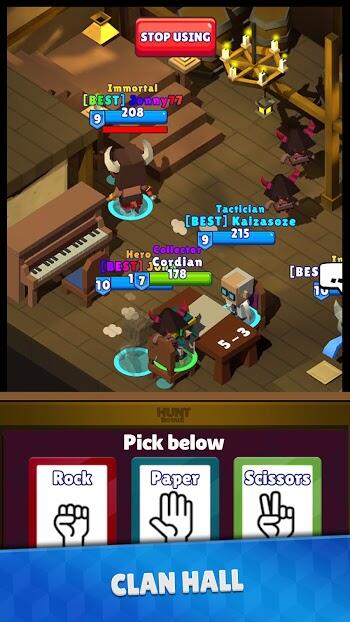 This is why developers like BoomBit Games have created Hunt Royale, which features a unique concept! In a nutshell, this is a battle royale game that lets you indirectly defeat other players.
The way you'll win here is by eliminating the most significant number of enemies in the match today. There are so many available monsters to kill here in different types and classes. You can also regenerate your health here as well as unlock many kinds of skills here!
You can also level up and gain more health, EXP, and damage to eliminate more enemies. This game lets you unlock different types of characters so you can have fun with close combat, range, and magic.
Unlock 30+ characters – In Hunt Royale, you can unlock more than 30+ characters right now. There are so many different types of opening as there's Dragon Knight, Wizard, Axe Master, Druid, Barbarian, Elf Archer, and so many more. You can upgrade your characters so you can increase their damage and HP today.
Have fun collecting different characters here, as each one of them has different ranges and attacks. Other characters can specialize in various ranges such as close combat, ranged, magic, force, and many more.
Voxel-based graphics – You'll enjoy a 3D gameplay with a top-down view of the whole map in this game. This is a unique view even among battle royale games because most of them feature a first-person POV.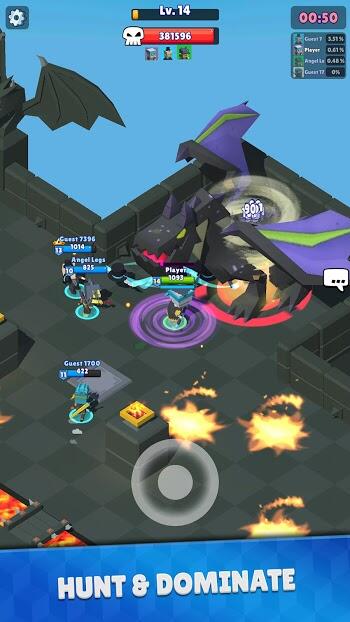 Here, you can have fun with the sleek animation as you can also move around the map. Controls are easy as well, as you can play this game with one hand. When you release your hand, it will automatically attack the enemies nearby.
Multiplayer – In this game, you'll fight against monsters as well as other players. You'll need to score higher kill counts of monsters to win matches and trophies here. Have fun beating other players and going through different levels here today.
Download Hunt Royale APK
If you love battle royale games, then Hunt Royale is what you're looking for! This is a unique one you can play today!