Hungry Dragon APK 4.9
Download Hungry Dragon APK unlimited money and gems for Android if you want to be a dragon in this exciting world full of magical creatures!
Ever wondered what it's like if dragons were true? That would be a nightmare to see right? But how about if you have a dragon? How would life be? Meet Hungry Dragon by Ubisoft – a game that's centered around this premise.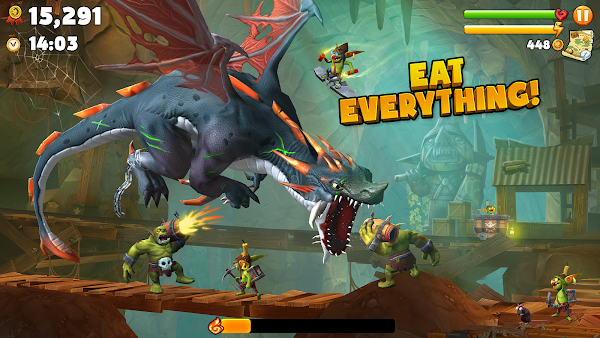 In this casual game, you have a dragon that's hungry all the time. This game is very lax and suitable to almost every age. With over 10 million installs in Google Play alone, this game is as addictive as it's fun. So, what exactly is the hype all about? Let's find out!
Become A Dragon's Friend
In the Hungry Drago, you have a cute but deadly dragon friend called Nibbler. But unlike other dragons, Nibbler always wants to eat like his name suggests. He eats large birds, small animals and other animals that he comes across. If he could, he'll even swallow the mountains and the sun.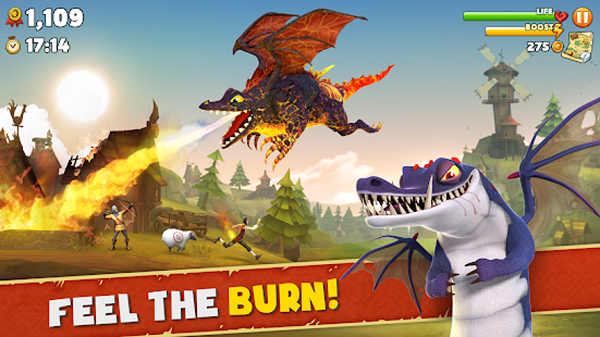 In Hungry Dragon, your task is to help your friend Nibbler eat as many animals to survive. Because when Nibbler don't have anything to eat, he weakens and may starve to death. Don't let that happen! There are indicators in the game to how much your dragon has left and how much he needs to eat in order to survive. Of course, the more Nibbler eats, the healthier he becomes. This also means he will become bigger. However, there are certain creatures that you have to watch out for. These creatures are scary and will only endanger Nibbler if eaten wrongly.
Aside from that, your dragon also has skills you can activate. As you let Nibbler eat more, he will gain more power. When the power bar is full, you can increase your speed or breathe out fire to instantly catch preys.
Features of Hungry Dragon
Hungry Dragon is a unique and fun way to pass your time. It's incredibly simple but it offers endless possibilities and gameplay. But in order to truly appreciate the game, let's take a look at what it offers:
Collect gold coins – In this game, as you eat creatures you come across gold coins as well. Try to collect as many of them as they are used to unlock other dragons in this game. Also, the more you eat, the faster your dragon will evolve.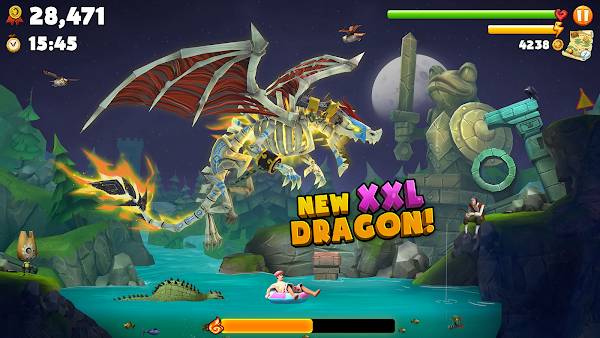 Different types of dragons – The game offers not just one or two but up to 10 species of dragons. Each dragon is as unique as the stars in the universe. They have different colors and species and they look different too.
Intuitive control scheme – In this game, you don't have to worry about elaborate control schemes. That's because Hungry Dragon offers easy controls with just a control button to direct your dragon. Then you just tap the power-button to activate the skills of the dragon such as fire breathing. It's up to you on how to steer your dragon to catch multiple preys at once and go on a fire-breathing rampage.
Stunning Graphics – In Hungry Dragon, your dragon is the star of the show. Each dragon is beautifully crafted to perfection showing all it's glorious movements in 3D. The background and the other elements contribute too to the overall aesthetic of the game which is pleasing to the eyes. There are also effects that will leave you speechless such as the fire and other things.
Evolve and customize your dragons – In true gaming fashion, you can also customize your dragon's costumes. These don't have any effect on your gameplay but it does add a bit of a flare to the game.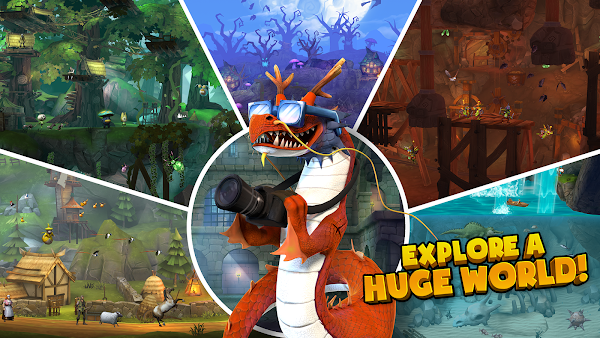 Tips for Playing Hungry Dragon
At first glance this may seem like an easy game to play. After all, you just need to eat in order to survive right? Theoretically, but in reality, there are much more important things to consider. If you don't, you'll be out in no time. So, here are the tips to help you play Hungry Dragon:
Switch to tilt mode – Controlling the dragon in this game is incredibly easy thanks to the virtual d-pad. But did you know that you can make it even easier and thus making your dragon faster? How? By switching to tilt mode as your control scheme. In this mode, instead of maneuvering your dragon using your d-pad, you tilt the screen to go to the direction you want your dragon to go. Doing this allows you to control your dragon more smoothly and faster.
Use your boost effectively – In this game, you can use the boost to increase your dragon's speed while on the air. You should use your boost when you are chasing big targets that give you big rewards. This way, you get to maximize your boost and quickly eat those delicious creatures. Or, you should use your boost when your dragon is being attacked and you want to quickly escape to avoid further damage.
Avoid poisonous objects and mines – In Hungry Dragon, not everything is edible. We wish it were so that the game would be significantly easier right? But it's not and you should be aware of the things floating in the sky. Also, keep away from mines, if you see one, just keep away from it immediately. Also, there are poisonous spiders and plants around. Be sure to bring a pet to reduce poison damage.
Partake in tournaments – In order to earn more rewards, you should participate in time-limited tournaments. The longer you survive by eating creatures and avoiding danger, the more rewards you'll get. Try to survive as long as you can in this mode in order to get to the top of the leaderboards. Also, the rewards you'll receive will depend highly on your rank. So, as you rank higher, you'll receive more rewards when you play in this mode.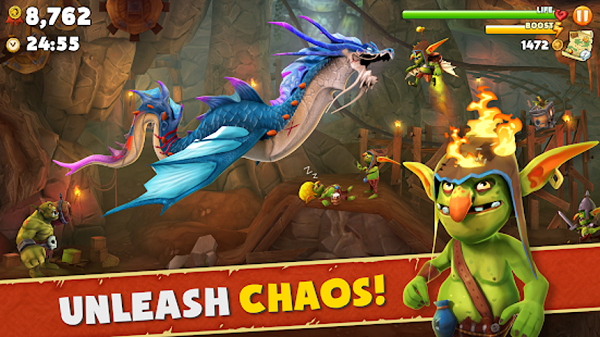 Hungry Dragon APK - Unlimited money, gems
Do you want to unlock all the dragons fast? Then download the unlimited money now and go on a fire-breathing spree!