Hoard Master APK 0.7.5
IO games are fun such as Hoard Master APK The goal of the game is to eat every item as you're a black hole. Upgrade and swallow different items in many levels.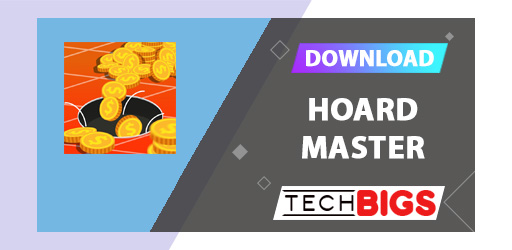 | | |
| --- | --- |
| Name | Hoard Master |
| Updated | |
| Compatible with | Android 5+ |
| Last version | 0.7.5 |
| Size | 123 MB |
| Category | Arcade |
| Developer | Rollic Games |
| Price | Free |
Download Hoard Master APK – IO Casual Game
Arcade IO games are fun and simple to play but they're addictive. The genre is filled with amazing games such as Hoard Master which is a free game. In the game, the goal is to swallow everything in your path as you're a black hole.
The game is fun, and it can be played offline for free. There are many upgrades to be made in here.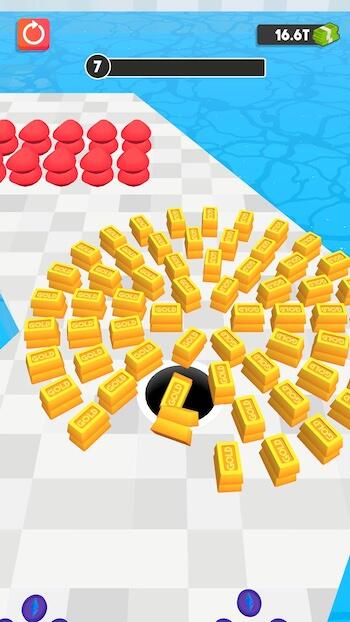 IO games are super casual which means that it can be easily enjoyed. In Hoard Master, you may collect various items in exchange for some money.
This is a game that's never ending as long as you can continue to upgrade and keep collecting. There are lots of challenging levels to play where the goal is to keep collecting items.
How Does Hoard Master Work?
Casual games are called that because they're an easy way to pass the time. They don't involve complicated mechanics and controls that takes a lot of time to learn.
Most importantly, they can still be fun without the need for fancy graphics, controls and mechanics. The most important thing for these games is to have a solid foundation which lies in the nature of the game.
Hoard Master works because it's a casual game where the goal is to keep eating items. Everyone knows what a black hole is and it's what you'll become in the game.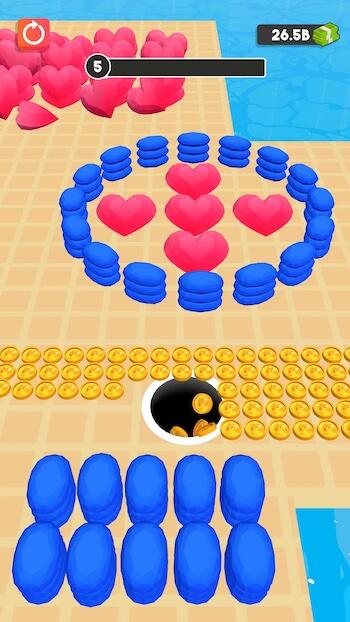 As such, you'll be eating lots of items from gems to pucks and more that can be turned into money. This is a game with lots of upgrades to do and enjoyable levels to play.
It's an easy-to-play game with simple enough mechanics that you won't get bored. The game can be never ending and it has many levels for you to enjoy.
Features You'll Love in Hoard Master
Hoard Master is a completely casual game that provides many interesting features. Here are the things you'll love.
As casual as it can get – Many casual games act casual but are secretly RPG or action inside. But Hoard Master is different as it's truly as casual as it can get. From its simply mechanics to the upgrade system all the way to the controls, it's not complicated.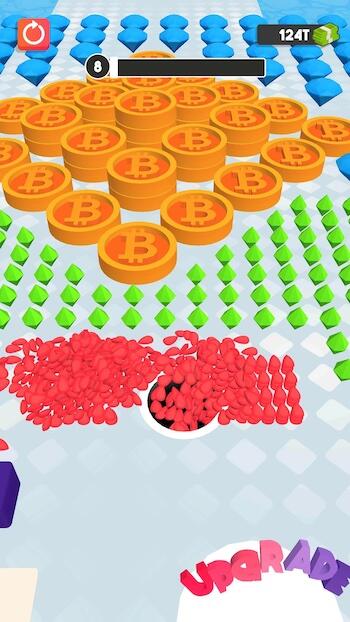 Hoard many items – The main objective in the game is to hoard items as depicted in the title. Being a black hole, you'll be able to swallow every item with ease and transport them into the money maker machine.
The job isn't automatic but it's easy enough for you to continue doing for a long time. It gets fun as you grow and upgrade your items.
Simple mechanics and controls – Hoard Master has the most minimalistic controls in that a virtual direction pad is all you need to move around. You can hold the screen anywhere you want and slightly drag it across any direction you want to go.
When you let go of the button, you'll stop moving. Everything else is automatic such as collecting the items and getting them into the machine.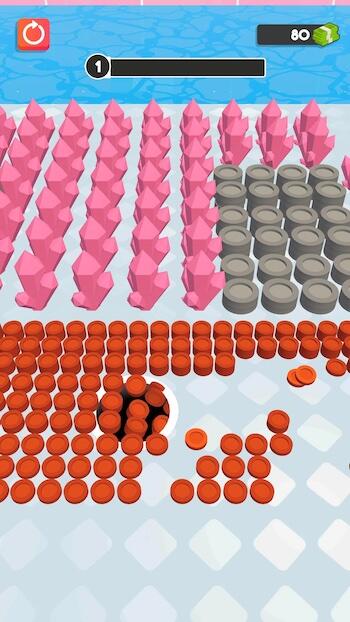 Many things to upgrade – When you go to a certain section, you can see what things you can upgrade. This includes your radius, speed and capacity. Upgrading each one requires money which you can get from swallowing items.
By improving your speed, you can move around faster from one place to another. Radius allows you to widen your swallowing ability to get larger items. Lastly, the capacity allows you to carry more objects at the same time.
Once you upgrade a skill, the next upgrade cost will automatically rise. This will continue to rise as you continue to upgrade. Therefore, it's wise to upgrade your stats equally.
Incredible graphics - Hoard Master has a 3D graphics that's not too boring to look at. The game is set up in the virtual space up in the sky. The movements are fluid, and you'll see the machines working at real time.
Plus, you'll enjoy seeing different items get swallowed and turned into money. The animation for turning items into money is also quite satisfying as it lets out huge numbers.
Get rid of ads – If you want to get rid of ads, you can tap the button at the right side that shows a sign of ads. By paying real money, you can permanently play without annoying ads. Although the game is free, it makes money from ads.
Download Hoard Master APK – latest version
Playing Hoard Master is addicting and satisfying. Unlock all upgrades by download this modified version.