Hello Talk APK 5.4.30
Want to learn new languages today? Download Hello Talk APK and join a community of native speakers worldwide! Learn new languages by speaking with others for free.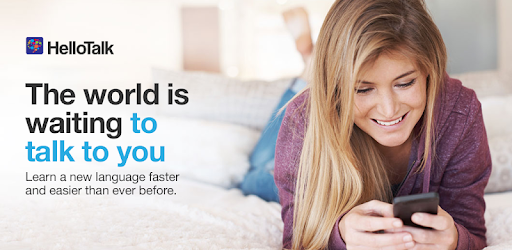 It's always challenging to learn a new language, especially one that you don't have any knowledge about. But learning a new language brings about so many benefits, whether you're doing it for professional or personal purposes.
Since there are so many languages that you can learn today, there are so many resources out there that can help you. There are all sorts of websites and apps designed for beginners like you. HelloTalk is one of the more unique ones as it allows you to practice conversing!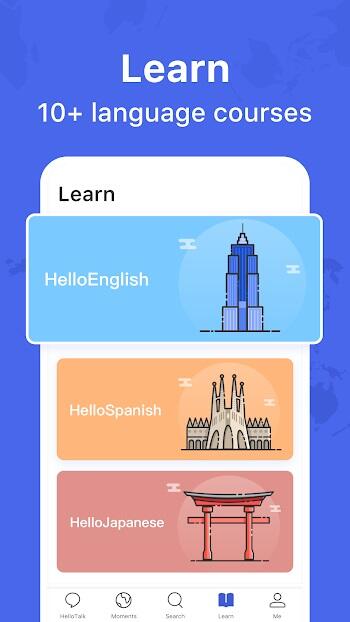 You can think of this app as your portal to a lot of native speakers worldwide today! You can connect with anyone you want to practice speaking English, Indonesian, Japanese, Spanish, French, Mandarin, German, Italian, Russian and more.
There are over 30 million users on the platform today that reside in various countries worldwide. You're free to chat with them, call and even get feedback on your pronunciation. Enjoy learning now and meeting new people today!
Chat with Native Speakers
There are so many languages in the world today that are being used daily. We use languages to converse with our family, friends, co-workers, and random people everywhere. But since thousands of different languages are spoken in other parts of the world, it can be difficult to converse with everyone.
This is why learning a new language is always beneficial as it is challenging. With HelloTalk, you can practice what you've learned today by conversing with other people!
Conversing is one of the best ways to learn a new language or to develop it. You can enjoy chatting with other people here using Japanese, Turkish, Indonesian, Vietnamese, Portuguese, Chinese, English, and many more.
You can find plenty of language partners for different languages right here, where you can start chatting with them today. This app will allow you to improve your grammar, pronunciation, and diction. Feel free to meet and chat with so many native speakers!
You can also enjoy one-on-one language lessons with practical experiences here. With this, you can enjoy meeting new people as well as learning new languages.
HelloTalk Features
There are so many fun features that you can enjoy today with HelloTalk. It allows you to learn new languages in the most fun way.
Learn new languages – Almost everybody can speak their native language well since they were born into it. But if you want to travel to other countries to talk to them, you'll first need to learn their language. Thankfully, there are now many coaches, websites, and courses that you can access to learn new languages.
After learning, it's time to download HelloTalk and practice talking to authentic native speakers! You can enjoy learning up to 150 languages here in this app today.
Here, you can learn Hindi, Indonesian, Italian, Korean, Japanese, Spanish, French, Mandarin, Vietnamese, Tagalog, English, German, etc. You're free to find any language partner that you want in any language and start chatting. You can even send voice messages, call, and even video calls if you wish.
With this app, you should quickly improve your pronunciation, grammar, and other things. The app can also help with conversations as you can translate, get corrections, and more.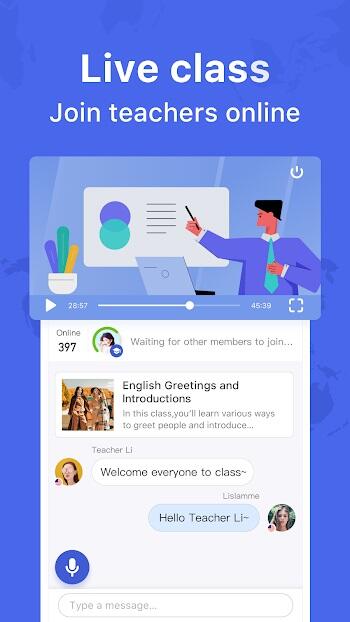 Supports many languages – HelloTalk supports more than 150 languages that you can learn quickly today. There are languages like French, Spanish, English, Japanese, Korean, Russian, Arabic, Hindi, Vietnamese, Thai, Chinese, Mandarin, etc.
You can learn as many languages as you can here today, but you should learn one at a time for practicality. The app now has more than 30 million registered users on its database. This means you can connect and meet with native speakers of any language!
Chat with native speakers – The core feature of this app is the ability for users to connect. They can start conversing in their preferred language so that they can practice and learn with each other. You can enjoy meeting new friends and chatting with native speakers here.
This app works just like an instant messaging app where you can send all kinds of texts, audio, and voice messages. You can even video chat and call if you want so you can practice your pronunciation.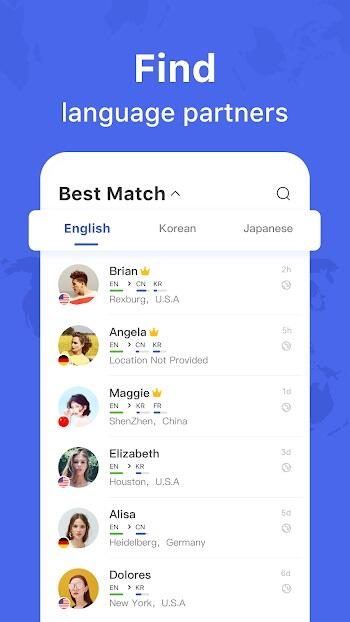 Share moments – This app can also function as a social media platform. Here, you can share moments from your days, such as pictures and posts. You can then get comments, hearts and enjoy the interactions with others.
Help with conversations – The app also helps you with conversations today. Here, you can get help with translations, corrections, speak, favorites, and more.
Download HelloTalk APK – Latest version
Don't just take a course; chat with native speakers today in HelloTalk! Learning languages has never been easier and more fun!