Greedy Cats APK 1.7.1
Do you love cats and food? If so, we have the perfect game that combines these two things – Greedy Cats! Compete with other cats in eat-offs and earn rewards!
| | |
| --- | --- |
| Name | Greedy Cats |
| Updated | |
| Compatible with | Android 5.0+ |
| Last version | 1.7.1 |
| Size | 126.60 Mb |
| Category | Casual |
| Developer | PIKPOK |
| Price | Free |
| Google Play Link | com.pikpok.gc.play |
Eating is something that all humans instinctively do on a daily basis. We can't live without food for very long periods of time or even a day. Aside from that, cats are one of the most popular and cutest pets in the world. Combine the two and you have Greedy Cats which is a kitty clicker game. This game allows you to eat food as a cat and compete in a variety of competitions!
Eat a variety of food such as cakes, burgers, and show off your skills. In this game, the goal is to out-eat every cat there is so you need to be a fast clicker. You will need to face against different cats in a variety of challenges. But you can also select different outfits, cats, and even invite your friends. Become the ultimate cat muncher now!
Eat Food as a Cat
Eating competitions have become a trend over the past years. There are so many places where these competitions are held annually. There's hotdog eating competitions and even spice eating ones. But have you ever heard of a cat eating huge amounts of food? In Greedy Cats, you'll become a greedy cat who will eat everything to prove your skills and worth!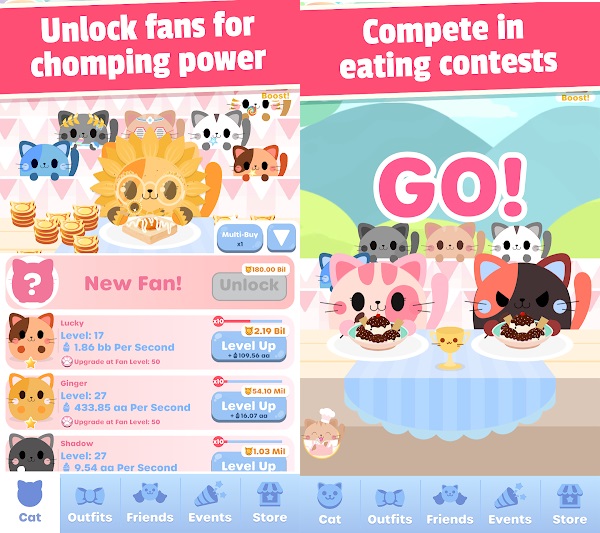 In this game, your appetite will lead you to different challenges with different cats. Face off against others in limited-time events and reap plenty of rewards! In the process, you can eat a variety of food such as cakes, burgers, and more! The way you can win is by tapping the screen as fast as you can to eat. Aside from that, you can use your rewards to unlock cute outfits and tools.
In Greedy Cats, you can also get fans that will allow you to increase your chomping power. Unlock them using coins and you can increase your appetite and thus your rewards. Invite your friends and send gifts to each other in the game. There are so many things to appreciate and love in this cute eating game.
Features of Greedy Cats
Sleeping, playing and eating are some of the things that cats love to do the most. In Greedy Cats, you'll mostly be eating a lot!
Clicker game – Clicker games are among the most popular formats mobile games are based on. They're simple but quite addictive if done right. In Greedy Cats, you'll be playing as a cat who can't get enough to eat! Enter eating competitions and tap as fast as you can to win and get rewards. Here, you can eat a variety of food and still get paid.
This game is entertaining especially for people who love cats and food. More than that, the numerous challenges, events and the people cheering you will make you eat more. Try to unlock different outfits and show off your eating skills to the world. Or, just take a picture in your cute outfit and send it to your friends.
Daily missions and special events – In this game most of the time you'll spend your time eating. As such, there are daily missions, daily donuts and special events that you can look forward to. These missions require you to do certain things to get rewards. Special events are time-limited events that give out limited rewards for challenges completed. Enter these challenges to get cute outfits and tools that you can't get anywhere else.
Unlock outfits and tools – Greedy Cats allows you to collect different outfits from challenges and the shop! Get colorful dresses such as the Kimono, Security Jacket, Cowboy Jacket and more. But wait, it gets more interesting as each clothe has special abilities in them. Most give you more tapping power and fans by a certain amount! Then, there's also hats, eyeglasses and different spoons that you can get.
Take photos of your cat in different outfits and send it to your friends or upload to your social media!
Get fans – In this game, the more fans you have, the more food you can eat! Increase your chomping power by unlocking fans using your money. There are different cats t unlock and you can level them up to get more power. Then, enjoy eating in competitions as your fans cheer in the background for you!
Tend to your garden – In this game, there's also a garden that you can cultivate so you can get extra rewards! Tend to them when you're not on competitions.
Cute graphics and visuals – If you're down for an eating game right now, this one is the best! The cute outfits, colorful graphics and the gameplay is awesome!
Download Greedy Cats APK – Free upgrade
Can you out-eat all the other cats in the area? Prove your skills now in Greedy Cats!