Funny Man APK 3.3
Do you enjoy puzzle games? How about a funny puzzle game? With Funny Man, you can have fun with various puzzles where you can select the right thing!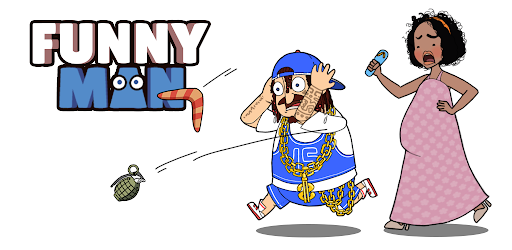 Puzzles are always fun to play, especially in mobile games. When it comes to puzzles, you have the choice to go for classics or modern ones today. Nowadays, puzzle games are unique and enjoyable thanks to the fact that there are different ones available.
Chess and Sudoku are old news as there are newer and more fun puzzle games for everyone. Take Funny Man as an example – this is a funny puzzle game that allows you to choose!
A game published by Zego Global Publishing lets you have fun with puzzles in a unique way. The game allows you to pair up a confused man trying to catch a lady's heart.
You must help the man go through many trials for his love to reach the woman today. You'll face different kinds of troubles at every level in which you're given a choice on what to use. You'll need to select the right thing today to help the man!
Funniest Puzzle Game
There are so many unique and fun puzzle games that you can enjoy today. These games allow you to have fun since they offer a way for you to exercise your brain and enjoy. But if you don't want to play those same old boring puzzle games like chess, you might want to try the modern ones.
Nowadays, puzzle games can be enjoyed with other genres as well. Funny Man is a prime example of this as this is a puzzle game with a story!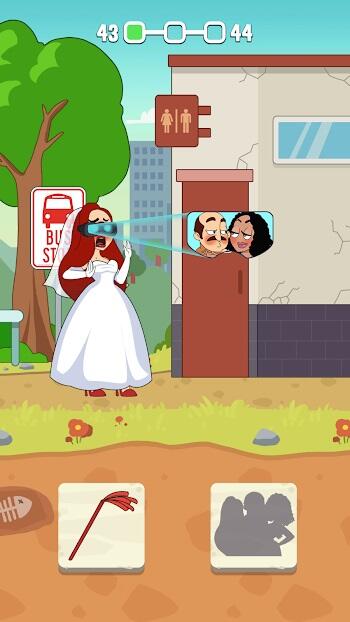 In this game, you'll help the man get in the heart of the lady as he's confused about what to do. At every level, you'll face different challenges, such as one where you must get out of a pit hole. You'll be given two different choices in which one is the wrong one, and the other is the right one.
If you choose the money, you'll be able to get out of the hole as you can stack them up to form a ladder! There are so many unique and funny levels like this in the game.
Capabilities of Funny Man
Funny Man is one of the most amusing puzzle games today. Face unknown challenges and help the man get his girl.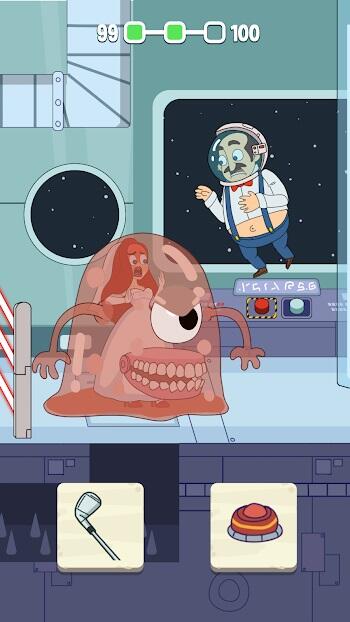 A Funny Puzzle Game – Puzzle games are enjoyable ones that you can have fun with your phone today. We enjoy these games simply because they can offer more challenges than your average games.
There's no need to rely on timing and other factors but your brain on puzzle games! In Funny Man, you'll be able to enjoy a puzzle game with a funny concept and story. Here, you must help the confused man get the girl of his dreams today.
To do this, you must help him get out of challenging situations today. Each level presents a unique situation where you must help him by choosing the right thing. Many challenges are waiting for you here, such as the pit hole, large dog, and many more.
You'll enjoy different scenarios today while you choose the best thing to use! It would help if you used your common sense to solve many puzzles in this game today. Have fun with the unique story where your choices dictate it!
Many levels to play – As there are so many levels to play here, you'll have fun with this game thoroughly! Here, you must complete different levels today to progress the story. You'll face many difficulties as the man as well as the lady today.
There's a level that allows you to escape being tied to a rope with a knife. Then, there's also a level in which you'll need to select between a key and the rope to free the bird. As you can see, there are different scenarios you'll face here.
Select the right thing – Funny Man features many unique levels that you can try playing today. If you mess up the selection, you'll be back at the beginning of the chapter.
You'll be able to play various levels here, and you must select the right thing that will solve the problem! Here, you're always given two choices: the correct one and the other the wrong one. It would help if you used your common sense today to solve the puzzles.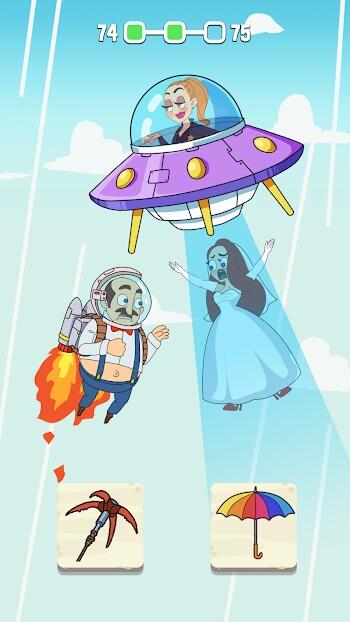 Cartoon graphics - Funny Man, is a fun puzzle game that features colorful cartoon animations.
You'll enjoy the puzzles here as the developers have done a great job animating the scenes. You can even choose the wrong thing intentionally to see what funny situation you'll face!
Download Funny Man APK – Latest version
If you want to enjoy something new, then Funny Man is the game for you. Complete the funniest and most amazing puzzles now.