Fruit Ninja® Mod APK 2.8.8 (Unlimited booster)
Download Fruit Ninja Mod APK – Latest version – Free for Android and play a classic game that allows you to slice fruits like a ninja! Can you slice all the fruits and unlock tons of rewards?
| | |
| --- | --- |
| Name | Fruit Ninja® |
| Updated | |
| Compatible with | Android 4.1+ |
| Last version | 2.8.8 |
| Size | 86.08 MB |
| MOD | Unlimited booster |
| Category | Arcade |
| Developer | Halfbrick Studios |
| Price | Free |
Before PUBG, Fortnite and other popular games existed, there was one who stood above all. It was the dawn of mobile gaming and this game brought about countless possibilities to the gaming community. Thanks to this game, plenty of people's childhoods became awesome.
What game am I talking about you might wonder? It's none other than Fruit Ninja! The game that has left millions addicted and has garnered a hundred million downloads – this is a classic game that can never die! A masterpiece by Halfbrick Studios, this game allows player to slice fruits that are thrown in mid air using knives and other blades! Become the ultimate ninja as you beat other's high scores, try countless knives and enjoy a fun arcade game!
A Fun Way to Slice
When you look back at the first mobile games that existed, you'll find that a few of them made our childhood more memorable. These simple games have made a lasting impact that goes beyond just gaming. That said, for players who haven't played this game, you're in for a treat!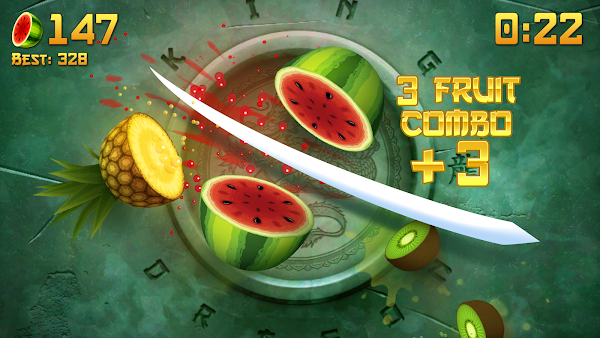 Fruit Ninja is a classic arcade game that lets you slice fruits as a ninja! Here, you can slice fruits just like a ninja! Swipe your hands and beat the high scores for some crazy rewards! Enter different game modes such as the Arcade mode, Zen Mode, and the Classic Mode. Aside from that, you can try different swords and blades that yield different effects! All of these and more in this classic game.
Features of Fruit Ninja
Fruit Ninja is a classic arcade game that allows you to slice fruits just like a ninja! Perform special combos and tricks and beat the high scores! Here are its features:
Classic gameplay – Classic arcade games are always in demand no matter the time. Even after 10 years of existence, Fruit Ninja is still an in-demand game today. Here, you can slice tons of fruits in exchange for rewards! Become a ninja as the fruits are thrown faster every second. The challenge is to slice them all without missing anything! But there are some challenges on the way particularly a bomb that's thrown every so often. Can you become the ultimate ninja and score combos and high scores? That's the challenge in this ultimate arcade game!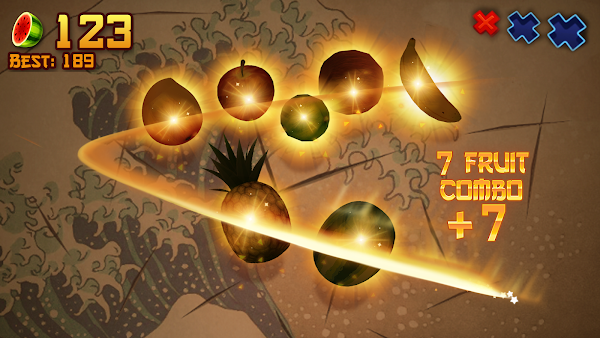 Different blades and dojos – To make things more infinitely interesting, you can also change your blades and dojo in here! At first, you're given a pretty standard blade that has blue and white colors. But as you progress, you can unlock a lot of blades such as the laser blade, sakura slicer, cloud kicker, old glory, rainbow blade, pixel love and many more! Each blade gives out a different effect and also has some unique perks to it! Aside from that, you can also choose different dojos in this game. There's the original wood, I heart Sensei, Great Wave, Yin Yang and many more! Unlock them all as you progress and score combos!
3 Different game modes – In Fruit Ninja, you are given 3 options to enjoy the game. First is the Arcade Mode which is the main one. Here, you will slice fruits and dodge bombs to try and get high scores! But if you don't want to be stressed, try the Zen Mode! Lastly, the endless Classic Mode allows you to play endlessly as long as you can!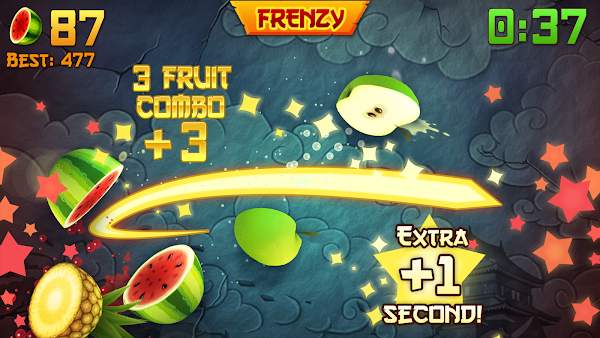 Graphics and controls – Here, the graphics are simple yet so majestic. Back then, the 2D graphics and effects were enough to captivate millions. It still works today! As for the controls, you will just swipe the screen to hit the fruits!
Fruit Ninja Mod APK – Unlimited booster
Fruit Ninja is a classic mobile game that lets you slice fruits just like a ninja! Download the Unlimited booster mod to be the ultimate ninja!