Fortnite – Easy to Play Battle Royale Game
Download Fortnite on your device and enjoy the survival gameplay. Play the different game modes, which include creative, save the world, and battle royale. Explore the gaming environment while you take note of the safe area that reduces in size.
Information of Fortnite
| | |
| --- | --- |
| Name | Fortnite |
| Compatible with | 4.0 |
| Latest version | 10.31.0 |
| Developer | Epic Games |
| Price | Free |
| Size | Varies with device |
| Category | Action |
Advertisement
DESCRIPTION Fortnite
Surviving in this game is one of the most important things to achieve. Collect different items, vehicles, resources, and weapons as soon as you land on the map.
General Overview of the Game
Fortnite is an interesting online battle royal video game from Epic Games. The game is also a sandbox and survival game with so many awesome features. What's amazing is the variety of options it offers, making it possible for users to play on different devices. Fortnite is available on the following platforms; PlayStation 4, Android, Series X/S, Xbox, macOS, Windows, and Nintendo Switch.
This is one of the most engaging games you'd play at your comfort. Fortnite offers three different game mode versions. Therefore, you can be sure that you'd have diverse options to play when you download the game. However, it is important to note that the different modes share similar gaming engine. Also, different game modes utilize similar overall gameplay.
It is worth mentioning that the first release of Fortnite was in 2017. It was in 2017 that the Battle Royale and Save the World versions of the game were released. The Creative version of Fortnite was later released in 2018. Fortnite remains one of the most played games in the world today.
Millions in different parts of the world are playing this game on different platforms. This is because of the amazing features it offers. The game recorded over 125 million users within the first year of its release. This is in addition to the millions it earns every month.
Advertisement
Interesting Game Modes
As mentioned above, there are three different game modes version in this game. They share similar engine and gameplay, but the overall experience that you'd get is different. Fortnite remains the best action and adventure game to play, and you can play any of the modes it offers.
Here are the interesting game modes you can play in Fortnite:
Fortnite Creative
This is one of the most interesting sandbox gaming mode you'd ever come across. Fortnite Creative is also a very successful version of the game, and many players play it. This mode has a lot of similarities with the Minecraft game. This is because players have much freedom in this mode of the game.
You can spawn and create anything in the creative mode of the game. However, it has to be within the gaming environment. What's amazing about Fortnite Creative is that you can create platforming challenges, racecourses, battle arenas, and more.
Advertisement
Fortnite Battle Royale
This is the PvP mode of the game, and it involves up to 100 different players. Therefore, you'd be playing this mode with 99 other players. It is important to note that you can choose to play this mode of the game alone. You can also choose to play in a squad or a duo.
Another thing to note is that you'd play together with three or four other players in the squad. At the beginning of these modes, you won't have any weapon, and you'd drop from a Battle Buss. Other players will also airdrop from the battle bus.
Once players land on the gaming map, they'd go on to scavenge for items, weapons, vehicles, and other resources. The most important thing is to ensure that you stay alive while doing this. You can do this by minimizing attacks from other players and attacking other players to eliminate them.
One of the key features of this mode is the safe area on the gaming map. This area will continue to decrease in size so that players are brought closer to each other. Once players are closer to each other, they'd battle against each other. The last player, team, or duo to survive will emerge as the winner.
Fortnite Save the World
This is also one another successful mode of this game. It is a PvE game involving only four players. These players will work together to achieve a common objective and also complete different missions. More than 98% of the world has been destroyed by a Fluke storm. This also led to the disappearance of so many people.
The world is currently filled with Zombie-like creatures and husks. You'd be the commander when you play this mode. The main objective to achieve is to collect as many resources as possible and also save people. These zombies will try to destroy different equipment, especially those that are used in collecting data.
You must make sure that you protect this equipment to continue receiving important data. It is worth mentioning that the equipment will also help in pushing back the storm. There are different missions to complete in Fortnite Save the World. Competing for these missions will make you earn different in-game items. This includes weapons, trap schematics, survivors, and hero characters.
Advertisement
All these in-game items can be upgraded for a more enhanced gaming experience.
Fortnite is undoubtedly an amazing game to play. Interestingly, the game is available on different devices. Play this game now, and enjoy the best gaming experience.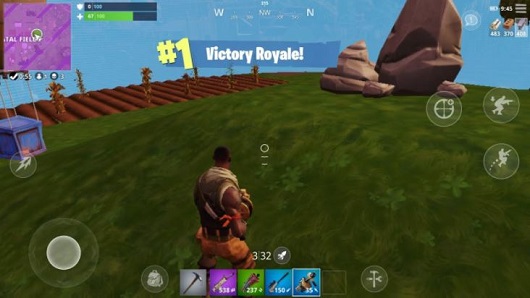 Where to Get the Game
As shown above, this game is an amazing action game to play and enjoy sandbox and survival gaming action. It is available on different devices, and you can install it on your preferred through any of the following links:
Android: https://www.epicgames.com/fortnite/en-US/mobile/android/get-started
Windows: https://www.epicgames.com/fortnite/download
PlayStation: https://www.playstation.com/en-za/games/fortnite-ps4/  
Xbox Devices: https://www.xbox.com/en-US/games/fortnite  
Download the game now through any of the following links and kill all your enemies.
Conclusion
Fortnite has a lot to offer its players, and it's not only about the different game modes. There are other amazing things like the high-quality sound and the stunning graphics of the game. Can you kill all your enemies and be the last player standing? Download the game now to find out.
Advertisement