Flip the Gun APK 1.2
Download Flip the Gun APK – latest version – for Android and experience a gun simulation game like no other! Can you collect them all and keep them in the air long?
There's something about guns that makes people excited. There are tons of shooting games available today and they are one of the most popular genres even in the mobile gaming scene. However, these games are created uniquely and cater to different audiences.
Flip the Gun isn't your normal shooting game. This is sort of like a simulation game for guns but with a twist. You need to keep the gun for as long as you can in the air by shooting down and collecting scattered bullets. It's a very simple yet addictive game that will keep you wanting more. Think you can beat the highest scores and collect all the guns? Read on!
A Shooting Game – Sort Of
When we think of shooting games, the first things that probably comes to mind are the likes of Call of Duty, Fortnite, and CS:GO. However, there are many types of shooting games out there not just the typical FPS and Battle Royale. For one, we have a simulation gun game called Flip the Gun APK.
This game is a simple arcade game that involves different types of guns. The goal is to keep the gun in the air for as long as you can by shooting down to propel it in the air. You only have a limited number of bullets available so you need to also collect scattered bullets suspended in the air. Aside from that, there are also some power-ups in the air that you can get to get certain advantages for a brief period of time.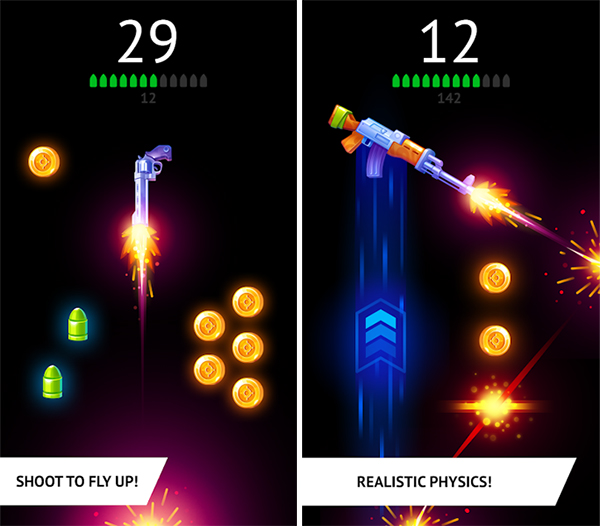 In this game, the higher your gun goes and stays in the air, the more rewards you can get. You'll use then use these to buy more guns in the shop. In this game, the guns are designed to be as realistic as possible as well as the sound effects you'll hear from them. You'll also notice that the physics are as close to reality as possible. This is all possible thanks to the developers.
Features of Flip the Gun
Flip the Gun isn't your ordinary game. Although it may look simple at first, it has everything you'll ever need for an enjoyable time. There's not a game out there that can compare to this one as this is as unique as can be. With that said, here are the features of Flip the Gun:
Wide array of guns to collect – Since this is a gun simulation game, the main element is of course – the guns! There are over 40 cool physics-based weapons available to collect in this game. You can enjoy many types of guns from pistols, machine guns and even sniper rifles to your heart's content. Of course, you can't instantly unlock them all as you need tons of coins for that. You are given 1 gun at the beginning and it's your job to score high scores so you can get rewards. You can then use your coins to unlock other guns and reach even higher scores.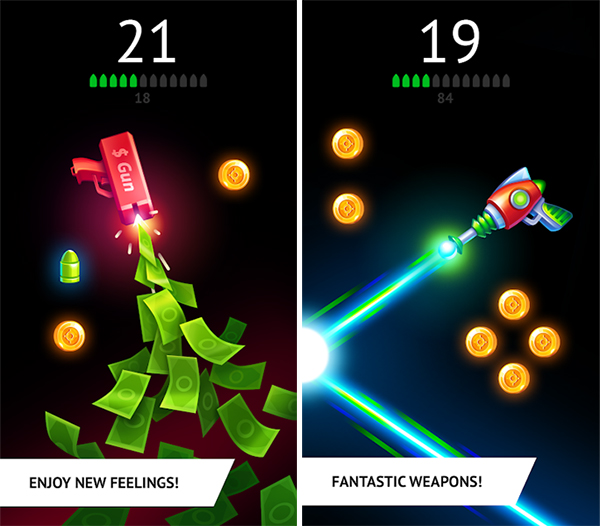 Realistic graphics – A simulation game focuses on a single theme – therefore they need to be as realistic as possible. Fortunately, Flip the Gun offers incredibly realistic gameplay for gun lovers. You need to shoot the ground in order to go higher into the air. Each weapon gives a different vibe and its carefully designed base on their real counterpart. You need to master all of them by playing a lot which isn't easy. It isn't easy as the gun flips differently each time and it's up to you to time it perfectly.
Unique gameplay – Whenever you're bored, you can just whip out your phone and instantly play Flip the Gun! It's that easy compared to other games where you have to create an account or have an internet connect ready to play. In this game, the gameplay is as simple as playing the game itself. No hassle and a truly unique and addicting game experience. You'll always want to hit the power-ups as they are scattered all over the air but they'll give you temporary boosts to help you in the game. What more could you ask for?
Awesome sound effects – To truly give you a sense of realism, each weapon in this game has a dedicated sound effect for it. As you know, a sound of a pistol is different from a machine gun and so on. It's important to distinguish these weapons in order to give it a sense of realism and Flip the Gun does it wonderfully! You won't feel like you're just playing a game as the realistic graphics combined with the intense sound effects make for a truly satisfying gameplay! Nothing else comes close to achieving anything like this except super high-quality mobile games.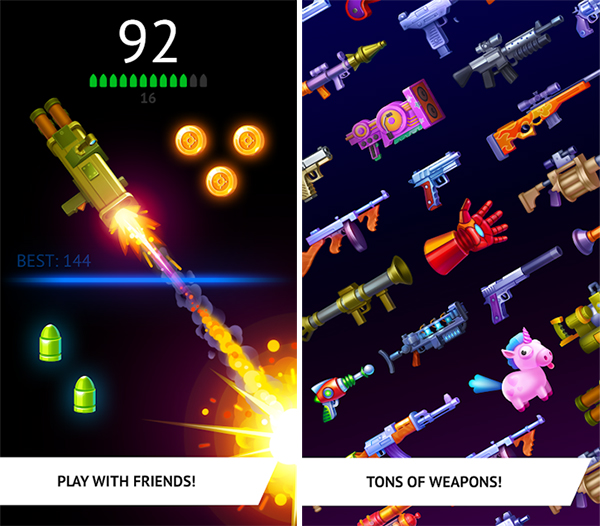 Rewards – In this game, as you go higher up in the air and collect more coins – you'll also receive more rewards. If you want to unlock the next weapon, you need to collect a certain amount of coins. The challenge would be to collect that in as little time as possible. But of course, this wouldn't be possible with just one run. That's why as you progress, your hang time will increase and you'll gain more coins to unlock other weapons. It's that easy!
Tips for Playing Flip the Gun
This game may look simple and easy but it's actually hard for beginners. You'll need to master every weapon and the physics behind it in order to progress. Don't worry though as we have some tips for you:
Time it – It may sound obvious but a lot of beginners don't really know how to time their shots such that they shoot the ground every time. But they key is in anticipating it and tapping the screen even before the gun points at the ground. This will ensure that you'll be shooting the ground every time.
Flip the Gun APK
Stop wasting your time and start downloading the unlimited money now to collect all the weapons instantly!