EDGE MASK APK 3.04
Download Edge Mask APK latest version and change notification designs. It boasts unique features, including mask effects, edge lighting, and punch hole lighting.
| | |
| --- | --- |
| Name | EDGE MASK |
| Updated | |
| Compatible with | Android 5.0+ |
| Last version | 3.04 |
| Size | 7.06 Mb |
| Category | Tools |
| Developer | uno.kim |
| Price | Free |
| Google Play Link | kim.uno.s8 |
Detailed Description of Edge Mask APK
Edge Mask APK is a productivity app that empowers you to change your notification panel's design. It transforms your notification panel into an edge-lit one with different colors and effects.
If you are bored with your current notification panel design, don't hesitate to download Edge Mask APK for Android. It will help you add style to your notification panel and make it more interesting to look at.
Why Should You Use Edge Mask APK?
Seeing the same notification panel design every day can get quite boring. If you are looking for a way to add life to your notification panel, Edge Mask APK is the perfect solution for you.
This app is easy to use, and it doesn't require you to root your Android device. All you need to do is download the app (from a third party or the Google Play Store) and install it on your phone. Once you have installed the app, you will access its features from the settings menu.
The settings are pretty straightforward and self-explanatory. You can choose from a variety of different edge lighting styles, as well as different mask effects. You can also enable or disable the app's features at any time.
Most importantly, the Edge Mask APK doesn't consume a lot of power. This is because the app only uses edge lighting when you receive a notification. Otherwise, the app remains inactive and doesn't drain your battery.
How to Use Edge Mask APK
Using this application is child play! It is uncomplicated, and you will quickly get the hang of it. The first time you open the app, you will be greeted with a tutorial that will guide you through the basics.
After that, you can start experimenting with the different features and find the perfect notification panel design for you. Once you find a style you like, you can save it and apply it with just a few taps.
What is Edge Lighting?
Now that this is the main function of the app, let's take a more in-depth look at it. This technology has been used in several phones, most remarkably Samsung S8. It is a backlighting system that uses the phone's LED to light up the edges of the screen.
It is an attention-grabbing way to notify the user of an incoming notification. The app gives you the ability to choose from a variety of different edge lighting styles. You can also customize the color, thickness, and duration of the light.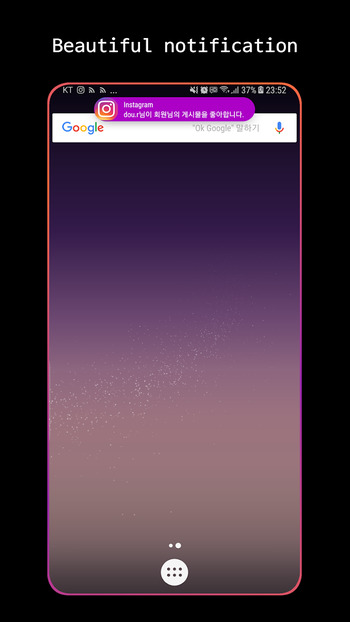 Even better, this application allows you to color-code approximately 5 contacts, ensuring that you quickly identify who is trying to get in touch with you. This feature is fantastic, especially if you receive a lot of notifications throughout the day.
What are the Features of Edge Mask APK?
This application has a plethora of features that will transform the way you use your notification panel. Some of the most notable features include:
Always on Display (AOD) Support. Some high-end phones have an AOD feature that allows the user to see the time and other vital information even when the phone is in sleep mode. Edge Mask APK supports this feature, so you can use it on your phone without any problems.
Punch Hole Lighting. This is a way to light up the camera cut-out on the screen. If your phone has this feature, you can enable it from the app's settings menu. This will add an extra layer of customization to your notification panel.
Customizable Mask Effects. This feature helps you achieve rounded corners, just like those on modern Samsung phones. It is a fantastic way to add style to your notification panel.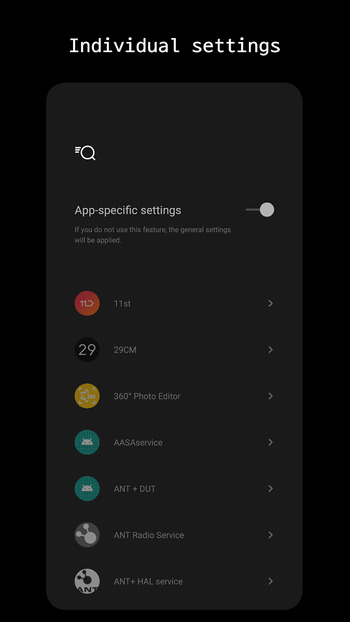 7 Message Pop-Up Designs. This application gives you the ability to customize the way your message notifications look. You can choose from 7 different designs, each with its unique set of features. They include Super Slim, Big Icon, Samsung, Card, Ripple, Book Mark, and Apple.
Easy Settings & Straightforward UI
This app was designed for use by everyone, regardless of their level of technical expertise. The settings are pretty straightforward, and you can easily enable or disable the app's features with just a few taps.
The UI is also very user-friendly. Edge Mask APK uses Material Design principles, so it looks great and is easy to use. You won't have any problems navigating through the app's menus.
Edge Mask APK Download
If you want to get all the benefits of this app without paying anything, download the Edge Mask APK Android. It is a modified version of the app that gives you all the pro features, enabling you to use the app without restrictions.
The Edge Mask APK for Android removes ads from the app and unlocks all the features. This way, you can customize your notification panel to your heart's content without annoying interruptions.
Conclusion
Overall, Edge Mask is a fantastic application that allows you to customize your notification panel in many ways. It is packed with features, yet it is still very user-friendly.
You can also get the Edge Mask APK free download for Android to get all the features without in-app purchases. This allows you to use the app however you want, without restrictions.