Dip Master APK 2.12
Download Dip Master APK – latest version – for Android and test out your dipping skills in different things!
Dipping has been around for a long time now. Back then, they used to do these in shirts only and shoes. But now, it seems that a lot of people apply customized paint to almost every thing they can.
Dip Master allows you to simulate dipping your favorite things and be amazed at the results. It's infinitely better than doing it in real life where one mess up will ruin the whole thing. But in this game, you can dip all the things you want in colorful patterns and you'd be rewarded for it! Interested to know more? Read on!
Become a Dip Master
Have you ever wanted to experiment and try your hand at customizing paint for your favorite things? Well, if your dream is now a reality! Meet Dip Master, the ultimate hydro dip simulator app on the Play Store!
Do all sorts of things and use paint sprayers to achieve certain types of color combinations and show your work proudly to the world! Want to customize your console? Perhaps your shoes? Whatever it is, it's probably available in the app and you could do whatever you want with it!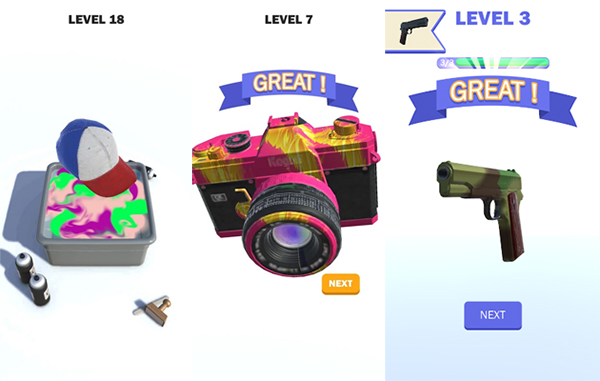 If you think this isn't an art, you're wrong! It takes a great deal of imagination and creativity to come up with some great designs! Sure, you could just mix random colors and call it an art but that wouldn't sit well with others! In this game, the more masterpieces you create, the more you're rewarded to unlock more colors and things to customize. Think you have what it takes to be the ultimate dip master?
Features of Dip Master
In order to truly appreciate the greatness of this simple but elegant simulation game, let's breakdown all the features it offers. It may not have a storyline or multiple game modes like most games on the market, but it does offer a unique gameplay and mechanics. After all, simulations are becoming the norm nowadays as most simulation games are now available even for wood crafting! Having said that, here are the defining features of Dip Master:
Unlimited customization – Like we said earlier, in this game the only limit is your imagination and creativity! There's no limit to how many designs and how beautiful your designs could turn out! Let your imagination run wild as you mix different colors and stickers to achieve the style that you're happy with. Not happy with your design? That's fine – you can create as many as you want in as many alternate designs you can do.
Various things to dip – In this game, you can play with different things and experiment with them to achieve different styles. There are more than a dozen things you can experiment on such as shoes, phone cases, airplanes, chairs, guitars, shades, pistols, jackets, piano, drum sets and more! Nothing can stop you from experimenting with all of them, you just have to collect them all. At the start of the game, you'll start with a shoe. After dipping it in your style, then you'll receive rewards so you can buy the next item. Continue this cycle until you collect all the items in the shop.
Watch video ads for more options - At the start of the game, the money you have is limited. But as you keep painting and experimenting, you'll be rewarded with money for every design you make. But in order to experiment with other colors, you can watch a video ad for that! This allows you to get more color options for your dipping experiment. Also, you can triple your rewards when watching a video ad after dipping your thing! How cool is that?
Achieve different styles – This game offers a lot of customization for you to utilize. You can make a design with different colors and you can mix them to how much you want. Then, you just need to dip your item and voila! You now have a complete masterpiece ready. Try out different items for each item and see which one stands out the most! Use your imagination and don't be afraid to make mistakes! There are no right or wrong designs in here. Your creations are priceless. Feel free to do what you can do and share it to the world. You can even recreate your styles to real world items. This is sort of like the practicing ground for your ideas. The only difference is that even if you mess up here, there's no real consequence unlike in the real world where you must deal with a messed-up item. Think you have the skills to achieve this?
Dip Master APK
Tired of watching video ads and not having enough money to buy all the items? Then, download the now and enjoy all the features it offers!