Color Land APK 1.14.1
Download Color Land APK - latest version - to try out the leading color by number game on Android, great for kids and passing time.
This relaxing 3D coloring game is designed as a peaceful experience to enjoy on your Android phone, Color Land is a leading color by name game on the Store. It's up to you to create a beautiful and scenic city with many creative landscapes to enjoy, across hundreds of different paint by number tasks. Think of this game like a virtual playbook full of coloring challenges and exciting scenery to explore. It's relaxing, fun and easy to enjoy while you're just passing the time, taking you to a virtual world outside your mobile phone.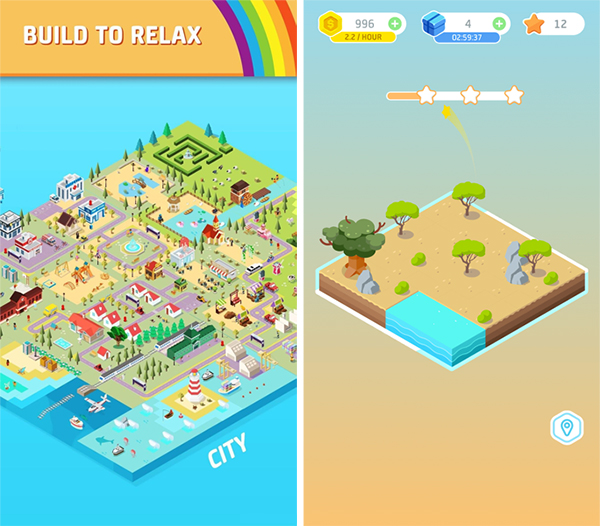 Color by number is a tried and tested formula for games, first seen in coloring books over the decades. Now you can enjoy this therapeutic experience on your Android, tapping the blocks with the right colors to build unique landscapes. As the levels progress the coloring gets more and more complex, with huge scenery and landscapes that look great even on a tiny screen. The music, color and satisfactory gameplay make Color Land a top download on Android.
Best Features of Color Land
Color Land is a great game for kids and adults alike - the scenery includes lots of interesting wildlife across different landscapes, from the African Sahara to snowy mountaintops. Elephants, lions and giraffes come to life as you tap your screen and add color to your land. You'll see numerous blocks at the bottom of the screen which you have to use in your picture, it's a simple guide to lead you through the creation of your landscape. Here are some of the best features of Color Land and why you should download it today and give it a go.
A Fresh Canvas
Each level starts as a fresh blank canvas and you have no way of telling what your coloring will uncover. Part of the excitement and satisfaction of uncovering Color Land is the way in which the landscape unfolds before your eyes as you simply tap and color in different segments. This is a 3D game, so the scenery really comes to life. Different creatures, trees, mountains, rivers and lakes are created just through the use of a few simple color blocks. Neat!
Different Elements Add Variety
As well as colors, you will have different elements on hand to create the landscape of your dreams. Decorate with leafy trees, add fast-flowing rivers, deep blue lakes, and even snowy mountains for lions to inhabit and burst from your phone. The choice is up to you, though it's recommended you follow the number guide for the best results. As you progress through the game you'll unlock different blocks and eventually you'll have a whole range of different colors and elements at your disposal.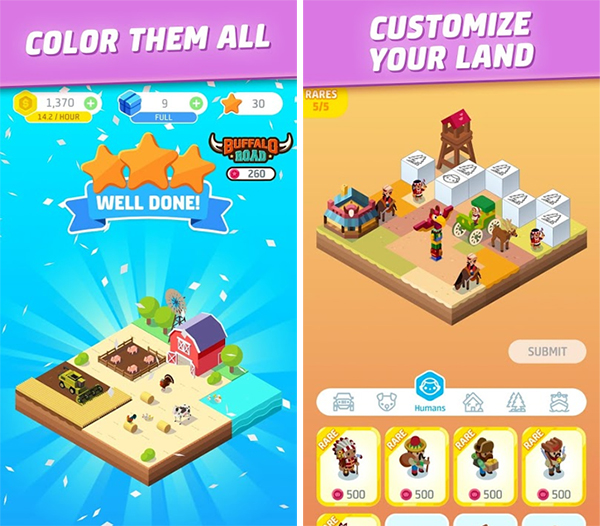 Progression as you level up your landscapes
Like all good mobile games, Color Land offers you a great sense of progression as you color each unique landscape. Perfecting a color scape will grant you rewards, which are in turn used to unlock further elements and colors. This progression is what keeps the game so compelling and it's always exciting looking forward to the next blank canvas. Thanks to the dedicated development support this game still receives, there are new and interesting landscapes and blocks added all the time, like buying a brand new color by number book.
Color by Number Games for Android
There are a lot of different color by number games ready to download on Android, although Color Land is the superior choice. Not many offer quite the same level of 3D detail as Color Land, as many are just bland 2D coloring experiences you might get from a book you buy in the store. Kids will love the game as it is very simple, teaching them about numbers, matching, memory and much more. Because it has simple one-tap controls, anyone can play!
Unique Music, Unique Concept, Awesome Game
Color Land is a highly-rated color by number game for Android and comes as a complete package. Not only are the controls simple and the landscapes beautiful, the game also has a great soundtrack and plenty of vivid scenery. Part of the adventure is unlocking new levels, and it's a fantastic way to destress and pass the time. Once you try Color Land you'll never go back to those other color by number games again! Each level really comes to life as the 3D elements pile on top of each other, as you first create the ground, then the trees, and then add in wildlife to complete the picture!
Relaxing Games on Android
Zen, meditation and idle games are all super popular on Android as they are a great way to unwind and destress in this fast-paced digital age. Unwind with simple coloring mechanics, awesome music and enjoy Color Land on Android. There aren't any tips or tricks for Color Land as it's all quite straightforward, and it's not too taxing on the brain. Plus, you won't have an aching hand after scribbling away in a color by number book and instead only have to tap away at your screen!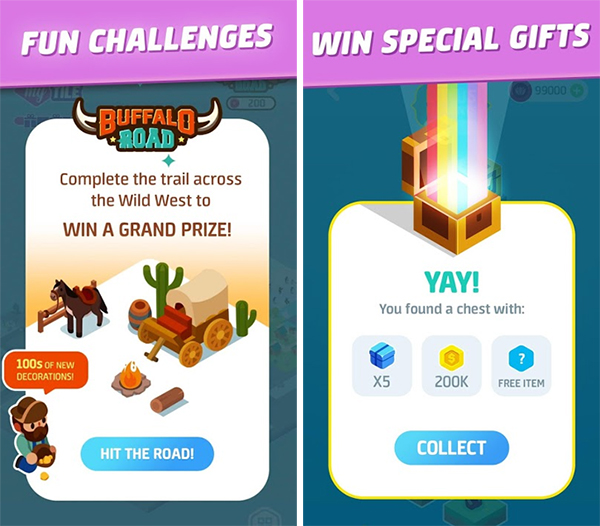 Regular Updates Keep the Game Fresh
The developer, Jelly Buttons, keeps updating the game with fresh content. Recently they added a Japanese theme with Japanese-style landscapes, wildlife and scenery. This is a free update for everyone to enjoy! There are also additions for India, Africa, and many more. Each landscape is unique with its own elements, colors and different terrain, built from the ground up with 3D paint by number coloring.
Color Land APK
Want to enjoy everything Color Land has right off the download? Grab the APK latest version and unlimited money and blocks right away.