Carrom Pool APK 7.2.0
Download Carrom Pool APK – latest version – free for Android and test your skills against the best Carrom players around the world! Are you ready for the challenge?
Billiard games are very popular in the mobile gaming industry. They're easy to play and very entertaining for those who love the game. However, as more and more billiard games are made every day, players become bored of it after a while.
Carrom Pool APK is a simple multiplayer tabletop game. If you know Carrom, then you'll sure love this game! With over 100 million downloads on Google Play Store and counting, this game has surely received a lot of love from players around the world. Think you can compete on a high level? Read on to know everything about this extraordinary tabletop game!
What is Carrom Pool?
For those who already know how to play Carrom, this game would be a breeze. But for beginners looking for a new tabletop game, this may need a little bit of explaining. Don't worry, Carrom isn't a very hard game as it's similar to billiard in a lot of ways.
Carrom employs almost the same tactics as billiards. You'll need to shoot balls in the holes – in this case, they're called discs. But unlike billiard, up to 4 players can participate in a Carrom match. You each have designated discs with equal in number that you need to shoot in any of the 4 holes. And unlike billiard, the table is square in shape so it's actually smaller than a billiard table. Also, a player can only shoot the main disc in a designated place in the table.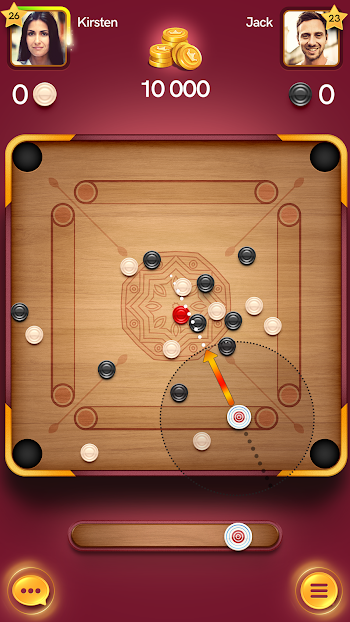 Also, you should only shoot the discs that you need to usually with a different color or patter from others to distinguish it. If you accidentally shoot the other players discs into the hole, then they get that corresponding score too. That's why this game needs you to be precise and strategic in the way you shoot the discs.
The first person to shoot all his discs into the hole wins! In Carrom Pool, you can bet a certain number of coins and you'll win it all if you win the game. This makes the matches so much more exciting because you're playing against real people in real-time! To find out more about this game, read on.
Features of Carrom Pool
Carrom Pool is a very simple yet entertaining game loved by many. It's a table top game that's mostly played indoor in Pakistan, Nepal, India and other countries. But in this game, it's played worldwide. Here are the features of Carrom Pool:
Multiplayer – There's nothing more fun than being able to play against your friends or family no matter where they are. In Carrom Pool, you can play with up to 4 people at a time so it's more inclusive than billiard. On top of that, if you want to test your skills against the very best in the world, you can freely do so in the multiplayer mode. You can try out your luck and challenge top players from around the world to see how you would fare. Be careful though, you could lose a lot of money if you lose. So do your best out there!
HD Graphics – Even though this is just a simple tabletop game, the graphics and the physics are highly-realistic. There isn't any bad thing to say with Carrom Pool as the developers managed to create such a functioning and exciting game to pay homage to a very fun sport. The great thing about striking is that you can see some dotted lines as to where your striker will hit. This will help you curate shots that will surely hit home run. Overall, the graphics coupled with the realistic sound effects make for a very special gameplay.
Smooth controls – The controls in Carrom Pool is intuitive and easy. You just need to aim and select the speed to which you want the striker to strike. Afterwards, it all depends on your aiming skills. The controls are smooth and you won't feel any lag when you strike unless you have very bad internet connection. The controls allow you to score some pucks without much difficulty because the physics are realistic.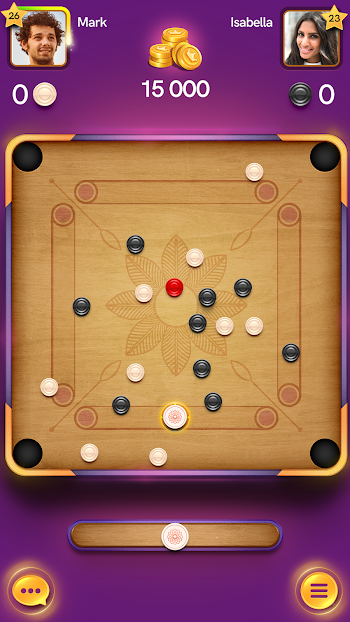 Strikers and pucks – In Carrom Pool, you can select from a wide range of strikers and pucks to play with. They don't give you special boost in the game but they look awesome to play with. However, you need money to unlock them all so be sure to win some games first so you can collect them all.
Upgrade – In this game, you can also upgrade your strikers for more advantages during a game. But they require money so you need to win some matches first to be able to do so. But the good thing is this give you more motivation to win matches since you can upgrade your strikers to look the very best.
Offline mode – Unlike other games, they may have multiplayer capabilities but they don't allow you to play without internet connection. And that's a bummer because you can't enjoy your games if you don't have access to internet especially in far-flung places. With Carrom Pool however, you can freely enjoy the game playing against AI. Although you can't play with real players without an internet connection, the game still allows you to enjoy it even in offline mode.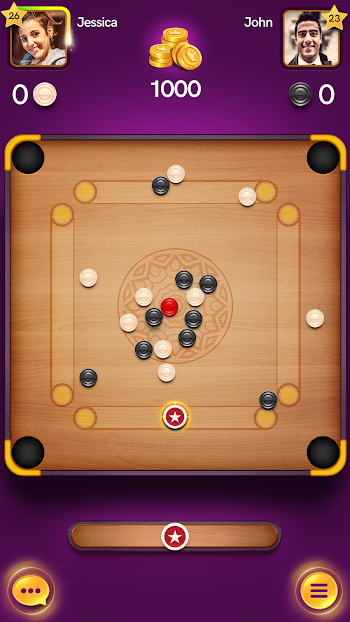 Game modes – In Carrom Pool, there are two game modes to enjoy: Carrom and disc pool mode. This lets you have more fun when you're bored with the classic game mode. Also, with these modes, you can have more modes to play with your friends!
Tips for Playing Carrom Pool
At first glance, Carrom Pool may be a simple tabletop game, but it actually involves a lot of thinking and strategizing. The key to victory is to successfully outwit your opponent fast. Here are some tips to do that:
Practice – In this game, you can play against AI so you can practice. You need to practice whenever you're not playing against real players so you will get the hang of the game. Also, this will allow you to have a counter to almost any moves that your opponent will do.
Download Carrom Pool APK
Carrom Pool is free to play but there are some things in the game that you can't buy unless you have a lot of coins. Don't worry, just download the unlimited money and you can enjoy the game!