Among Us Airship Map – Upcoming Release
Among Us Airship Map Reveal
During the Game Awards of December 10th, 2020, the world was surprised with the reveal of a new expansion. The popular award winning multiplayer game and best game of the year, Among Us has shown the world a sneak peek of something nice. As a fans of the title, we can say that players, including us are always looking for new ways to experience the game. And the developers quickly took notice of our interests. This is because, Among Us will be having a new map in the near future! This will be the new Airship Map.
What to Expect?
During an interview with Innersloth, they were asked if there were any plans made for the new map. Marcus Bromander announced that had already drawn out the rooms and layout of the majority of the map sketched out. Not only will there be a majority of new rooms and designs, but new tasks as well. This is sure to keep players satisfied for quite some time.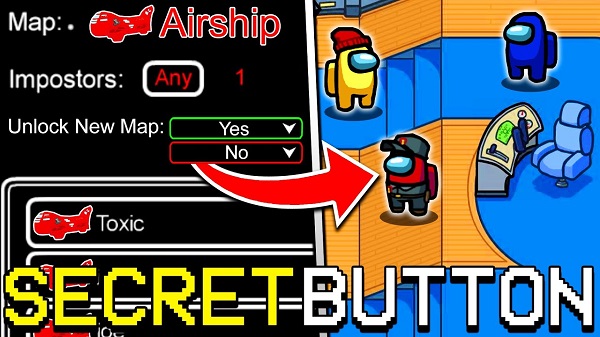 As you can see below, there are a multitude of different rooms in the new map. Additionally, we can expect to see many new and returning tasks, such as wiring the electricity and taking out the trash.
Is the Among Us Airship Map Free?
Fortunately for everyone, the Among Us Airship Map will be 100% free for everyone to enjoy. Since the plan for an Among Us 2 was scrapped, all further ideas for the franchise will be made as expansions to the first iteration. We can expect to see the new Among Us Airship Map as a free inclusion to the already free game.
Among Us Airship Map Release Date
So, when is the Among Us Airship Map coming out? The last we heard, the release would be sometime "early 2021". Though it is only speculation, we should expect to see this new location available sometime in the end of winter or beginning of spring.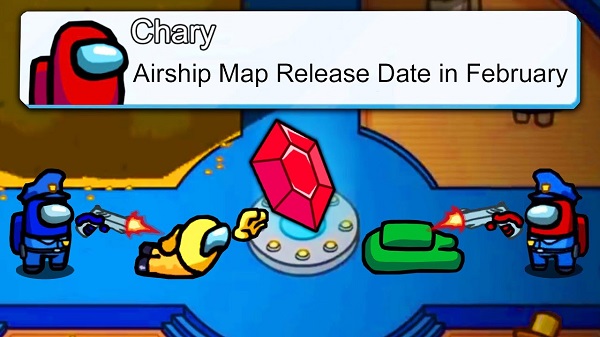 However, Nintendo Switch players were actually much more fortunate. There was a glitch in the game which allowed players of the Nintendo console to try out the map, first-hand. Although some locations were a bit buggy, the glitch still made it possible for players to play the new Airship. Unfortunately, this glitch was quickly patched after one week. So, there is no way for anyone to play on the Airship, as of now.
If You Haven't Played Among Us Already…
If you haven't already, you should definitely download and play Among Us Mod Menu for yourself. Among Us is a fun action game where players are put into a large map and set to complete tasks. However, there are a few imposters among the group. These imposters will attempt to kill all other players, before the tasks are complete.
In order for one side to win the game, either all players must die, or the imposter must be caught. Additionally, regular meetings can be held to vote out a player, in an attempt to weed out the imposter.
Furthermore, there are two instances where a meeting can be held:
When a player uses the emergency meeting button to hold a direct meeting with all other players.
When a dead body has been caught by a player.
Among Us already features three different maps with plenty of variety between them. Also, there are many different skins and colors to customize your characters with. What's more, different game settings can change up how the overall game is experience. The following elements can be adjusted to fit your gameplay preferences:
The number of players in a game.
The number of imposters (up to three).
Overall running speed of a character.
Number of tasks within the game. These are separated between short tasks, long tasks, and common tasks.
Time needed to cast a vote.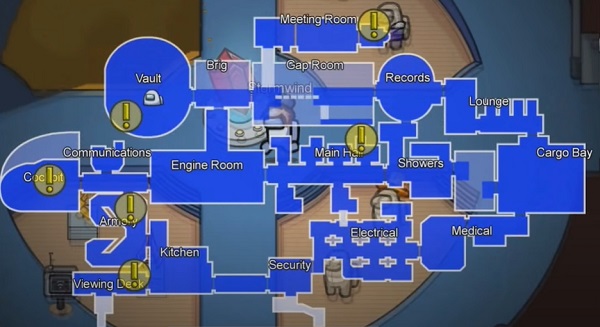 There are many more aspects to this that players can customize.
So, if you haven't already, take a trip to Among Us and play alone or with your friends. There are many different ways to enjoy the game. Many fun moments of deception, teamwork, and chaos are to be expected when playing. After all, there's a reason why Among Us won Best Multiplayer Game and Mobile Game of the year in 2020.
And, we can all pass the time, as we wait for the release of the new Airship map…
Maybe you missed this great article: Among Us Valentines