8 Ball Pool APK 5.14.6
Pool isn't as popular a sport as basketball. But if you want to enjoy it online with other people, download 8 Ball Pool APK enjoy a realistic game with real players.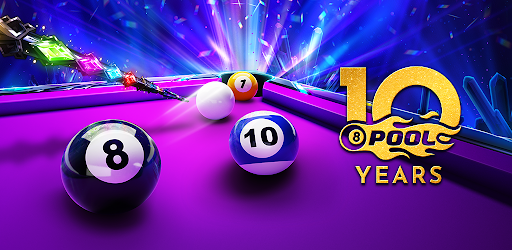 There are many enjoyable games that can be played nowadays. But what you can't do today is play with your friends in pubs due to physical distancing measures. But if you love pool, you can enjoy the game with your friends or random players around the world today. There are many pool games available in the Google Play Store but 8 Ball Pool is one of the best. Published by Miniclip, this game lets you challenge your friends or random people today!
Here, you can play 1-vs-1 matches where you need to put the balls in the pockets to win. You will fight against real people in real-time today as you bet with coins in the game. Here, you can enjoy an intense PVP match and beat the best players in the world today. You can test your skills just like in a real pool game but you can enjoy a fun game here where there's a line guide. Crush your opponents today and play with your friends.
Play Pool
We all know how fun pool can be but they can be difficult. The best professionals in the world play it with ease and composure as if nothing's riding on the game. But in actuality, it takes incredible focus, creativity and control in order to consistently knock down the balls into the pockets. If you love this game, then you can easily practice and play against real people in 8 Ball Pool. This game works just like a real game of pool from the stick to the board and to the balls!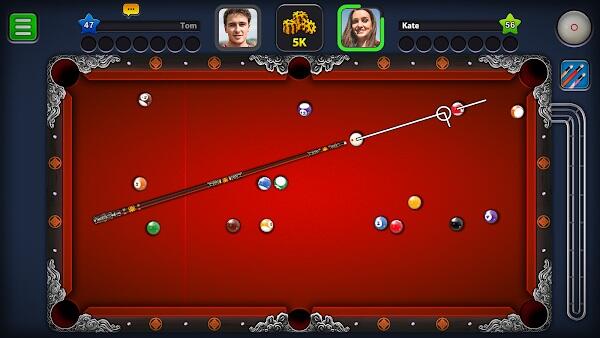 Here, you can enjoy winning games with your incredible pool skills as you show off your analytical mind. But the only difference here is that there's a guide line that will allow you to see where the ball is headed. This is an advantage of playing this game that you can enjoy today. But more than that, everything is pretty much the same with a real-world game of pool. Here, you can earn tons of coins from winning matches, enjoy competing in tournaments and advancing to higher tiers.
There's also a huge selection of pool cues available in this game to choose from. Each have unique styles and powers that will suit your play style. This is a free game that lets you enjoy fighting against real people online. If you have what it takes to shoot balls today, then this is the game to play. You don't need to be good at the real game in order to play this game. You just need an understanding of the basics and you can enjoy controlling the ball and aiming at the pockets.
8 Ball Pool Features
Billiard or pool is one of the most enjoyable sports today that's so underrated. If you're itching to play today, download 8 Ball Pool now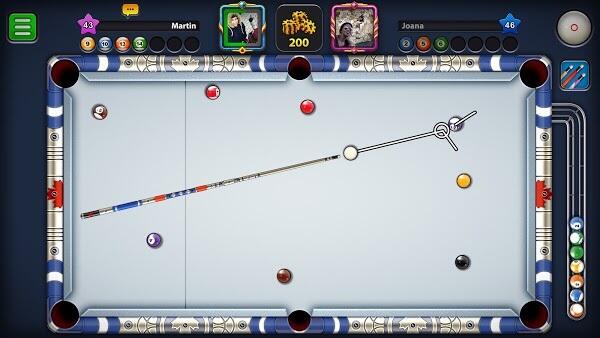 Show your skills – There are many sports available to play around the world today. Most of the sports today allow you to express your skills in terms of strength, verticality and raw power. But if you want to play a sport that hinges on your analytical skills and incredible focus, then billiard is the game for you. This is a game where players would take turns shooting balls into pockets. The goal is to shoot the balls in the pockets and hit the 8 ball at last.
In 8 Ball Pool, you can enjoy a realistic game of pool today. This game follows the rules of pool and allows you to join many tournaments around the world today. Here, there are unique prizes and entry fees for the tournaments and you can fight against real players worldwide. If you win a certain number of matches, you can win a ring! In this game, you can decide where to aim and how much strength you can put in each shot.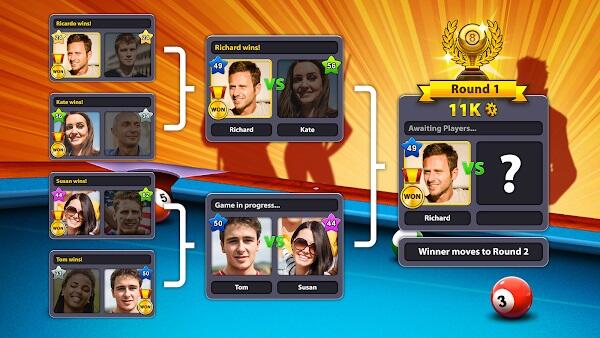 Intense PVP Action – There are a lot of intense sports games today but billiard is a different beast altogether. It's a game that doesn't require any physical strength but mostly intellect. Here, you can enjoy playing against real players in different tournaments. There are plenty of players online every time which means you're never going to run out of matches. You can also enjoy buying different cue sticks with unique styles and power.
Enter tournaments – In 8 Ball Pool, you'll be able to enter different tournaments with various prize pools. But, there's an entrance fee for each one so that you'll need to do your best to win the prize money. There are lots of tournaments available such as the Downtown London Pub, Sydney Marina Bar, Moscow Winter Club, Tokyo Warrior Hall, and many more. Here, you will need to finish the lower tier tournaments first before you can move on to the next.
The higher the level of the tournament is, the difficult the competition is. Also, the entrance fee and the prize money will be higher! This means that you will need to work harder for the prize.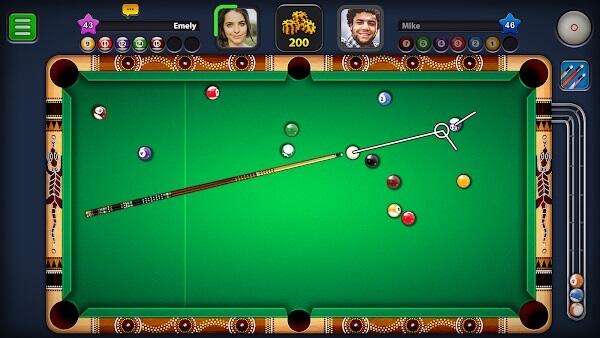 Win prizes – In this game, you'll be able to win coins by beating players in the game. You can enjoy a realistic match today where you'll both need to pay the entry fee and the winner takes them all. Enjoy spending your coins on various items like cue sticks and other things.
Realistic physics and graphics – This game features a realistic game with realistic physics. Here, everything from the design to the sound is realistic. But there's a guide line that allows you to see where the ball will go to make things easier. But regardless, you'll still be able to feel the challenge once you face tougher opponents here.
Download 8 Ball Pool APK Anti ban
Get the most realistic pool experience now with 8 Ball Pool! Download the game and enjoy playing against the best.